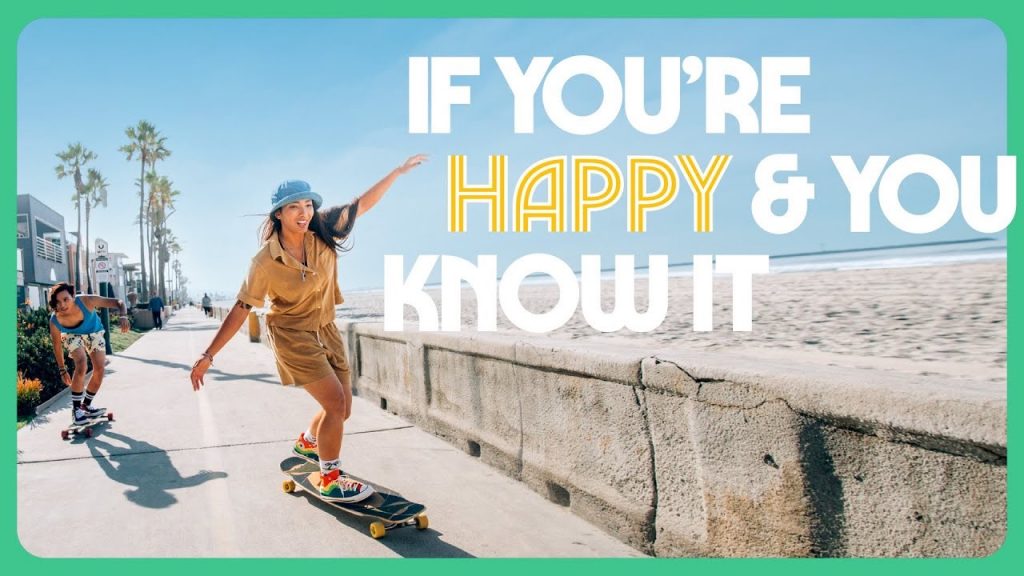 2023 Winter/Spring Advertising Program Overview
To stimulate demand during the upcoming Spring and Summer travel season, the SDTA is launching $15.5 million in advertising with the refreshed 30-sec "Happy & You Know It" Brand TV commercial debuting on national television January 28 during the Farmers Insurance Open PGA Golf Tournament.
"Happy and You Know It"
San Diego's happy and carefree vibe leaves everyone who visits cheerful, optimistic, and able to "put their guard down." Happiness is the norm and easily attainable in San Diego, although we all express it in our own unique way. Some show it with a simple smile while others through a joyful dance. But there's one thing we can all agree on – San Diego is not only the place where we find happiness … but feel free to really show it.
The refreshed Brand TV commercials continue to be music-driven, utilizing new music from Michael Franti & Spearhead, modernizing the catchy nursery-rhyme song "If You're Happy & You Know It" with upbeat sounds to evoke the fun, vibrant and inviting characteristics of the destination. Four new commercials were produced in partnership with SDTA's advertising agency, The Shipyard:
A general Brand 30-Sec TV Spot featuring new scenes showcasing on the water experiences on the San Diego Bay, outdoor recreation at Torrey Pines Golf Course and San Diego's newest outdoor events venue, The Rady Shell at Jacobs Park.
A family-focused 30-Sec TV Spot featuring new scenes from the San Diego Zoo's Wildlife Explorers Basecamp, Old Town San Diego and Petco Park's public park at Gallagher Square.
Two 15-sec TV spots (Brand 15-sec, Golf-Focused 15-sec) which will air nationally during the Farmers Insurance Open Golf Tournament broadcast in Saturday's Finals coverage.
NEW "Happy & You Know It" TV Spots:
Winter/Spring: Program Highlights
Throughout FY 2023, the "Happy and You Know It" Brand and Family campaign will be integrated across SDTA's advertising program of work. The multi-media approach includes television, out-of-home and digital executions that will reach national audiences with a focus on San Diego's eight key spot markets; Los Angeles, Phoenix, San Francisco, Sacramento, Seattle, Denver, Las Vegas, and Dallas.
Brand Awareness – Television, Outdoor & Digital
Spot market television and digital out-of-home billboards will run February 13 – April 9 in San Francisco, Sacramento, Seattle, Denver, Las Vegas, Dallas, and Phoenix
The digital program extends nationally with the following media tactics:

Digital video with Disney xP, Discovery, The Trade Desk and YouTube
Digital display advertising with Conde Nast and Travel + Leisure
Social advertising with Facebook/Instagram, TikTok and Snapchat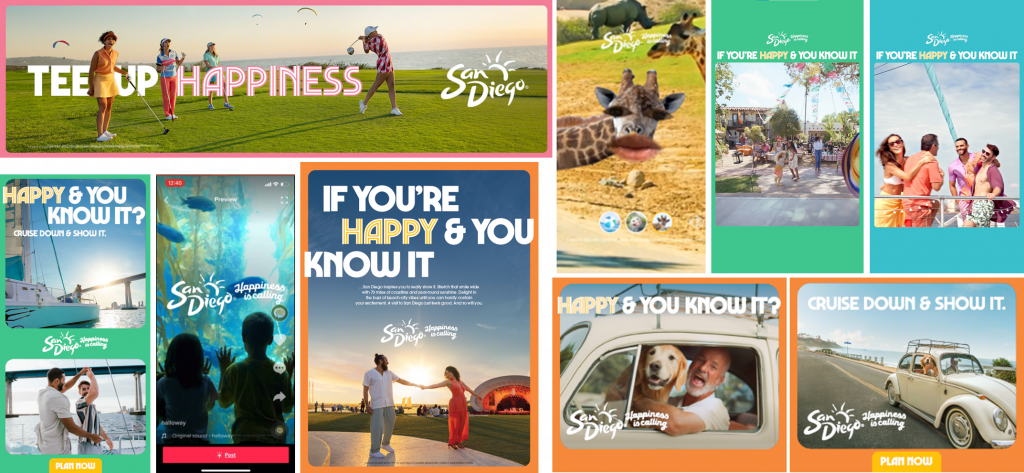 Storytelling & Education – Digital & Content Creator Partnerships
The "Always-On" content and search distribution campaign reaches a national digital audience, educating consumers on the breadth and depth of San Diego offerings and experiences while driving consideration to travel through video and written content.

Branded content series including Bliss Breaks, Guide to the Good Stuff, One Bright Idea and Sunny 7 videos and articles will run January – June, distributed through YouTube, Facebook/Instagram, TikTok and Snapchat
Search Engine Marketing continues through June with Google
An additional layer of storytelling will launch in April utilizing content creators on Instagram and TikTok, capitalizing on their unique point of views and engaged audiences to reach consumers from a new perspective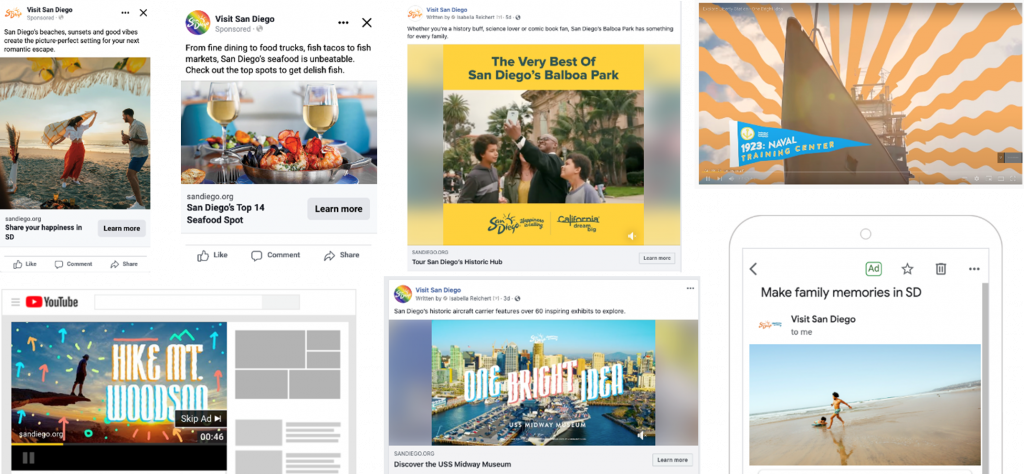 Consideration & Booking – Digital
An additional layer of national digital advertising targets consumers across the U.S. who are actively in the consideration and booking phases of their travel journey on premium planning platforms.
Digital display, native ads, dedicated email blasts and Online Travel Agency (OTA) advertising launched in July 2022 and will continue through June 2023 with Expedia, Priceline, Hopper and Tripadvisor.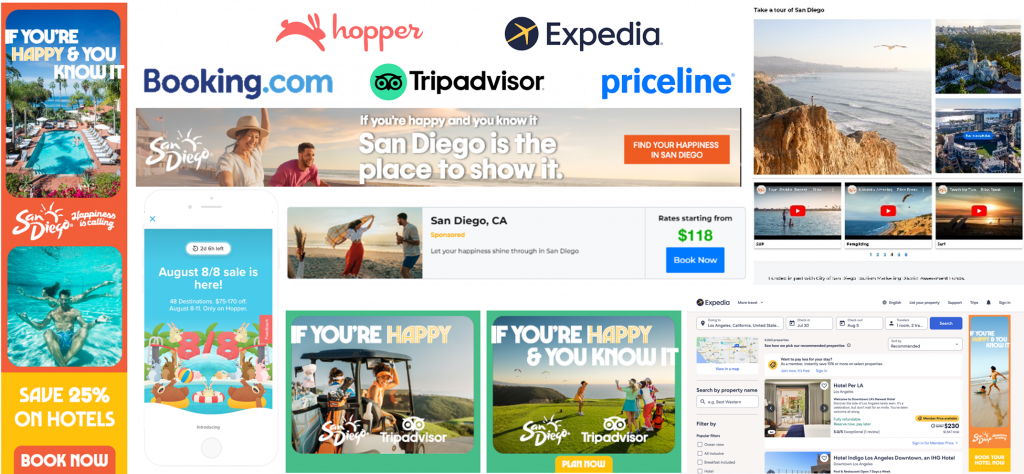 Group Meetings & Conventions – "Meet America's Brightest City"
To support the Group Meetings & Conventions industry, the SDTA launched a new B2B marketing campaign in Fall 2022 aimed at changing perceptions of San Diego as a business destination – Meet America's Brightest City.

While San Diego is known for its sunshine, coastline, and good vibes, we've also been a hotbed of innovation, education and cultural exploration for decades. We rank toward the top in the U.S. in many forward-thinking categories — high-tech jobs, top research institutes, venture capital investments, patents granted, academic excellence, life science startups and civic leadership, to name a few.

This new campaign reintroduces professional meeting planners, key decision-makers and executives to the beauty and brains of San Diego, where our environment is a catalyst for innovation and creativity.
NEW "Meet America's Brightest City" Video:
Group Meetings & Conventions Program Highlights – Print, Digital, Lead Generation & Custom Content
Paid social efforts with LinkedIn launch in January, targeting meeting planners and key decision makers nationally.
Search Marketing with Google continues January through June, utilizing San Diego keywords focused on business conferences and venue terms, to ensure coverage for inspiration and consideration level searches.
Print advertisements, advertorials, digital and lead-gen executions with Meetings publications continue in January with Northstar, PCMA, Cvent, Smart Meetings, Meetings Today and Meetings Magazine.
An added layer of digital advertising targets decision-making CMOs in trusted business-professional publications to capture their attention and increase awareness of San Diego for their next company retreat, product kickoff event or industry conference.
Custom high impact ad units and a premium homepage takeover will run on Bloomberg
Promotional custom content pieces and dedicated e-blasts will be produced and distributed on Entrepreneur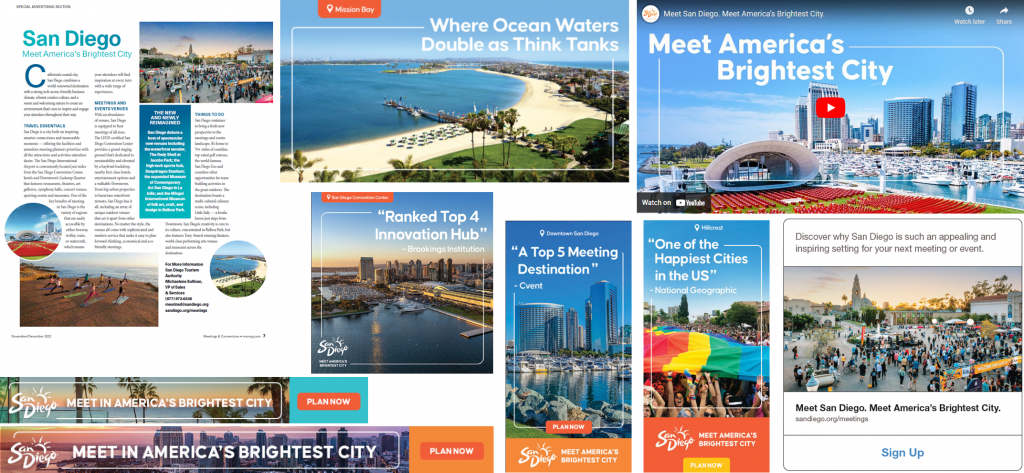 A Look Ahead
National Premium Partnership – Tripadvisor
To increase awareness of San Diego as a premier travel destination, the SDTA is working with Tripadvisor and its new in-house creative and content studio, Wanderlab, to launch a first-of-its-kind, innovative digital and interactive out-of-home campaign to attract travelers to San Diego.
The Tripadvisor program is scheduled to launch in April and will highlight San Diego's optimism and positivity through a range of executions including custom online content, influencer activations, San Diego sunshine kits designed to highlight the region, digital sweepstakes and interactive street murals in Los Angeles, Chicago and New York.
Los Angeles Marketing Initiative
The SDTA's Spring advertising program of work will include a unique approach to the Los Angeles market to increase awareness and driving consideration/intent to travel and book overnight hotel stays into San Diego.
Los Angeles Program Highlights – Digital, Custom Television Partnerships & Out-Of-Home
A dedicated layer of Digital Video will launch at the end of January with Disney xP and Discovery, serving San Diego's "Happy & You Know It" Brand & Family 30-sec commercials in premium video environments.
Custom content partnerships with Thrillist and Los Angeles Magazine will launch at the end of January and continue through June with print, digital and storytelling executions distributed by partners with large Los Angeles footprint.
Custom television partnerships will launch in April with top-rated, TV stations in Los Angeles; KABC, KCBS, KNBC. On-air personalities will serve as trusted voices to provide dedicated storytelling about San Diego and what's new throughout the destination to encourage Angelenos to visit. Complementing the content efforts, SDTA's "Happy & You Know It" Brand and Family 30-sec commercials will run across key programming dayparts.
Digital out-of-home placements will also launch in April, creating massive exposure for San Diego in high-traffic locations with additional high impact spectacular ad units.
To learn more about SDTA's advertising programs and to leverage the destination's strategy in your own marketing programs, please log in to Membernet.