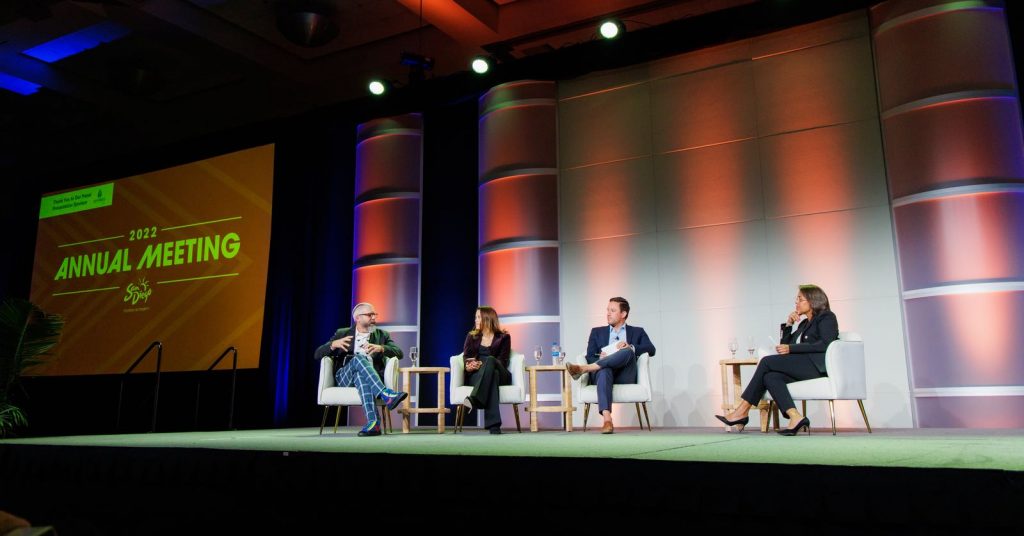 Electricity (literally and figuratively) filled the room for the 68th Annual Meeting at the San Diego Convention Center. Citing the destination's popular cultural attractions, outdoor recreation activities, and diverse selection of hotels and restaurants, the San Diego Tourism Authority announced San Diego ranked as one of the nation's top-performing destinations in 2022.
The SDTA's Year in Review
With more than 500 business, political, and travel and hospitality industry leaders in attendance, Julie Coker, President and CEO of the SDTA, revealed the latest results that show San Diego having the second-highest hotel occupancy in the country through September at 74.4%, and consistently ranking in the top five of destinations for average hotel daily rates and revenue per available room. The city recorded a steady visitor growth in 2022, with 13.3 million travelers and a forecast of $6.2 billion in visitor spending*. For 2022, the SDTA expects to surpass the city's performance in 2019, due to an investment of $23 million in national consumer and business marketing and a refresh of its award-winning "Happy and You Know It" brand campaign.
"The success of our city is truly a team effort, and we could not be more proud to share these successes with our tourism partners," said Coker.
The benefits of San Diego's booming tourism industry in 2022 were widespread, including:
Tourism jobs returning to pre-pandemic levels, with 200,000 San Diegans now employed, which is one in eight residents;
Generating more than $360 million toward San Diego County's Transient Occupancy Tax (TOT) revenues, which is used for a variety of local services;
Sales and marketing programs producing a $30 to $1 Return on Investment (ROI), one of the highest in the organization's history;
A 93% member retention rate.
SDTA's marketing and sales efforts also led to notable recognition by the discerning readers of Conde Nast Traveler, voting San Diego as the nation's third-favorite big city in the annual Conde Nast Readers' Choice Awards.
"Our marketing and sales strategy led to incredible results in 2022, but we know there is still more work to do," said Coker. "We must continue to tell the story of San Diego with the same level of creativity, passion and urgency that helped us get to this stage in our recovery."
Annual Meeting Highlights
The 68th Annual Meeting kicked off with an awe-inspiring performance by SkyFire Arts, combining storytelling through dancing with lightning bolt props. Aside from the dazzling display of artistry, there was a lively panel discussion on what's next in the travel, aviation and business meetings industry. Event attendees had the pleasure of hearing from Kim Becker, President and CEO of the San Diego Regional Airport Authority and SDTA's Chair of the Board; Erin Francis-Cummings, President and CEO of Destination Analysts; Ken Madden, SVP of Digital Engagement at George P. Johnson; and Erik J. Hansen, VP of Government Relations at the U.S. Travel Association.
In addition to highlighting the SDTA's successful Tourism Accelerator program, the celebration also recognized the teamwork of the Holiday Bowl, the Imperial Counties Labor Council, the San Diego Hotel and Lodging Association and San Diego Hospitality Human Resources Association. In response to the shutdowns caused by the pandemic, the SDTA, along with its partners, worked with The San Diego Food Bank and Feeding San Diego to supply more than 200 tons of groceries to thousands of hospitality workers over five months through dedicated drive-through distributions. As a token of our gratitude for its partnership, the SDTA presented a donation check of $5,000 each to the San Diego Food Bank and Feeding San Diego.
"We are thrilled to see that San Diego tourism is back on track significantly," added Coker. "While the post-pandemic era has presented its share of obstacles, it never stopped us from marketing and promoting San Diego. And through the support of the San Diego Tourism Marketing District, the San Diego Convention Center Corporation, our members and Board of Directors, SDTA kept its foot on the pedal, running sales and marketing programs that created a demand for the destination and increased visitor spending."
Thank You for Your Support
The 68th Annual Meeting and reception was made possible by the following vendors and sponsors: