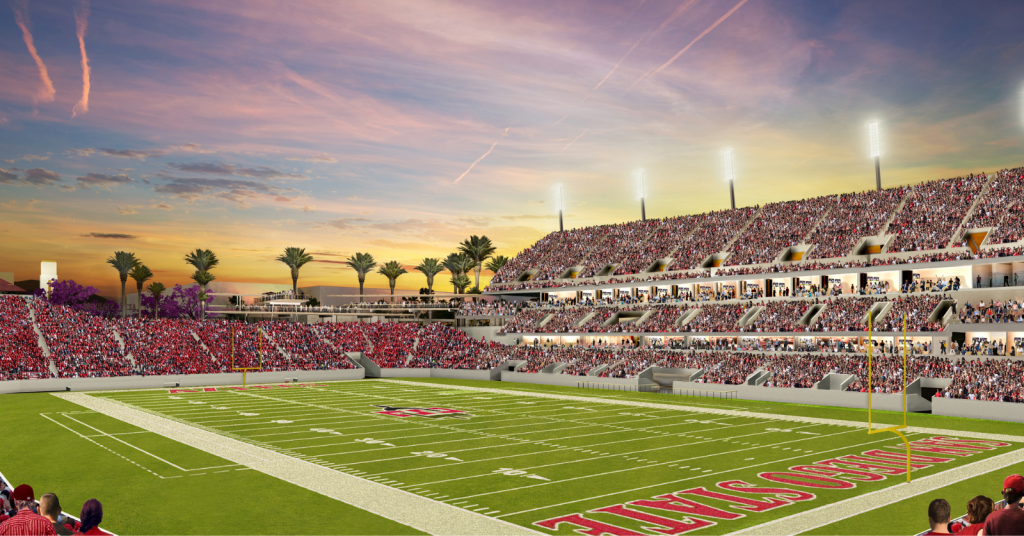 America's Brightest City now has a glittering new jewel among its venues: The just-opened Snapdragon Stadium.
The 35,000-seat, state-of-the-art stadium is home to the San Diego State University Aztecs football team as well as San Diego Wave soccer and San Diego Legion rugby. But the versatile venue in the heart of San Diego's vibrant Mission Valley also offers great new options for meetings, events, concerts and much more.
And it's the centerpiece of SDSU Mission Valley, a new community that when completed will include a 400-room hotel, 40,000 square feet of meeting and conference space and 95,000 square feet of commercial and retail outlets, along with 80-plus acres of outdoor space.
Here's just a snapshot of what Snapdragon has to offer:
Seven premium event spaces with capacities of up to 500.
More than 300 projected events annually, and a seasoned events team. Happenings at Snapdragon will include festivals, corporate outings, holiday parties and more.
Big-name event headliners such as Jimmy Buffett and Jason Mraz, who will perform at Snapdragon on Oct. 22, 2022.
In-house catering by 386 Hospitality, complete with Menú Azteca items intended to honor and celebrate Aztec culture. (Trivia note: The name comes from an epic, record-setting 386-yard rushing performance by former SDSU and NFL star Marshall Faulk in a 1991 game.)
Quick access to San Diego's regionwide transit system, with an on-site San Diego Trolley station that links to the full regional transit network, including the San Diego Flyer airport shuttle.
A focus on sustainability that includes recycling and composting bins throughout the stadium's public spaces, and a partnership with Aramark and Urban Corps on recycling programs.
Learn more about Snapdragon and all of our city's great sporting venues at Sports San Diego.