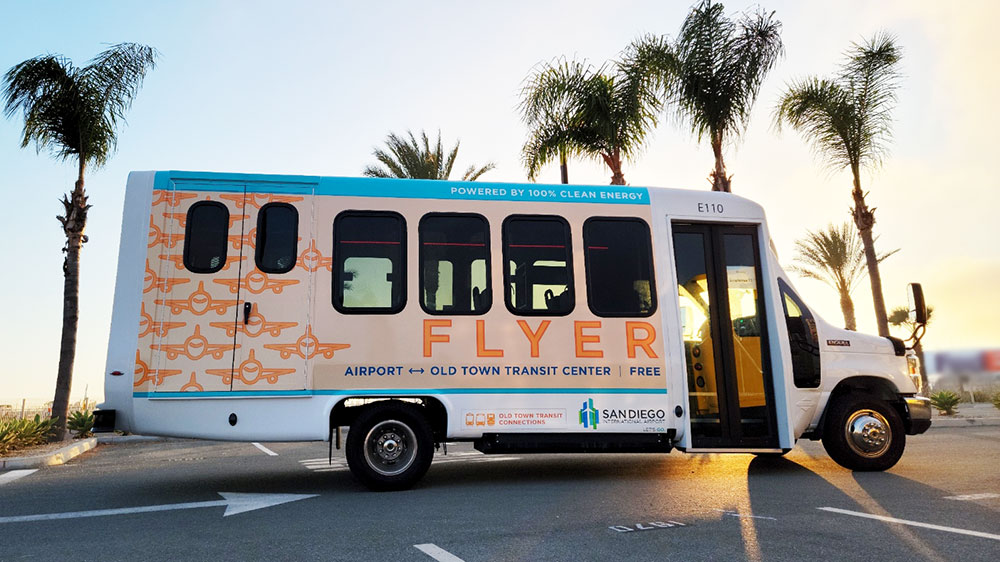 Travelers can now plug into a vital new link between the regional transit system and San Diego International Airport: The San Diego Flyer, a free electric shuttle-bus service that debuted Nov. 21.
The service operates seven days a week between the airport and the Old Town Transit Center, which offers connections to the San Diego Trolley, MTS bus lines and Coaster and Amtrak trains. (Note that no overnight parking is allowed at the Old Town facility.)
Shuttle trips are timed to meet the first and last trolleys, trains and buses of the day, with initial pickup at 4:45 a.m. and final pickup/dropoff at 12:30 a.m. The buses stop at both main airport terminals as well as the Old Town center, arriving every 20 to 30 minutes.
You can recognize the shuttles by their light orange sides adorned with airplane icons and the word "Flyer." The electric vehicles are powered by 100 percent sustainable energy via charging stations on airport property. Each shuttle has air conditioning, luggage racks and an ADA ramp.
Visit the airport's San Diego Flyer page for more information.
As the shuttle ramps up, construction also has begun at the airport on a new terminal to replace the existing Terminal 1.
The $3.4 billion modernization project, whose first phase is expected to be finished in mid-2025, ultimately will result in a terminal with 30 gates, improved concessions and baggage systems and a new airport access road.
Read more about this major project here.