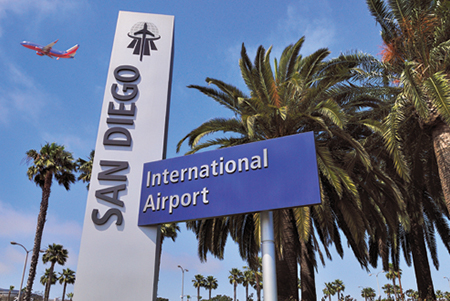 San Diego International Airport officials are advising travelers that construction in front of the airport's Terminal 1 will affect traffic and parking significantly beginning June 5.
The construction work is part of the project to build a brand-new Terminal 1, and the related impacts are expected to continue through the end of 2024.
Parking will be significantly reduced with the permanent closure of the existing Terminal 1 parking lot, scheduled for June 15. (The lot will be closed to incoming traffic beginning June 5; all vehicles must vacate by June 14.)
The pedestrian bridge in front of the terminal also will close permanently June 15, and be replaced by a new crosswalk.
With greatly increased airport traffic expected this summer, officials are advising travelers to expect potential delays, and to find alternative modes of travel to the airport so as to avoid the need for on-site parking.
Those alternatives include the San Diego Airport Flyer, an electric shuttle that runs regularly between the Old Town Transit Center and the airport's two main terminals.
For full details on construction impacts and traveler options, read the airport's news update.