To support the Group Meetings & Conventions industry, the San Diego Tourism Authority has launched a new B2B marketing campaign aimed at changing perceptions of San Diego as a business destination – Meet America's Brightest City.
While San Diego is known for its sunshine, coastline and good vibes, we've also been a hotbed of innovation, education and cultural exploration for decades. We rank toward the top in the U.S. in many forward-thinking categories — high-tech jobs, top research institutes, venture capital investments, patents granted, academic excellence, life science startups and civic leadership, to name a few.
This new campaign – Meet America's Brightest City – will reintroduce professional meeting planners, key decision-makers and executives to the beauty and brains of San Diego, where our environment is a catalyst for innovation and creativity.
FY 2023 Program Highlights
A $750,000 marketing initiative will run through May 2023, highlighting the innovation, inspiration, welcoming nature and variety of meetings and events venues across the destination. Print, digital, native content, email newsletters and lead generation tactics are served to qualified meeting planners across leading corporate meetings platforms to keep San Diego top-of-mind, spark consideration for booking business and drive leads for the region.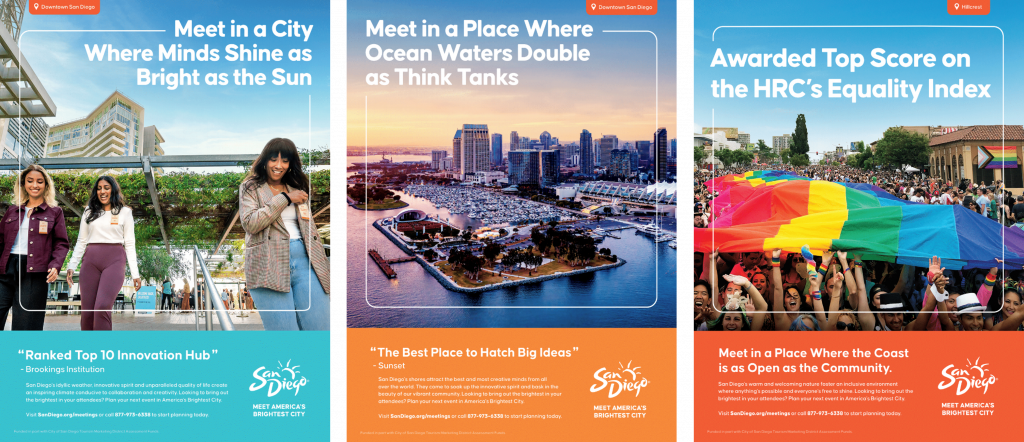 Outreach to Chief Marketing Officers
An added layer of advertising targets decision-making CMOs in trusted business-professional publications to capture their attention and increase awareness of San Diego for their next company retreat, product kickoff event or industry conference.

Showcasing San Diego's bright minds and sparkling setting
"There's no limit to what we can do as a business destination, and this new marketing campaign beautifully illustrates our message," said SDTA President and CEO Julie Coker. "With our stunning beaches, one-of-a-kind venues and access to some of the brightest minds in academia, tech and the life-science industries, meeting planners have even more reasons to choose San Diego for their next meeting or business event."
To learn more about SDTA's advertising efforts and to leverage the destination's strategy in your own marketing programs, please log in to Membernet.