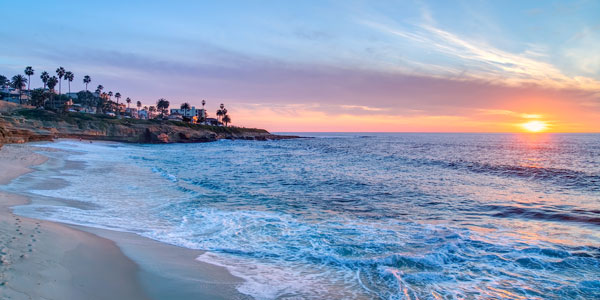 Joe Terzi, SDTA President and CEO
Comic-Con cancelled today as it is simply not possible to have their event at this time. Other conventions slated for July will also be cancelling in the coming days.
This leaves a big void in our community for the next few months, and there is nothing significant in the Convention Center until August.
The SDTA team is working on recovery plans and how to help support our hotel community when people are ready to travel again.
Data says San Diego is ideally positioned as a destination of choice for when that time comes.
We have been able to cancel a great deal of media – almost $10 million – for the last four months of the fiscal year that can be redeployed when people begin traveling again.
Kerri Kapich, SDTA COO
SDTA is sharing a great deal of information through our weekly executive emails and through the CONNECT blog.
Membernet tools are still available and we are sharing out San Diego Zoom backgrounds as well as the toolkit for our "We'll Keep San Diego Warm for You" campaign.
All of the SDTA's digital channels are seeing increased views and engagement, and our virtual experiences are proving popular as well.
SDTA continues to provide research on local hotel performance and is partnering with Tourism Economics to provide a forecast of demand going forward.
Hotel occupancy has ranged between 20% and 24% in recent weeks, driven by pockets of demand from military, government, displaced individuals and healthcare workers staying at hotels near medical facilities.
The SDTA is looking for guidance from its partners about when they plan to re-open and many are targeting June 1.
SDTA's initial marketing focus will be on getting local San Diegans to stay in local hotels.
As part of the recovery program, SDTA will target California, Nevada and Arizona, which has more than 50 million residents combined within driving distance. Research shows that most people don't want to fly but are willing to drive and are hungry for travel.
San Diego is well-positioned because it is the kind of destination that people say they want, one which is filled with natural beauty and outdoor recreation opportunities.
July 6 is still the target date to start marketing San Diego although that is fluid.
Between July and December, there is a significant media plan developed that will focus on the western U.S. and the drive market.
Starting January, the marketing will expand with a national focus.
Continue to work closely with Visit California, which is focusing its efforts on getting Californians to travel within the state.
Margie Sitton, SDTA Senior Vice President of Sales and Services
SDTA has had 81 leads in group sales since the beginning of April, with the activity being from the health and medical field as well as from the government and military. In fact, the military and government meetings are ones that would typically be held overseas and are coming back to the U.S.
The Group Sales team has created its own version of the "We'll Keep San Diego Warm for You" email campaign to keep the destination top of mind for meeting planners.
Feedback from meeting planners is that it is not the time to sell but rather an opportunity to continue to work on relationships and provide relevant information. Also, while the next 12 to 18 months will be tough, they all say that face-to-face meetings will never go away.
The most important part of site inspections going forward will be back-of-the-house operations so that they can ensure their attendees' safety and health.
Also, cities that put together a comprehensive and coordinated destination plan about what it looks like for a visitor to get from the airport to the hotel to their room in the safest, most efficient way possible will have a competitive advantage. The SDTA will be participating in those discussions.
Rick Outcalt, SDTA Senior Vice President of Citywide Sales
Convention Center currently houses about 1,000 homeless individuals in halls from C-H. They are not housed in the foyers, ballrooms or breakrooms. The City of San Diego will hire a professional cleaning crew to properly clean and sanitize exhibit halls when the homeless are moved out.
The Convention Center is already exploring ways it can properly facilitate social distancing for future events, using aisles that only go in one direction, having tape to delineate appropriate spacing, using rounds in the ballrooms or covering up chairs for theater-style seating.
There are still six groups on the books for August and the team continues to book new business for 2021, 2022, 2023 and 2024.