SALES & MARKETING HIGHLIGHTS
Below are the December 2017 sales & marketing highlights from various departments from the San Diego Tourism Authority.
BRAND MARKETING
INTERNATIONAL LEISURE ADVERTISING
CANADA
The digital portion of the consumer direct advertising program in Canada continued during December across the following tactics and partners: digital video with CTV, Global TV and YouTube Trueview; digital display with TripAdvisor, Sojern, and Adara; paid social video and slideshow units with Facebook and Instagram; and search marketing with Google. In total, an estimated 12.4 million impressions were delivered against just under $119k in spend ($99k SDTA spend + $20K Brand USA partner dollars).
CHINA
SDTA continued to ramp up consumer direct efforts in China during December. The Chinese New Year campaign with C-trip, which launched in November and extends through February, delivered estimated 4.6 million impressions this month. SDTA also launched its "Always On" search marketing program with Baidu, which includes both keyword search and display tactics that will continue throughout the year. SDTA's $54k in spend in China this month was complemented by almost $135k in in-kind media value through a partnership with Brand USA, delivering over 11 million impressions during the month of December.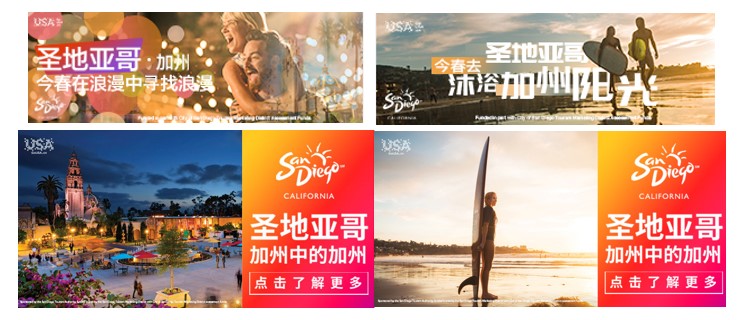 DIGITAL MARKETING
Special event promotion in December focused on Holidays, Attraction Events and pre-promotion of the January Farmers Insurance Open.
Web traffic for December included 464,374 user sessions between the desktop and SDTA posted a total of 49 Tweets, 24 Facebook posts, and 22 Instagram posts through our social channels, 6 blogs, and distributed 6 consumer emails.
LEISURE DIGITAL
Most Engaged Facebook Post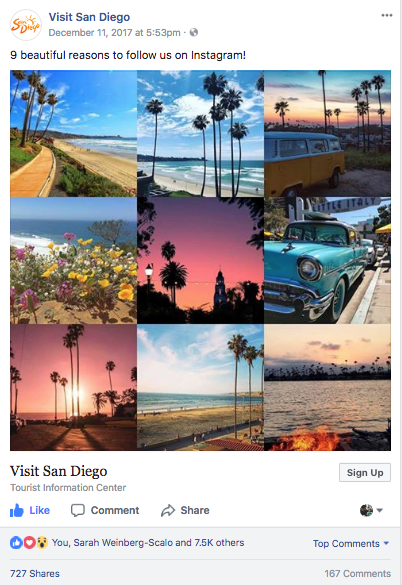 Most Engaged Twitter Post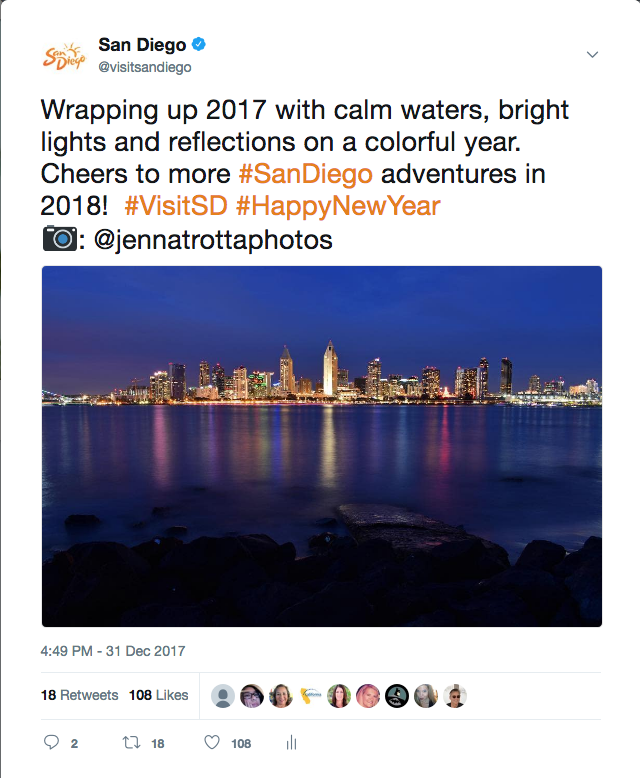 Most Engaged Instagram Post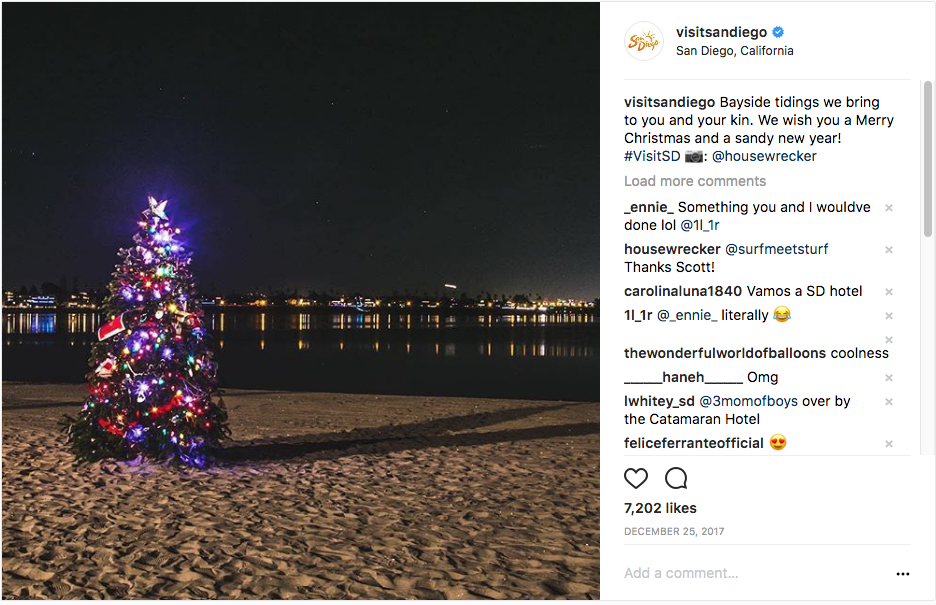 Most Engaged Leisure Email

REGIONAL DIGITAL MARKETING
Overall traffic to the Luxury and Value pages on sandiego.org was 3,206 site visitors in December. The social media team, in partnership with Casual Fridays, launched the following campaigns: User Generated Content for Mission Bay, an Outdoor Recreation slideshow (all regions), a LEGOLAND Instagram Story for North Coastal and a 15 along the I-15 Instagram Story for North Inland.
Most Engaged Regional Post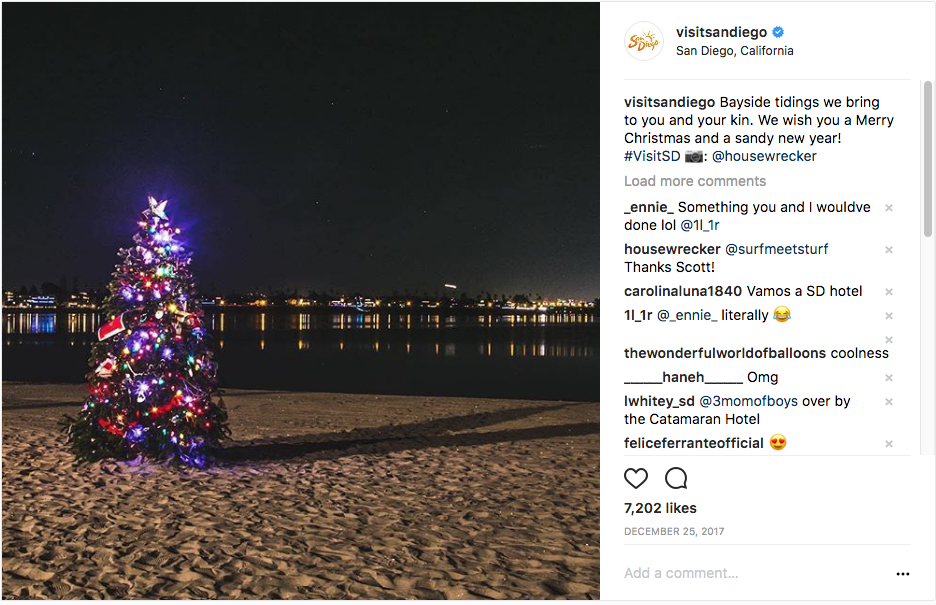 B2B DIGITAL
EMAIL:
In lieu of a featured video email to sales clients in December, an animated holiday card greeting was distributed.
LINKEDIN:
Three unique posts during November included:
San Diego Convention Center $1.1B Regional Impact
Star Wars SDTA Networking Event
Happy Holidays Video Message
LinkedIn grew by .8% from last month to 6,057 followers, earning 11,451 impressions. Year-over-Year the LinkedIn Audience grew by 14%.
Where We Stand
LinkedIn followers compared to similar organizations:
Visit Orlando 9,556
Discover Los Angeles 6,931
Visit San Diego 6,057
Visit California 5,856
San Francisco Travel Association 4,677
Brand USA 4,402
US Travel Association 2,638
Visit Anaheim 2,222
San Diego Convention Center 1,727
San Francisco CVB 1,242
California Travel Association 821
TWITTER:
@SDTAConnect Twitter base grew by 1% from last month to 3,576 followers. There were 22 tweets during the month.
This month, the tweet with the most exposure (3,016 impressions) was providing information on the wildfires in North County.

The tweet with the most engagement was a recap of a live Facebook broadcast from our leisure social media channels in Little Italy.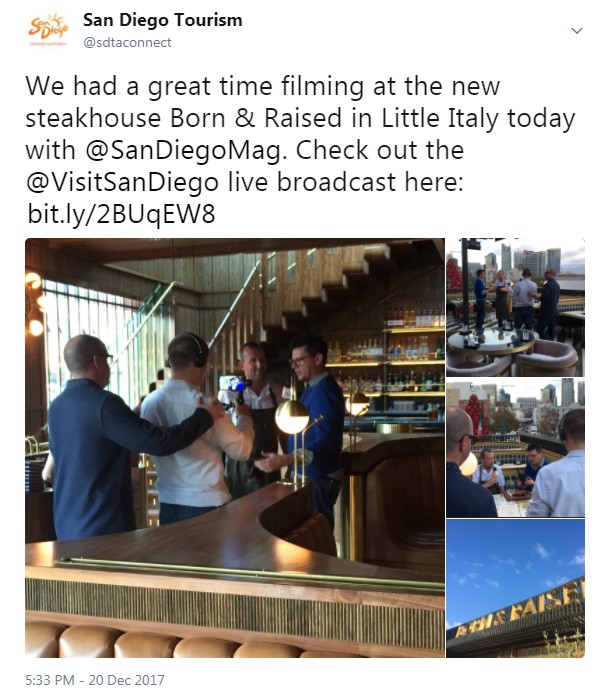 The SDTA corporate Twitter account earned 24,100 impressions during December.
MEMBERSHIP
18 Members attended the Open Office Hours on the 1st to learn how to best maximize benefits.
Ad Sales
$ 158,636 in new ad contracts.
Events
75 Members and SDTA staffers gathered on December 19th for a networking Mixer at the LOT Liberty Station followed by a private screening of Star Wars: The Last Jedi. Many thanks to our event host the LOT, and our sponsors Encore Entertainment and NRG Music & Productions for adding the fun entertainment and costumed characters.
NEW MEMBERS
La Quinta Inn Miramar joined the SDTA in December earning $1,800 in annual dues revenue.
HOTEL SALES
Hotel Sales Client Events and Tradeshows: With the holidays upon us this month, our Sales Team remained focused on selling San Diego. Kicking off in holiday spirit was Gillian Ware our National Sales Director along with nine of our hotel partners who attended the CalSAE's Seasonal Spectacular. This two-day show in Sacramento, gained eight new leads for the destination representing 4,488 potential room nights with more to come.
On December 14, hotel sales and citywide sales came together with six partners and braved the cold Midwest winter for the annual Association Forum of Chicagoland's Holiday Showcase and Exhibit. Prior to the start of the Showcase, the team hosted its annual San Diego Holiday Breakfast at Butch McGuire's. This year 91 customers and partners networked this annual favorite San Diego event.
Site Experiences: Our National Sales Directors kept our Conference Service Team extremely busy during the month as they assembled 31 client site itineraries.  Of the 31 itineraries produced, our Site Specialists conducted 25 of the sites.  Within that number, they toured 77 hotels along with 53 venues.  With a short month due to the holidays, we saw very little of our site team around the office as they were with YOU, our hotel partners, working closely to close year-end opportunities.  This was truly one of our busiest Decembers for sites on record.
In addition to this record-setting month, Maranda Tippin put together the SDTA Connect FAM which included 12 hotel and 4 venue partners.  19 Planners/Decision Makers from around the US were in attendance.  The FAM was very successful.  Thus far, we have generated 5 group lead opportunities, 2 of which signed contracts prior to year-end, representing 1,027 definite RN's.  In addition, we have identified 25 future potential leads (15,035 potential room nights) from the FAM attendees.
CITYWIDE SALES
FY18:
Definite Bookings: 5
Attendance: 28,300
Total Room Nights: 53,924
Fiscal Year 18-To-Date: 270,142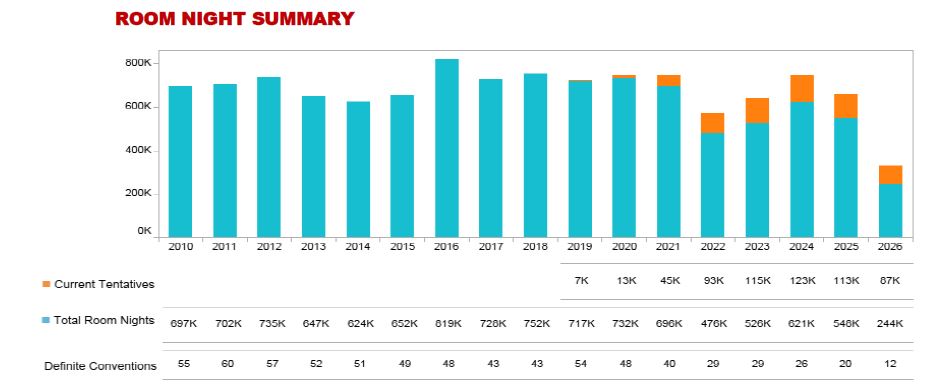 PUBLIC RELATIONS
In December, Communications staff traveled to Nashville and met with two senior editors of Parade Magazine, Relish and American Profile, the Destination Editor (California & Mexico) of Lonely Planet Magazine and publisher of Pride Journeys/Pride Wire, pitching San Diego story ideas for 2018.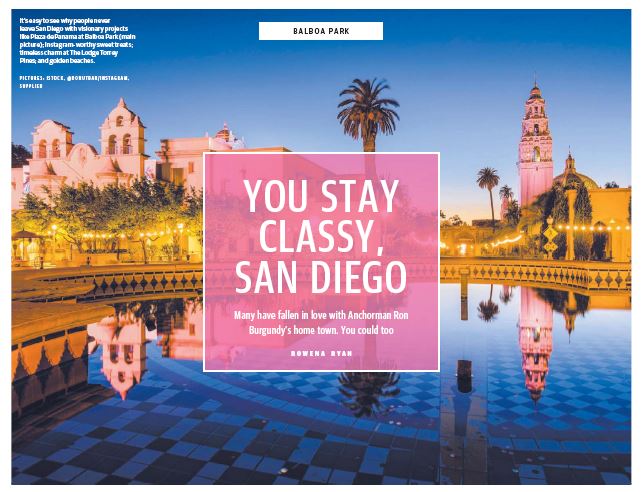 The team hosted a media fam with three leading Chinese magazines including Travel + Leisure on a 6-day/5-night visit to San Diego. The itinerary highlighted the region's family attractions, outdoor recreation, unique foods and local craft beers, colorful neighborhoods, shopping and arts, culture and history; it also included a day-trip to Tijuana. Communications also partnered with Visit California's office in India and hosted five leading Indian media outlets and partnered with Visit California's office in Korea and hosted seven notable Korean bloggers/social influencers.
Communications hosted a Mexico media fam in collaboration with Volaris Airlines and Cross Border Xpress. Media in attendance included Mural, El Occidental, Milenio and El Sol de Sinaloa.
Key coverage received in August included New York magazine, The Sunday Telegraph (Australia), GEO Saison (Germany), Vouge.com (China) and more.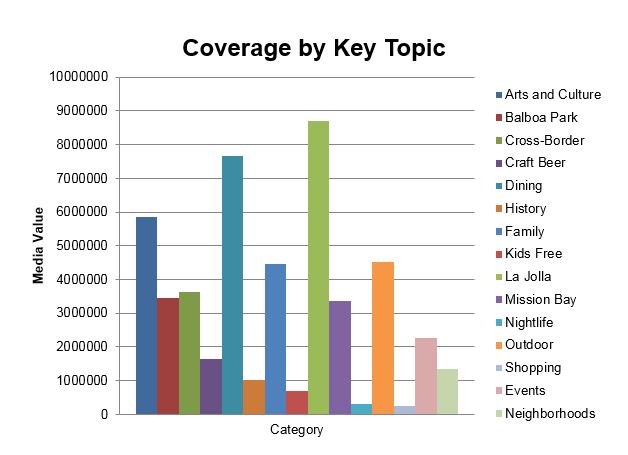 TRAVEL TRADE
Tourism Development Director Benjamin Eastman coordinated Attraction/Activity presentation sales calls to two top Receptive Operators in the LA-area.  In total, 5 members participated in the training at New World Travel and Americantours International, and were able to further demonstrate to the product and sales agents why longer stays are required in San Diego to be able to participate in so many great activities!