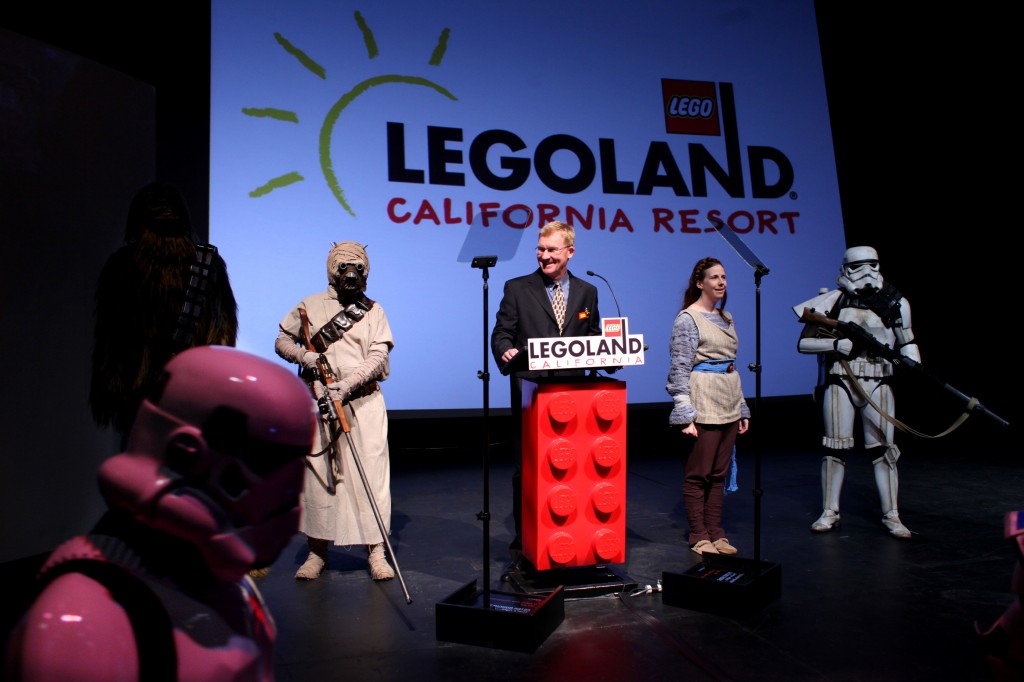 In a press conference on January 19, 2012 LEGOLAND® California Resort announced plans for a multi-million dollar investment following eight years of consecutive growth, with a double digit increase in attendance YOY in 2011.
In the coming year LEGOLAND plans to add the new attraction Pirate Reef, a new Star Wars™ Gallery, an expansion of the Star Wars™ Miniland display, and a new Claws exhibit at SEA LIFE™ Carlsbad Aquarium.
The expansion of the popular LEGO Star Wars™ Miniland exhibit will include new LEGO® models in each scene as well as a never-before-seen LEGO Star Wars Gallery.
For the first time, guests will be further immersed into the Star Wars experience as they walk through the LEGO Star Wars Gallery encountering LEGO "friends", including Princess Leia, R2D2, Darth Vader, Han Solo, Luke Skywalker, Anakin, Boba Fett, Chewbacca, Yoda and Darth Maul and others. These models will stand 3-feet-tall and will be displayed on a podium for guests to get an up-close look. Two of the new models will be introduced on February 10, to coincide with the theater release of Star Wars: Episode 1 The Phantom Menace in 3-D.
On May 24, LEGOLAND will open its new attraction, Pirate Reef, inviting guests to battle each other on the high seas as they blast water cannons or attempt to avoid a drenching on the main bridge. The ride includes a 25-feet plunge down a chute that splashes through the battle between Captain Red Brick and Captain Blue Brick.
This spring, SEA LIFE Carlsbad Aquarium at the LEGOLAND California Resort will open the new interactive exhibit, Claws, featuring five new displays that include Japanese spider crabs, coconut crabs, and other crustaceans. Claws will also include an interactive floor projection that reacts when kids move over it; a touch display allowing guests to feel the shell textures of different crabs; plus new daily educational presentations and feeds.