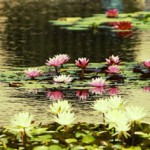 The Japanese Friendship Garden of San Diego is about to become one of the largest public Japanese-style gardens in the United States. Nine acres of Gold Gulch Canyon will complement the existing two-acre site in Balboa Park. Completion is anticipated by 2014, just in time for the Park's 2015 Centennial celebration.
Slated for construction are a camellia and azalea garden, traditional tea house, cherry tree grove, and tea and herb garden. Additionally, a pavilion and amphitheatre will serve as special events venues, surrounded by a lotus pond. Tributary streams from an existing waterfall will end at a main pond, enhancing observation views from the future Pavilion. Takeo Uesugi of FASLA was chosen as the architect for the dramatic undertaking.
The Japanese Friendship Garden is dedicated to the well being of all people and offers educational programs that encourage understanding of Japanese heritage among people of diverse backgrounds and cultures.