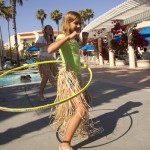 By Lori Weisberg, The San Diego Union-Tribune, 12:37 p.m., July 15, 2011
Sampling of Summer Hotel Promotions:
Rancho Bernardo Inn
Hidden Vineyard Escape: For $309 a night (per room), guests will visit three family-owned North County wineries via a chauffeured car. That includes a one-night stay, tastings at the three wineries and a picnic-basket lunch for two. The rate is $100 less if no transportation is provided.
Teens Only: Starting at $229 a night, this new package fills a teen's day with a golf-cart drive-in movie on the resort's driving range, inner-tube-sledding on a water-soaked driving range, manicures for the girls and a golf lesson for the guys, and complimentary virgin cocktails and food at the more casual Veranda restaurant. The rate covers two parents and one teen; for each additional teen, it's $59 a night more.
Loews Coronado Bay
Geared to simply promoting a unique summer experience, spiced with a bit of zaniness, these promotions are not part of a hotel package.
Retro Food & Beverage: Special menus have been designed to mimic outdoor barbecue fare, with a gourmet twist, like Haute Dogs with bacon, guacamole and pinto beans; low-cal blueberry mojitos and ice cream served in a roving cart and complimentary alcohol-free cocktails served in the lobby.
Play To Win: Patterned after the television show "Minute to Win It on NBC," the Loews' In It To Win It gives hotel guests a chance to test their skills, coordination and speed with poolside games that offer the possibility of lavish prizes valued between $2,000 and $5,000. One of the more competitive games is Block Head, where guests stack Fisher-Price blocks onto a Frisbee balanced on their heads to spell L-O-E-W-S. The competitions, which run through summer, culminate with the awarding of 15 prizes, among them vacation packages like a New York experience that includes tickets to a Broadway show.
Hotel Solamar
Summer Like a Local: Taking the concept of concierge services to a new level, the hotel is using its staff to advise guests on the popular spots frequented by San Diegans, be it a favorite surfing spot, dive bar or farmers market. The summer campaign also offers perks typical of Kimpton-run boutique hotels, like complimentary organic coffee and tea each morning, a chamomile berry tea and apple juice beverage each afternoon in the hotel lobby and watermelon-infused sangria during the hotel's hosted wine hour in the evening.
For $10 above the hotel's best available rate, guests can get a $25 credit for use at the hotel's restaurant, Jsix.
Sheraton San Diego Hotel and Marina
Summer play program: Taking advantage of the 50-slip marina it owns, the hotel has partnered with various boating and water-sports venues to offer discounted rates to guests for various adventure outings. They include q ride on an authentic Navy SEAL Rigid Inflatable Boat (R.I.B.) on San Diego Bay, a fishing charter, jet skiing and a pirate ship voyage, complete with sword fights and a treasure hunt
Read more here: http://www.signonsandiego.com/news/2011/jul/15/hotels-building-summer-business-with-fun-and-games/