San Diego Union-Tribune
Updated on Sign On San Diego May 11, 2011 at 6 a.m.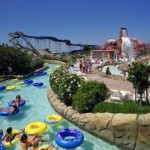 Knott's Soak city is one of many attractions South County has to offer visitors.
San Diego's tourism agency, which already has expanded its reach into North and East County, will now be moving into the South County area as well.
The Convention and Visitors Bureau announced Tuesday that it has formed a partnership with the South County Economic Development Council to help market the area as a visitor destination.
The new initiative will include the development of a South County micro website that will highlight the area's varoius tourism offerings.
Read more: http://www.signonsandiego.com/news/2011/may/10/south-county-gets-help-promoting-tourism/.