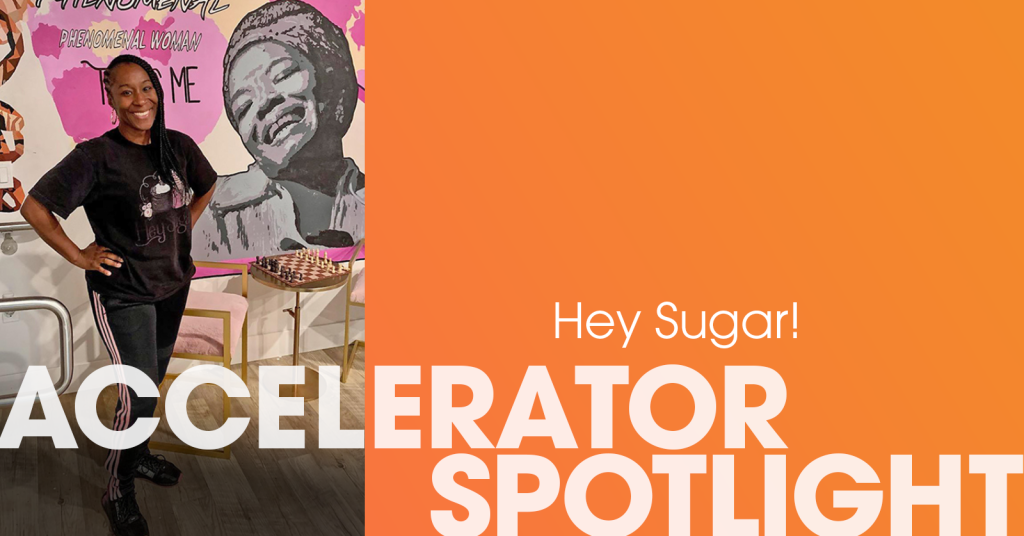 Designed to promote diversity, equity and inclusion in the local tourism industry, the San Diego Tourism Authority's Tourism Accelerator program provides free SDTA membership, mentoring, education and networking opportunities to businesses owned by people of color, women, veterans and those who identify as LGBTQIA+.
We are thrilled to introduce Hey Sugar!, a member of the 2023 Tourism Accelerator Cohort.
What is Hey Sugar!?
Hey Sugar! is the brainchild of Chan Buie, a Navy veteran who turned her passion for baking into a thriving dessert business. Though Buie was born and raised in Los Angeles, her childhood summers in Northern Mississippi exposed her to the world of Southern sweets, and these flavors became the heart and soul of Hey Sugar! From fresh-baked cookies and macarons to lemon bars, cobblers and her signature single-serving Phat cakes, the menu boasts an extensive variety of indulgent treats. What sets Hey Sugar! apart is Buie's commitment to quality — she bakes everything from scratch using top-notch ingredients, ensuring each bite is a delightful journey to the South.
What Does Hey Sugar! Do?
Hey Sugar! isn't just a bakery; it's a destination for those seeking comfort and indulgence through desserts. Buie's creations aren't just tasty; they're made with passion and a deep appreciation for culinary artistry. The shop offers a diverse range of treats, from the classics to innovative delights like jar cakes – layers of cake and frosting in a charming canning jar. Prices are accessible, starting at $2.50, making it easy to treat yourself to a slice of Southern heaven. What's more, Hey Sugar! has rapidly gained popularity since its soft opening in June, and Buie's plans for expanding hours and offerings promise even more sweet surprises.
How Can You Work with Hey Sugar!?
SDTA encourages its members to work together and support one another. Coming together to create greater access to resources and services helps our diverse communities flourish. There are a few exciting ways to engage with this delectable venture. First and foremost, visiting the dessert shop near Petco Park in East Village is a must. Indulge in Buie's creations and experience the warm, inviting atmosphere she has carefully curated. Additionally, keep an eye out for upcoming events, promotions, and the highly anticipated grand opening on Sept. 17th. Hey Sugar! is more than a bakery – it's a place to savor, celebrate, and share the joy of Southern-inspired desserts.