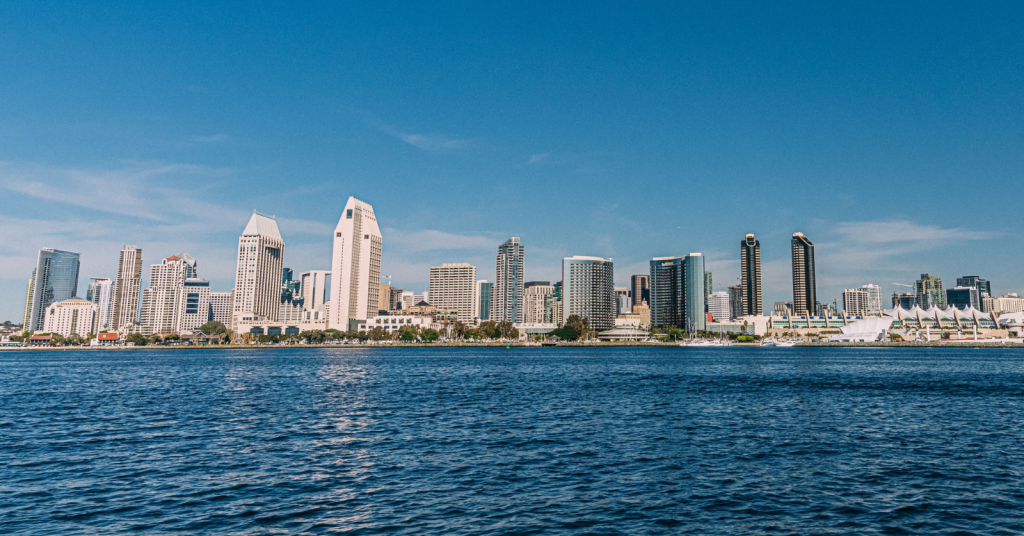 Recent Performance
Lodging performance has been a mixed bag so far in 2023. After a strong January and February, room night demand has drifted modestly below 2022 and 2019 levels since the first week of March. Earlier in the recovery, slower room night sales were attributable entirely to weaker corporate and international travel, while domestic leisure travel led the rally. However, in 2023, the balance has shifted; corporate travel has recovered largely to pre-pandemic levels while leisure demand has softened. This trend is concerning because the leisure market drives most room nights and hotel revenues in San Diego. On a brighter note, however, average daily rates (ADR) have remained well above pre-pandemic levels, keeping a floor under revenues so far this year.
Forecast Downgrades
The softening in demand seen since March prompted us to modestly downgrade our forecasts for room night demand for the rest of 2023. The recent slowing may result from historically unseasonably cool, rainy weather this year; concerns over personal finances as inflation forces households to rack up record levels of credit card debt; or general concerns over the economic outlook for the latter half of the year. Or it could be a combination of the three.
Regardless of the cause for the recent slowdown in room night generation, relief doesn't appear to be coming anytime soon. Many economic indicators are flashing warning signs that a recession will be here by the summer or fall, likely keeping travelers on the defensive for the next six to nine months, and the National Oceanic and Atmospheric Administration is forecasting a 90% probability of an El Niño materializing in the summer and remaining in place through the end of 2023. El Niño is typically associated with wetter-than-average weather in Southern California, potentially extending the rainy, cloudy conditions into early next year.
The above prompted the San Diego Tourism Authority to lower the room night demand forecast for calendar year 2023 from 17.5 million in the January forecast to 17.2 million in April.
Corporate Travel
Group and business travel to San Diego has come back significantly since late 2022, leading many people to upgrade their forecasts for this year. However, this is likely a mistake.
A survey of corporate executives by Ipsos and and the U.S. Travel Association showed a declining share in Q2 2023 of executives who plan to send employees out to conventions and events in the next six to 12 months, with the most commonly cited concern being tighter corporate budgets. To be sure, research from S&P Global shows that of the $22.7 trillion in debt that the company tracks — just a subset of the total universe of corporate debt in the United States — some 8%, or $1.8 trillion, will mature this year at much higher interest rates than during the pandemic, and another $6.5 trillion will be reset by the end of 2025. This implies that corporate borrowing costs could rise by $90 billion this year and by as much as $325 billion over the next three years—just on that debt alone —crowding out budgeting for anything from new hires to corporate travel.
And, of course, the U.S. economy is staring down the barrel of a recession (or so we've been told). Our forecasting partner, Oxford Economics, predicts a recession for the second half of 2023. So, even outside of the fundamental issues facing businesses this year, such as rising debt burdens and higher per-unit labor costs, the pullback in corporate travel could be even more pronounced, as corporate leaders mull virtual or hybrid alternatives to meetings.
Unfortunately, any lull in corporate travel could be swift if financial conditions deteriorate rapidly over the next few months. On the upside, however, it's also worth noting that the convention and events calendars for this year and next are more fully booked than in 2022, providing some comfort that any reduction in corporate travel would not be close to the scale seen during the pandemic or its immediate aftermath.
Cautious Optimism
Despite the headwinds facing the industry, there are pockets of optimism.
First, travel inspiration among leisure travelers remains exceptionally high, and there is still some pent-up travel demand to be wrung out of the market.
Second, San Diego tends to perform decently well even during downturns because travelers in markets such as Los Angeles, Orange County and Las Vegas see San Diego as a cheaper alternative to other longer-haul destinations, raising the value proposition during times of uncertainty. Outside of our drive markets, recent research on the San Diego Tourism Authority's media effectiveness shows a large share of long-haul travelers from the eastern U.S. booking a trip to San Diego over the next year.
Next, households have seemingly reclassified travel as a necessary budget item rather than a "luxury" expense. As a result, any downturn this year may not have as much of a negative impact on overall travel as in past recessions.
Finally, and perhaps most importantly, forecasts are often wrong. As a result, recession calls may turn out to have been overblown as we head into 2024, and this year's El Niño pattern could be shorter or less severe than anticipated or could deter visitors less than feared.
Long story short, the forecast is rife with risks, and the San Diego Tourism Authority will closely monitor economic and market conditions for any indications that the tide is turning — for better or worse —for tourism this year and next.