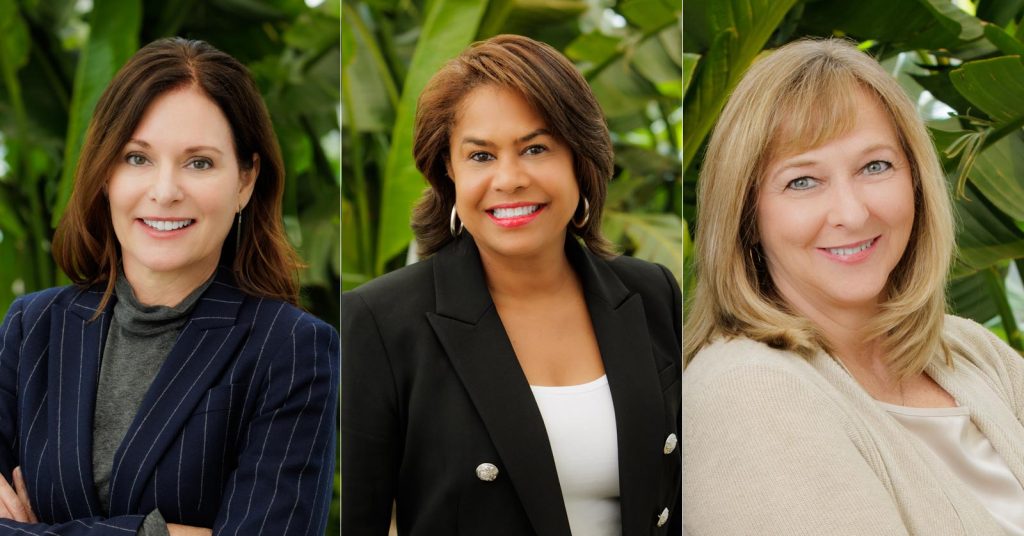 Happy International Women's Day! March 8 is a global celebration of the social, economic, cultural and political achievements of women. At the San Diego Tourism Authority, more than half of our staff are women, including our CEO Julie Coker, COO Kerri Verbeke Kapich and the Chair of our Board of Directors Kimberly Becker. To celebrate, we'd like to highlight some recent accomplishments by the women of the SDTA, shaping our organization, the San Diego community and beyond.
Julie Coker, CEO and president
This month, our President and CEO Julie Coker will be honored with a "Fearless Award" from the County of San Diego Black Chamber of Commerce for shaping the travel industry, inspiring leadership and uplifting Black women. Julie will receive her award at the chamber's inaugural "Celebrating a Woman's Worth" event, March 31 at Park & Market in Downtown San Diego.
In honor of Women's History Month, Julie shared her story with reporter Andrea Doyle at Skift, recalling how she worked her way up in the industry, from a restaurant job in high school to a corporate management trainee position after college to head of the Philadelphia Convention and Visitors Bureau and now the SDTA. It's a great listen, and a true testimony to her vision and drive.
Kerri Verbeke Kapich, COO
LEAD San Diego, the leadership development arm of the San Diego Regional Chamber, plays a pivotal role in developing our region's leaders across industries and issues, and we're pleased to announce SDTA COO Kerri Verbeke Kapich was recently named Chair of its Board of Directors. Kerri is a 2017 graduate of the LEAD Influence San Diego Class for C-level executives, and is a passionate advocate for leadership development. She'll serve in this position for one year, leading a board of 31 members.
Gillian Ware, national sales director
On the sales side, National Sales Director Gillian Ware was honored by the Hospitality Sales & Marketing Association (HSMAI) as a Top 25 Extraordinary Mind of 2022. As a member of HSMAI's 20th class, Gillian has been recognized as an innovator in the hospitality industry for adapting to post-COVID travel and capitalizing on market changes. Gillian is a shining example in our industry, and the SDTA is thrilled to see her receive the recognition.
Michaelene Sullivan, vice president of sales & Veronica Rivera, national sales director
Michaelene Sullivan and Veronica Rivera were both honored in the 2023 Smart Women in Meetings Awards, which recognizes top talent meetings and events. Michaelene, our vice president of sales, received an "Industry Leader" award, and Veronica, a national sales director, received a "Stellar Performer" award for being leaders who push the hospitality industry forward. It's a well-deserved recognition and we congratulate you both.
Tourism Accelerator
Finally, the San Diego Tourism Authority has announced our 2023-2024 Tourism Accelerator cohort. The second-ever cohort, embracing a wide range of businesses owned by women, people of color, veterans and those who identify as LGBTQ+, will receive free SDTA membership, mentoring, education and networking opportunities. Of our participants, eight out of 10 businesses are women-owned and we hope you'll support them all.
Thanks to all the women who make San Diego such a wonderful place to live and work. Happy International Women's Day!