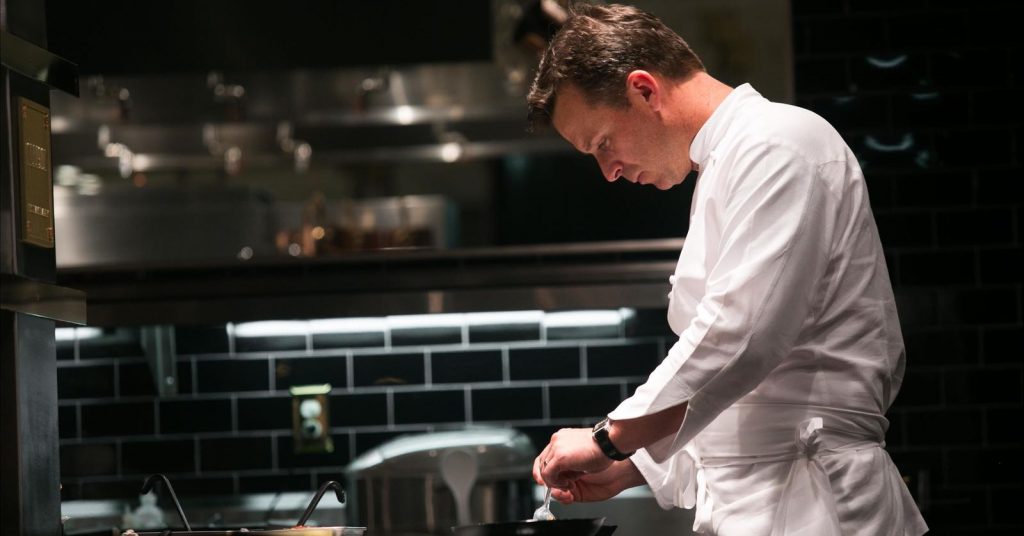 In the world of dining, there's no higher recognition for a restaurant than a Michelin star. And San Diego now boasts four establishments with that esteemed distinction — including one that has earned Michelin's top global honor of three stars, an exceedingly rare accolade.
On Monday, the Michelin organization, which confers the world's most-recognized and coveted dining honors, awarded a third star to Addison at the Fairmont Grand Del Mar in San Diego's Carmel Valley. The honor comes after Addison earned its first star in 2019 and its second in 2021.
With that distinction, Addison becomes one of just seven restaurants in the state to boast three stars, and the only one in Southern California.
"San Diego, we did it, trois etoiles!," Addison Chef William Bradley exclaimed upon hearing the announcement Monday night at an event in Los Angeles.
Addison was one of 18 California restaurants to receive first-time or additional stars for 2022. Three other San Diego-area restaurants — Jeune et Jolie, Soichi and Sushi Tadokoro — received one Michelin star last year and have retained those honors.
While no other honors for San Diego restaurants were announced, 13 local dining establishments have earned Bib Gourmand status from Michelin over the past three years. That designation recognizes restaurants that combine value with quality and "leave you with a sense of satisfaction at having eaten so well at such a reasonable price."
In addition, San Diego's Kingfisher and Oceanside's Valle were added to the Michelin California Guide for the first time, although no specific distinctions were mentioned.
The latest Michelin news underscores a recent surge of excitement across the San Diego dining scene, with a host of high-profile openings as well as additional awards — including honors for six area restaurants late last year from Gambero Rosso, an Italian cuisine rating group and magazine.
In fact, San Diego restaurants have earned all kinds of superlatives, from biggest in the state to tops in more quirky categories.
Here's a roundup of all San Diego's Michelin-honored restaurants currently operating, including comments from Michelin's inspectors where relevant.
Michelin Stars
Addison at the Fairmont Grand Del Mar (three stars, 2022)
The acclaimed restaurant in San Diego's Carmel Valley specializes in California gastronomy under the guidance of Chef Bradley. Michelin's inspectors said:
"Chef William Bradley has helmed the stoves at Addison since 2006, transforming this Southern Californian oasis into a world-class dining destination. Global inspiration and Californian sentimentality are at the heart of his approach, and no dish captures this better than sesame-seasoned Koshihikari rice finished with applewood-smoked sabayon and crowned with Regiis Ova reserve caviar. From chicken liver churros to a riff on chips and dip, dishes are playful yet polished. Opening bites such as Kumamoto oysters with pickled green strawberry or Iberian ham folded over a gloriously golden potato display finely tuned flavors. Shellfish-studded chawanmushi exemplifies masterful control over technique, flavors and textures. Meals conclude with a selection of stunning small bites."
Jeune et Jolie (one star, 2021)
This Carlsbad favorite (whose name translates from the French as "young and beautiful") has made a big splash under the guidance of owner John Resnick — who also opened the nearby Campfire — and Executive Chef Eric Bost. Michelin calls Jeune et Jolie an "appealing and well-orchestrated French restaurant oozing with style and elegance at every turn."
Soichi (one star, 2021)
Chef Soichi Kadoya, who presides over this intimate Japanese restaurant in University Heights, is the former chef at the likewise Michelin-starred Sushi Tadokoro. His namesake restaurant is centered on a chef-driven experience as characterized by the Japanese term omakase, which translates as "I leave it up to you." Michelin says the sushi here "leans straightforward," adding that it is "impressive and flaunts much skill."
Sushi Tadokoro (one star, 2021)
San Diego's Old Town earned its first Michelin star thanks to the inspired guidance of Sushi Tadokoro chef/owner Takeaki Tadokoro and young chef Tatsuro Tsuchiya. The restaurant "takes great pleasure in providing diners with a delightful dining experience," Michelin's inspectors said, adding: "Attention to detail is a hallmark, as sauces are homemade and the fish of the day rests within a wood box awaiting very special treatment."
Bib Gourmand
Callie (2021)
Presided over by Chef Travis Swikard, this East Village restaurant takes its name from the Greek term kallos, referring to a thing of beauty. Michelin's inspectors seem to agree. They say the cuisine at Callie "takes advantage of the best ingredients SoCal has to offer in highly shareable dishes featuring the bold, sunny flavors of the Mediterranean."
Cesarina (2021)
Point Loma plants its Michelin flag with this intimate but convivial neighborhood trattoria. The Michelin people make a point of advising that "those on a quest for indulgence should look no further than the truffled gnocchi with a cream sauce, served in its own copper pot."
Ciccia Osteria (2021)
This Barrio Logan eatery is an Italian-cuisine favorite. And it lives up to the term "homey": The restaurant is set in a converted house. Michelin says the "adorable osteria" is a "true family operation", noting that the wife-and-husband team of Francesca Penoncelli and Mario Casineri run the kitchen.
Dija Mara (2021)
This Balinese-inspired restaurant in coastal North County prides itself on mixing Southeast Asian flavors with a Western flair. Michelin's inspectors enthuse that "you'll find some serious Indonesian cooking here." And they praise such dishes as the charred eggplant with smoked tomato sambal and crispy fried shallots, "a textural and flavor-forward delight."
Morning Glory (2021)
The folks at Consortium Holdings, the maverick restaurant group behind this breakfast-and-brunch-only establishment in Little Italy, don't take themselves too seriously. The place's amusingly eye-straining homepage advises, "We don't make websites. We make breakfast." But Morning Glory wins earnest praise from Michelin for its "familiar-seeming favorites and of-the-moment meals — hello, avocado toast and shakshuka."
Campfire (2019)
Carlsbad in coastal North County has always been a lovely seaside town. But no one claimed it as a modern, groundbreaking place to eat or drink – until Campfire. It's an ode to fire and smoke – the place even has a teepee out back. Try the brisket plate with furikake (Japanese spice mix), or any of the mind-bending craft cocktails from the bar.
Cucina Urbana (2019)
Classic Italian blends seamlessly with laid-back California modern at this beloved Bankers Hill eatery. The ingredients are top-notch, the preparation masterful, and the environment warm and welcoming. The extensive wine list is available at retail level. So when you find a wine you like, you can take a bottle to go.
Cucina Sorella (2019)
The little sister to the popular Cucina Urbana restaurant, Kensington's Cucina Sorella is a funky Italian restaurant featuring a bohemian-chic design with pops of color and floral prints. The menu specializes in deep-dish pizzas, hand-crafted pastas, antipasti and polenta boards, offering small and large plates. The beverage program includes an extensive list of Italian and regional wines, seasonal cocktails and craft beer on tap.
Juniper and Ivy (2019)
The stunning Juniper & Ivy sits in a 90-year-old converted warehouse. It's a true standout, with its mod artwork, oversized curvaceous booths, an exhibition kitchen, upscale counter dining and a lively bar scene for craft cocktails. Guided by chef and James Beard Award nominee Anthony Wells (who succeeded the celebrated Richard Blais here), the restaurant touts "a chef-driven menu that uses hand-selected, seasonal ingredients crafted with precision, passion, and creativity."
Kettner Exchange (2019)
Kettner Exchange features progressive American cuisine from Executive Chef Brian Redzikowski. The menu changes seasonally and is complemented by a cocktail menu and a selection of 32 beers on tap. The open-air rooftop lounge overlooking Little Italy offers a unique variety of libations, including boutique wines, craft and classic cocktail decanters and self-serve beer taps located right inside private cabanas.
Lola 55 Tacos & Cocktails (2019)
LOLA 55 offers a taco-focused menu, relying on locally sourced ingredients at affordable prices. To complement the chef's selection of tacos, there's also a full bar stocked with mezcals, tequilas and aqua frescas.
Solare Ristorante (2019)
Fresh, simple and hand-made is the name of the game at this Italian treasure, which pays very close attention to seasonal produce (easier to do when you grow many of your own vegetables, as Solare does). In addition to it's current Bib Gourmand status, Solare is one of just 13 restaurants worldwide to have earned the prestigious Tre Gamberi award — similar to the Michelin star system — from Gambero Rosso.