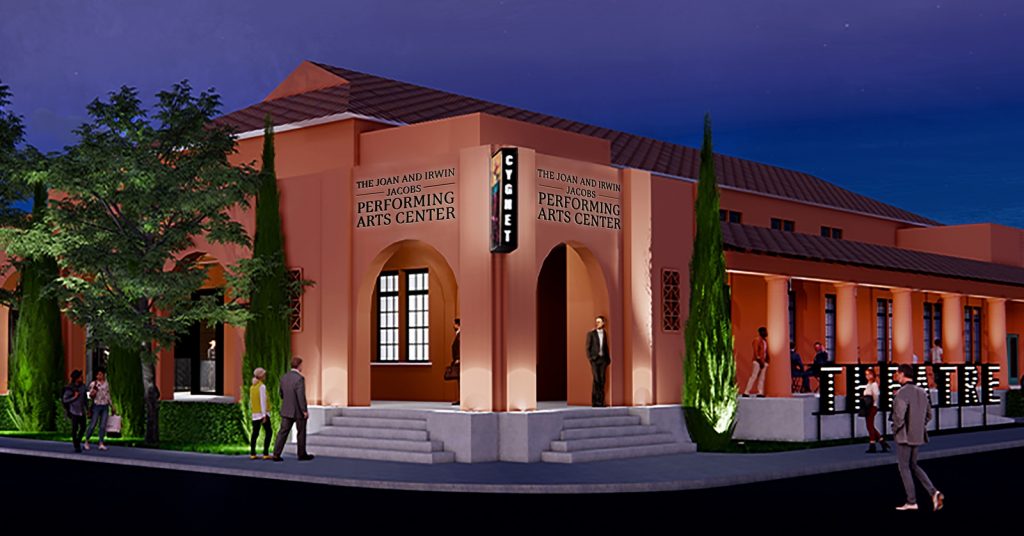 San Diego soon will add another sparkling venue to its booming arts and culture scene, with the announcement of the Joan and Irwin Jacobs Performing Arts Center.
The $38.9 million project will transform a historic Navy building at Liberty Station in Point Loma into a multi-use theater and arts hub, and will serve as the new home for San Diego's powerhouse Cygnet Theatre.
The center, born through a partnership between Cygnet and the NTC Foundation, is expected to open in late 2024. It's made possible by contributions from leading San Diego philanthropists — most prominently Joan and Irwin Jacobs, the new complex's namesake donors — and will be the latest addition to the burgeoning Arts District Liberty Station.
The Jacobs Performing Arts center will join such major recent or pending additions to the San Diego arts and culture scene as the $68 million Epstein Family Amphitheater at the University of California San Diego, which opened in October; the $17 million The Sound at the Del Mar Fairgrounds, set to open in February 2023; La Jolla Music Society's $82 million Conrad Prebys Performing Arts Center (aka The Conrad), which debuted in 2019; and the San Diego Symphony's $85 million Rady Shell at Jacobs Park, the jewel of San Diego's waterfront, which was unveiled in 2021.
The Museum of Contemporary Art San Diego's flagship La Jolla location also reopened this year after a sweeping (and stunning) $105 million renovation, while Balboa Park's Mingei Museum and Timken Museum likewise opened their doors again after their own re-envisioning projects (at $55 million for the Mingei and $3 million for the Timken). East County's The Magnolia and University Heights' Diversionary Theatre have undergone major updates as well, and two brand-new museums also have opened in the past year: the Comic-Con Museum in Balboa Park, and Barrio Logan's Chicano Park Museum.
And the Joan and Irwin Jacobs Music Center, the San Diego Symphony's historic indoor performance space at Copley Symphony Hall downtown, is undergoing a $125 million renovation and is expected to reopen in fall 2023.
It's all part of a major upsurge in San Diego's arts scene, driven by record-breaking philanthropic investment and putting the city in the national spotlight.
At the official announcement of the Jacobs Performing Arts Center, held at THE LOT at Liberty Station, San Diego Mayor Todd Gloria spoke of the importance of arts and culture to the area's tourism industry and to the San Diego economy in general, and listed the many new venues coming online.
"I'm so glad we'll be able to add this building — and Cygnet and the NTC Foundation — to that constellation of incredible stars that is our arts and culture environment," Gloria said.