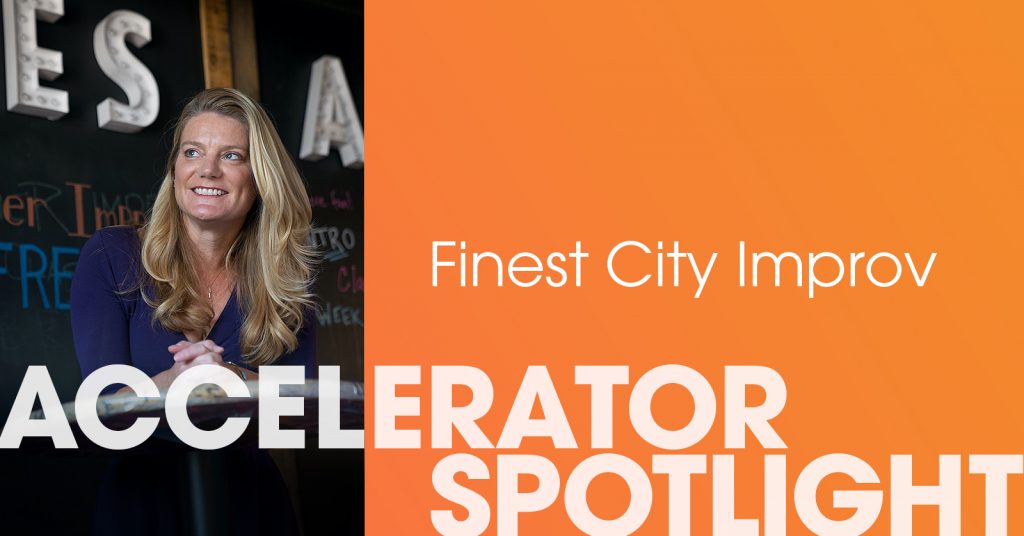 Designed to promote diversity, equity and inclusion in the local tourism industry, the San Diego Tourism Authority's Tourism Accelerator pilot program provides free SDTA membership, mentoring, education and networking opportunities to businesses owned by people of color, women, veterans and those who identify as LGBTQ+.
We are thrilled to introduce Finest City Improv (FCI), a member of the first Accelerator cohort, selected from nearly 50 applicants.
What is Finest City Improv?
Finest City Improv was a byproduct of both inspiration and convenience. Amy Lisewski, founder and current art director, studied improv and grew tired of traveling up to Los Angeles to perform. In order to keep San Diego talent in San Diego, she recognized the need for a dedicated longform improv training center or theater. Thus, the idea for FCI was born.
Since 2012, FCI has provided the space for performers, students, loyal fans and first-time visitors to feel connected through laughter and fun. It fosters creativity with support and inspiration while entertaining and bringing joy to the community of San Diego.
What Do They Offer?
Through her mission of bringing more joy and courage to people's lives, Amy has created a space for locals and visitors to learn, perform, and watch improvisational comedy and performance. With shows every week at its quaint stage in Hillcrest, plus private events and corporate entertainment, there are many ways to engage in all the improv fun. Using the "Yes! And…" mentality, Finest City improv has created team-building courses and communication-building workshops for local businesses, giving them the space to be open and creative with one another.
How Can You Work with Finest City Improv?
Finest City Improv offers multiple opportunities to see and work with their extraordinarily talented performers. From team and skill-building workshops, to keynote speakers, to private improv performances, there are many opportunities to engage with groups, meetings, corporate retreats, etc. FCI connects real work issues and team goals using improv methods. It is not just a theatre or improv school, it is a community of talented, hilarious individuals that offer their talent and expertise to the community of San Deigo.
SDTA encourages its Members to work with one another and create greater access for the diverse communities within our beautiful destination to succeed. To learn more about team building workshops, keynote speakers or local improv performances click here.