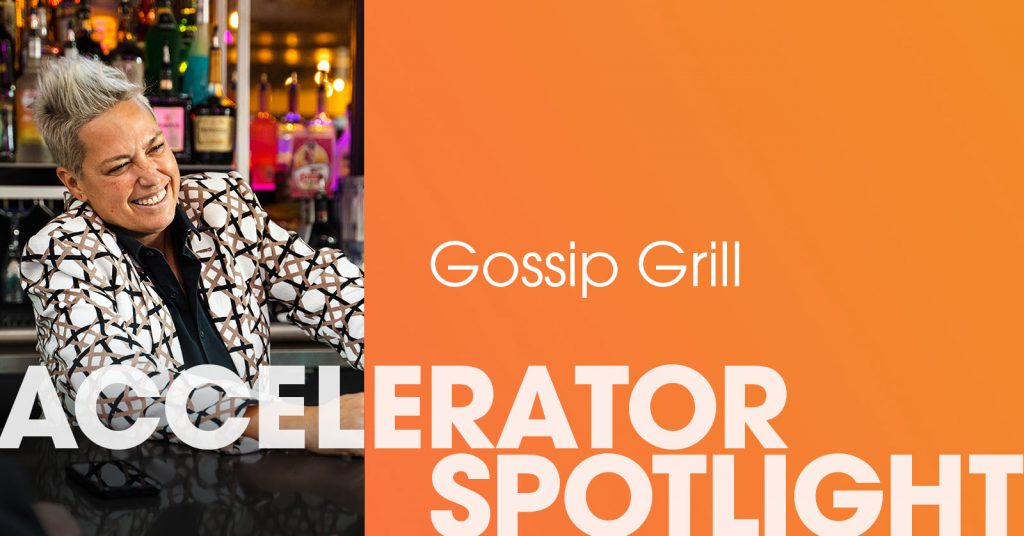 Designed to promote diversity, equity and inclusion in the local tourism industry, the San Diego Tourism Authority's Tourism Accelerator pilot program provides free SDTA membership, mentoring, education and networking opportunities to businesses owned by people of color, women, veterans and those who identify as LGBTQ+.
We are thrilled to introduce Gossip Grill, a member of the first Accelerator cohort, selected from nearly 50 applicants.
What is Gossip Grill?
Gossip Grill, established in October 2009, is a popular San Diego LGBTQ+ venue and one of the 21 remaining Lesbian bars in the United States. Moe Girton, founder, owner and recipient of 6 Nicky Awards, has crafted this Hillcrest mainstay to be more than a bar and restaurant that serves a delicious brunch and uniquely named cocktails. Gossip Grill is a safe space for all womxn-identifying peoples and the rest of the LGBTQ+ community to come together and be themselves.
What Does Gossip Grill Offer?
Gossip Grill specializes in modern American comfort food, with a wide range of soups, salads, burgers and pastas — not to mention the LGBT sandwich, a signature twist on the BLT. There are also extensive brunch and lunch menus. All the food and cocktails are crafted and served in a welcoming space with feminine-inspired art, fabulous chandeliers, dance floor, an outdoor patio bar with two fire pits, and even a swing set.
How Can SDTA Members Work with Gossip Grill?
Gossip Grill stakeholders are committed to using their platform and popularity to build connections and inspire love. They want to work with other establishments throughout the city of San Diego to expand into new markets and work to learn, grow and evolve with the rest of the LGBTQ+ community. Gossip Grill caters as well as hosts private and public events throughout the week and prides itself on being a venue for everyone. It serves as a perfect venue for fun company outings and private events.
SDTA encourages its Members to work with one another and create greater access for the diverse communities within our beautiful destination to succeed. To start collaborating or planning your own private event at Gossip Grill, click here.