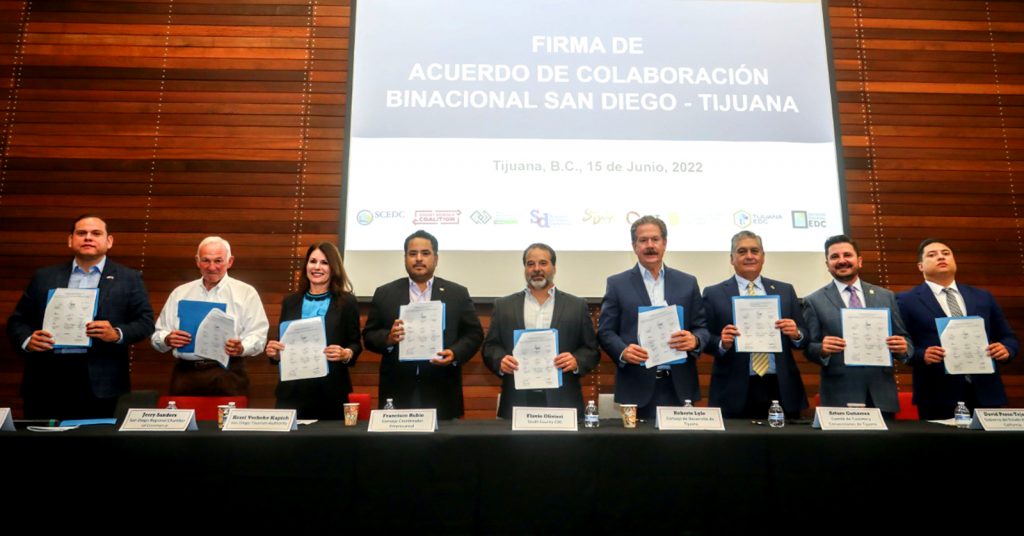 The San Diego Tourism Authority has signed onto an important partnership with eight other tourism and business organizations in San Diego and Tijuana to promote business and investment on both sides of the border.
With the agreement, the SDTA and its fellow organizations "pledge to work together to advance the San Diego and Tijuana region, seeking the prosperity of the businesses from this area" and focusing on such factors as economic health, quality of life, education and tourism "that are key for the attraction of foreign direct investment to our binational region."
Along with the SDTA, the organizations signing the June 15 memorandum of understanding include the San Diego Regional Chamber of Commerce, the Tijuana Economic and Industrial Development AC, the Smart Border Coalition, the San Diego Economic Development Corporation, the South County Economic Development Council, the Tijuana Development Council AC, the Tijuana Tourism and Conventions Bureau and the Business Coordinating Council of Tijuana.
San Diego Tourism Authority Chief Operating Officer Kerri Verbeke Kapich represented the SDTA at the signing of the memorandum, which was spearheaded by President Carlos Jaramillo of the Economic and Industrial Development of Tijuana A.C. (DEITAC), and President and CEO Jerry Sanders of the San Diego Regional Chamber of Commerce (SDRCC).
The agreement specifically calls for the nine partner organizations to:
Promote the binational region as the main destination of foreign investment
Strengthen the binational region as a hub for innovation
Support shared communication and collective events
Resolve investment restrictions and advance public policies that boost our global competitiveness
Read the full Memorandum of Understanding here: