By James Hebert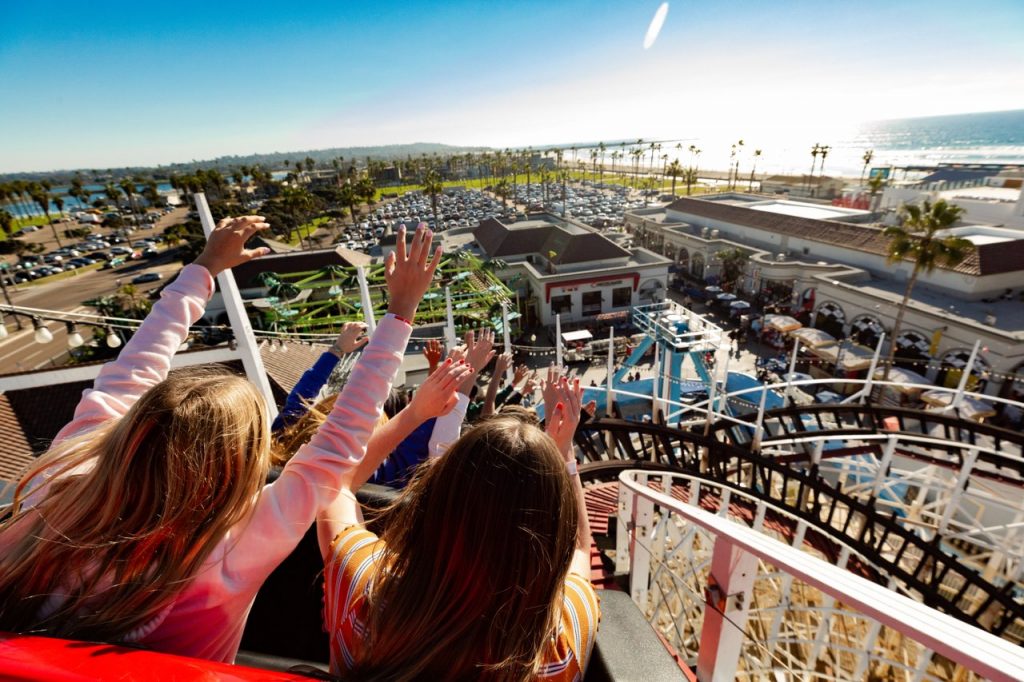 Roller-coaster riders zoom high above Mission Beach aboard the Giant Dipper at Belmont Park.
As spring continues to heat up, San Diego's tourism industry has been bursting with good news. Here's a look at some of the positive developments across the regional tourism scene:
Hotel business hits high notes
Hotel occupancy has hit two major recent milestones. In late March, the total number of room nights sold surpassed the number from the same week in 2019 by more than 2,300 — the first week in which room-night demand exceeded pre-pandemic levels since the recovery began. And in early April, county hotel occupancy hit 81%, taking San Diego to No. 1 in the western competitive set, ahead of Phoenix and Los Angeles.
Commercial travel is returning to the region in a big way. Luxury properties sold nearly 380,000 room nights to transient business travelers, beating the pre-pandemic peak of 341,000 in 2019. While commercial travel in San Diego makes up a smaller piece of the pie than it does in other California gateway cities, the recent improvement is extremely important from an economic-impact perspective because these visitors tend to stay in the region longer and spend more, on average, than do leisure visitors.
Despite rising fuel costs and concerns about inflation, leisure travel to the region remains strong. San Diego hotel properties sold 1.54 million room nights in March, generating $290 million in revenue for the region. Even though the region sold 40,000 to 50,000 fewer room nights last month than at the same time in 2018 or 2019, revenues reached a new peak for March, thanks to a higher ADR of about $190, which is 10-15% higher than what was received by hotels before the pandemic.
Big recovery for jobs, and lots of optimism
Leisure and hospitality employment in San Diego has surged close to pre-pandemic levels, with more than 50,000 jobs added between March 2021 and last month. That was 2.5 times the number of jobs added in the second-place sector, professional and business services, during that time frame. And employment in the sector is now just 5% off its February 2020 peak, after it fell by half between February and April 2020.
At a recent virtual economic forum covered by the San Diego Union-Tribune, economist Christopher Thornberg — founder of Beacon Economics — named San Diego's tourism industry as one of the core local industries that have "a stellar future in front of them." Thornberg added that California's economic fundamentals are "fantastic," and that "the fundamentals for San Diego are even better."
National praise for San Diego's food, fun and more
Hotel and employment data compiled by Nathan Kelley / SDTA