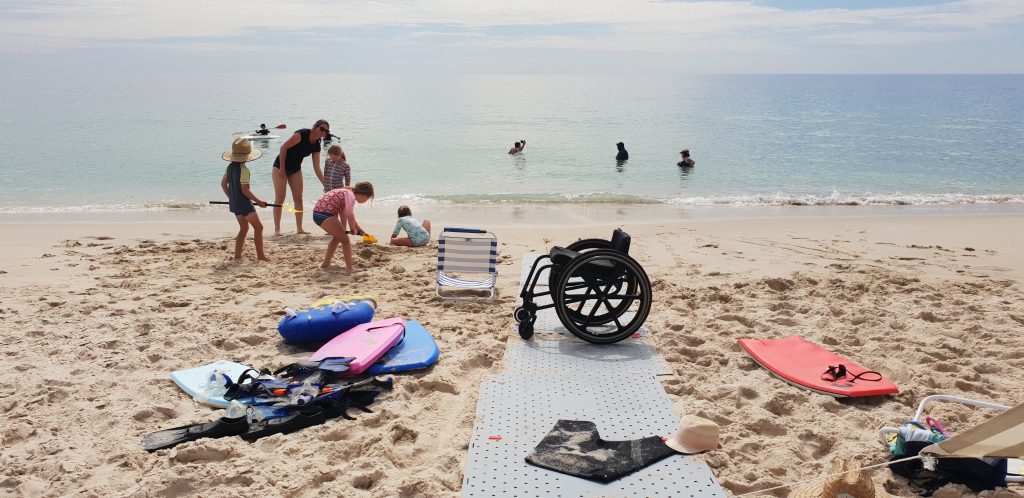 The San Diego Tourism Authority's Tourism Accelerator pilot program, one of the first of its kind in the country, is designed to promote diversity, equity and inclusion in the local tourism industry by providing free membership, mentoring, education and networking opportunities to businesses owned by people of color, women, veterans and those who identify as LGBTQ+. 
We are excited to introduce Access Trax, a member of the first cohort selected from nearly 50 applicants.
Who is Access Trax?
Access Trax, founded in 2018, is an award-winning social-impact company founded by two occupational therapists. With a mission to "empower people of all physical abilities to easily access the outdoors without barriers," co-founders Kelly Twichel and Eric Packard were inspired by adaptive surfers and their need to cross the sand at the beach.
What Does Access Trax Do?
The founders of Access Trax patented portable access mats that provide a stable surface for those who use mobility devices, allowing them to easily access outdoor recreation over grass, gravel, snow and sand. This adaptive company has served multiple industries across 15 counties. Organizations that host outdoor events, sports nonprofits, attractions and even restaurants can benefit from the service Access Trax provides. They are instrumental in allowing travelers, regardless of their abilities, to experience San Diego and all our destination has to offer.
How You Can Work with Access Trax?
Not only is the company's mission inclusive, but it's also great for business! All businesses across the entire tourism industry can benefit from providing accessibility to visitors. "We are here to educate and empower the tourism industry to know how to effectively take advantage of the $58.7 billion accessible-travel industry," the founders say. As a San Diego Tourism Authority member, Access Trax is eager to be a resource to other members, and to collaborate in making San Diego the most accessible place to visit in the world.
All San Diego Tourism Authority members are encouraged to work with Access Trax to make their location or event more accessible. Members can work with Access Trax by either requesting a quote to rent or purchase their foldable mats by clicking here, or by starting a conversation about accessibly for all by contacting them here.