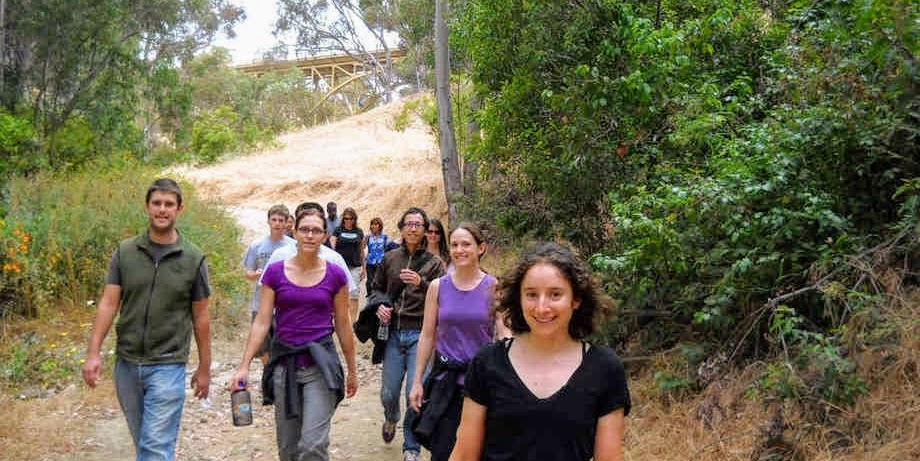 When COVID-19 turned the world topsy-turvy starting two years ago, Darlynne Reyes Menkin and Marc Menkin found a fitting way to help their team-building business land on its feet: through the power of walking.
The married couple, who own and operate the San Diego companies Out of the Ordinary Group & Team Adventures and Where You Want to Be, already had offered walking adventures as part of their professional repertoire.
But when the pandemic hit — and walking suddenly became one of the only ways people were getting out and about — the pair stepped it up, expanding their on-foot adventures into a Corporate Wellness membership program.
That program continues to go strong, complementing the many other team-building and bonding offerings from these SDTA members.
We caught up with Darlynne recently to learn more about the walking adventures, how they work and what comes next for the companies:
Tell us a little bit about Out of the Ordinary Group & Team Adventures and Where You Want to Be: How long have the companies been around, and what are their specialties?
Out of the Ordinary was launched in 1996 by Carrie Ellwood, and in 2015 we acquired the company. We started Where You Want To Be in 2003. Both companies create team-building programs, but Out of the Ordinary's specialty is high-energy, competitive games such as Team Cooking, Charity Bike Builds and Survivor, whereas Where You Want To Be creates memorable team bonding experiences such as wellness walks, bike rides to secret San Diego spots and wine & food adventures.
We have a heart for helping people lead their best life. We feel you can't lead your best life unless you're healthy — physically and mentally. That's what our team-building programs, tours and new Get Fit Walking Adventures membership program are all about.
What would you say is your overall mission?
Our mission statement is all about sharing the "Aloha Spirit." This played a big role in Darlynne's upbringing as a Pacific Islander, so it's something we strive for when creating all our adventures. When you're on one of our team-building xxperiences, our hope is that you'll say, "I'm exactly Where I Want To Be!" Our mission statement spells the word "Aloha": "A" for Abundance (live life to the fullest), "L" for Laughter (experience the true meaning of joy), "O" for Open-minded (enjoying the thrill of new experiences), "H" for Have Fun (embracing a childlike spirit), and "A" for Amazing Adventures (creating memories).
The pandemic was obviously so tough on businesses across so many sectors. How did your operations pivot during that difficult period?
Fortunately, Darlynne has a background in television news and enjoys anything that's video-related, so we were able to create some pretty clever and innovative virtual and hybrid team-building programs. Thanks to San Diego's great year-round weather, we also did a lot of outdoor team-building activities and tours and it was totally safe. During the pandemic, activities like our Scavenger Hunts, Team Olympics, Minute to Win It and our bike tours continued to do well.
Your Get Fit Walking Adventures program embraces an activity that a lot of people found themselves doing much more of during the pandemic. Are you finding new enthusiasm for walking among your clients?
Yes, absolutely! In fact, that's what started the idea. We kept hearing our clients say how stressed out their employees were and that they needed to find a way to relax them. It made us ask ourselves: What can we do to help? Since we already were offering more than a dozen different walking adventures, it was easy for us to offer these walks as a Corporate Wellness membership program. The program not only offers various walking adventures, but there are also "walk and talks" with health and fitness, experts, plus it includes exclusive digital content such as livestreams and blogs.
We are in such challenging times and because of that, many employees are working remotely, so they may feel disconnected and isolated. Now more than ever, companies must find ways to keep their employees engaged and connected. Studies show that companies who invest in team building often have happier and healthier employees, which often results in higher productivity. Whether a company chooses an Amazing Race Super Challenge or a Charity Bike Build Competition, our activities bring people together and get them interacting, laughing and talking to each other. Over the years, corporate groups would always tell us how much fun these team-building activities were, but now they say it helps keep them positive and gives them something to look forward to.
What do you feel are some of the strongest facets of the program, in terms of team-building as well as fitness?
Studies show that people who walk in groups are more likely to show improvements in blood pressure, heart rate and body fat, among other benefits. There's also more accountability because when you're with others, you can encourage and motivate each other to keep going. The social benefits are also good because it's all about "community," a sense of belonging and having a unified goal.
Our walks are also designed for all fitness levels, so there are no steep hills. Anyone can do it. Walks average about 3 or 4 miles, but because we focus on colorful neighborhoods and coastal areas that are unique and off the beaten path, people find them very enjoyable and easy to do. And since we change up the walks, we've noticed that people say they like how it frees up the mind and encourages creative thinking!
Get Fit Walking Adventures offers walks in scenic locations around the region, from Little Italy to Encinitas. How did you go about choosing and planning the routes?
San Diego has so many cool, hidden gems, and since we love exploring new places ourselves, that's what our walking adventures are all about. It's about discovering these special, unique gems.
How are the walks orchestrated — do you provide guides and other assistance on each one, and do they vary in length?
If you are a member, you reserve your spot on a date with an email.
You are then sent information on the meeting place and parking tips (most locations have free parking in safe areas). They are led by a guide and they generally run 90 minutes to 2 hours.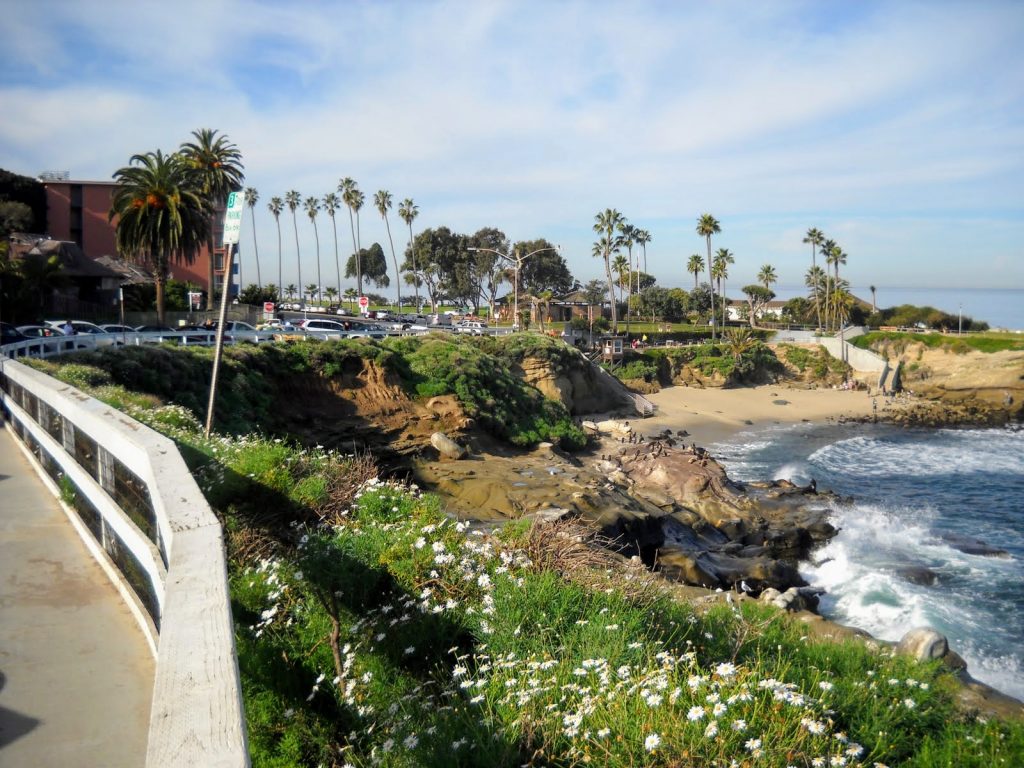 What has the feedback been like from clients so far? Any specific stories or testimonials you've heard that have been especially helpful or gratifying?
The clients LOVE the idea of walking around and exploring hidden gems with a local, all while getting in their steps. Recently, we were with a group of out-of-towners and they kept remarking how incredible La Jolla was. One guy said to us: "When you think about the perfect Southern California day — the clear blue skies, the bright sun, the crystal blue ocean — this is what you picture: San Diego! It's so beautiful, I almost can't take it." When he said that, it was such a great reminder how lucky we are to live in San Diego. At the end of the Wellness Walk, we learned he was from France, which we think is beautiful. It was cool to hear someone who comes from a beautiful country describe San Diego the way he did.
Your companies offer an expansive lineup of other team-building adventures as well. Can you run through a few of them, and tell us what might be coming up next?
Yes, we have several new, upcoming activities:
On Saturday, April 30, we will start a walk in the Mission Hills area, and it will go to Art Walk in Little Italy. The Thursday, June 16 walk in La Jolla will end at the Third Thursday Free Event at the newly expanded and reopened Museum of Contemporary Art San Diego in La Jolla.
As for our team-building programs, we are constantly adding new activities. Our most popular team building adventures are on this link. And this one has more than 40 team-building ideas as well as tours to what we consider Hidden Gems.
Building a positive and healthy workplace culture is something all companies strive for and are feeling challenged to do, so we know these programs are much-needed. We are excited about adding SDTA members/walkers to this community!