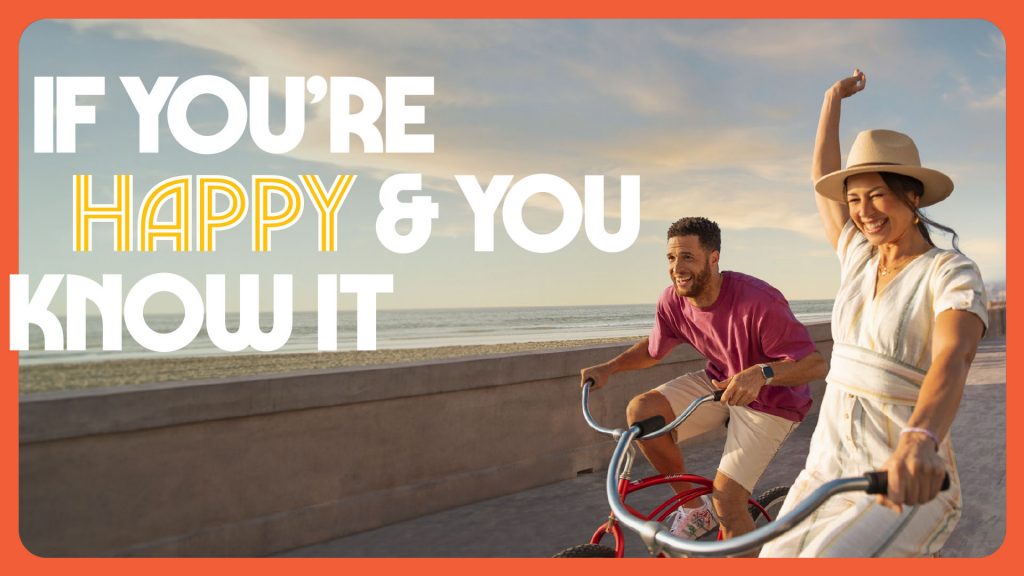 2022 Winter/Spring Advertising Program Overview
To stimulate demand during the upcoming spring and summer season, the San Diego Tourism Authority is launching a new brand advertising campaign – "Happy and You Know It" – with the :30 TV commercial debuting on national television Jan. 29 during the Farmers Insurance Open:
"Happy and You Know It"
San Diego's chill, happy and carefree vibe leaves everyone who visits cheerful, optimistic, and able to "put their guard down." Happiness is the norm and easily attainable in San Diego, although we all express it in our own unique way. Some show it with a simple smile while others through a joyful dance.

But there's one thing we can all agree on – San Diego is not only the place where we find happiness … but feel free to really show it.
The development of the new "Happy and You Know It" campaign is the product of extensive brand research that the SDTA and its advertising agency, The Shipyard, conducted over the last year. Focus groups consisting of leisure travelers in California, the West, Northeast, Southeast and Midwest were interviewed to determine how attitudes and perceptions of the San Diego brand have evolved throughout the pandemic. The clear findings were that San Diego has a well-defined brand, with focus group participants describing the destination as a "feel-good, friendly, vibrant place that is both laid-back and lively."
Using new music from Michael Franti & Spearhead, the theme song for the campaign modernizes the catchy nursery-rhyme song with upbeat sounds to evoke the fun, vibrant and inviting characteristics of the destination.
Brand TV Spot
This fiscal year, the "Happy and You Know It" campaign will be integrated across SDTA's advertising program of work, and the multimedia approach includes television, digital, radio and out-of-home executions that will reach western regional and national audiences, with a focus on the key markets of Los Angeles, Phoenix, San Francisco and Sacramento.
Winter/Spring: Program Highlights
$8 million in media will run in the U.S. during the January-June 2022 time period.
Awareness – Television, Audio, Outdoor & Digital
Spot market television will run January 29 – May 1 (flight dates vary by market) in Los Angeles, Phoenix, Sacramento, and San Francisco.

Programming highlights include the launch of the new campaign with spots in the Farmers Insurance Open, Super Bowl LVI pregame coverage, Beijing 2022 Winter Olympics, NCAA March Madness Tournament, NBA Basketball Regular Season, and prime-time programming to reach a highly captive and engaged audience.

Radio will run February 14 – May 1 (flight dates vary by market) with MLB Radio in Los Angeles, Phoenix, Sacramento and San Francisco. The sports radio strategy creates opportunities to reach sports fan in local markets during Spring Training, Opening Day and the start of the regular season.
Out-of-Home advertising will run February 7 – March 20 in Los Angeles, Phoenix, Sacramento and San Francisco to build awareness.
The awareness program also extends regional (February-March) and nationally (April-May) with digital video, OTT and OLV placements running with YouTube, Univision, Hulu, Magnite and ESPN,­­­ and social with Facebook/Instagram.

Storytelling & Education – Digital & Custom Content Partnership
The Always-On Content & Search Distribution program continues in the Spring, highlighting video and written content across San Diego's key experience pillars to educate travel intenders on the destination's unique product offerings.

Online video, social and SEM launched in January and will continue through June, running nationally with a heavy-up layer in Los Angeles with YouTube, Facebook/Instagram, Pinterest and Google.

In April, SDTA is launching a family content partnership with Visit California. This custom content partnership with Buzzfeed's "Bring Me" will blend the brand positioning of California and San Diego around "edutainment" and the discovery of new experiences. Long- and short-form video assets will be distributed nationally to raise awareness for San Diego, California as the ultimate family vacation destination.

Consideration & Booking – Digital
Digital display, native and OTA advertising launched in January and will continue through June, running nationally with heavy-up media in California and Arizona with Tripadvisor, Expedia, Adara and AdTheorant.

Meetings & Conventions Initiative – Print, Digital, Custom Content
Supporting direct sales for the San Diego Convention Center and Hotel Meetings, the new "Happiness Is" group meetings campaign launched in FY 2022 to announce that San Diego is open and ready to reignite and restore professional meetings and events following the pandemic. The campaign will continue through June, serving as an extension to the group meetings audience and key decision-makers (Meeting & Event planners, Conference Organizers and C-Suite executives), and leaning into San Diego's positivity and optimism — which inspires creativity, innovation, and opportunity — while also highlighting the differentiating factors of hosting a meeting in San Diego. Program highlights include:
Social and Search Engine Marketing with LinkedIn and Google
Print Insertions with PCMA, MPI, Northstar and Meetings Today
Digital Display, Dedicated eBlasts, Custom Content and Partner Sponsorship Spotlights with PCMA, MPI, Northstar, Meetings Today and Trade Show News Network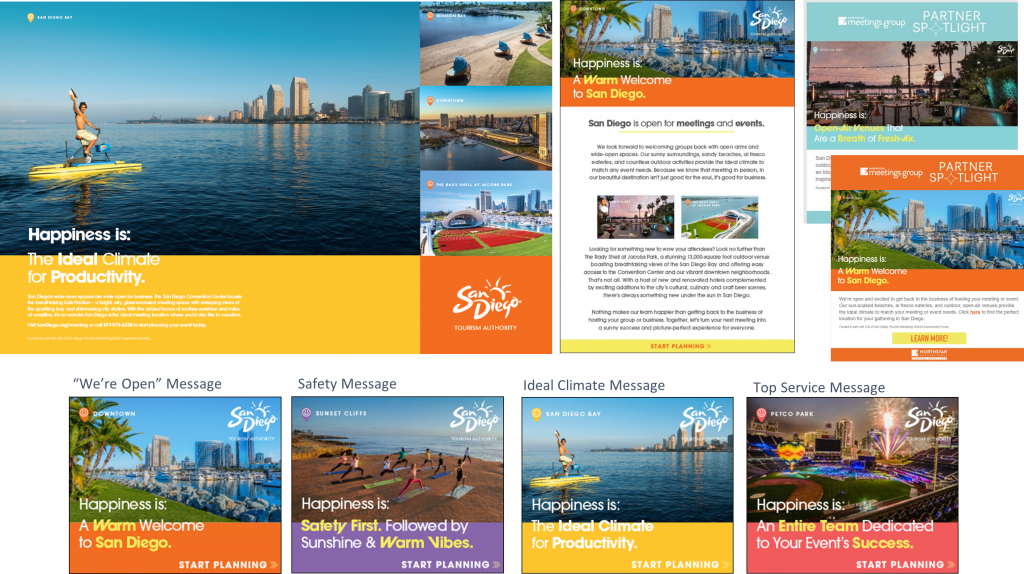 To learn more about SDTA's advertising programs and to leverage the destination's strategy in your own marketing programs, please log in to Membernet.