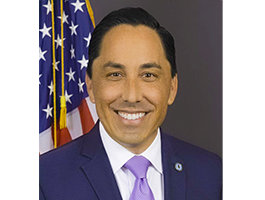 When San Diego Mayor Todd Gloria took office last December, the city was in the depths of the pandemic, and the area's economy — including the tourism industry — faced unprecedented challenges. With a vaccine then just becoming available, one of the mayor's first priorities was to help mobilize for mass immunization, as well as launch programs to bolster the business community. Now that the city, country and world are opening up again, we caught up with this San Diego native and groundbreaking chief executive — our city's first mayor of color and first openly gay mayor — to talk about San Diego's recovery, its tourism success story and what makes it a great place to visit and meet.
Tell us about San Diego's recovery efforts, and the journey that has brought us to welcoming back meetings and conventions.
San Diego's recovery efforts began with fighting COVID-19. The City of San Diego took strong, swift and sensible actions to slow the spread of the virus, and worked with the County of San Diego to achieve one of the highest vaccination rates in the nation, with more than 80% of eligible San Diegans being fully vaccinated.
We also took actions to keep our economy stable, which included taking advantage of federal and state funding to provide rent relief for more than 12,500 struggling San Diego households. We also invested more than $14 million in initiatives to get San Diegans back to work. The highlights of the plan are:
$10 million in nonprofit and small-business grants and loans in hard-hit industries and owned by people of color.
The creation of a concierge team to support small businesses.
$750,000 to expand and grow the small-business enhancement program to include microgrants.
$900,000 in discretionary grants for City Council members to provide support to nonprofits and small businesses in each of their districts.
$1 million investment in the Connect2Careers workforce development program to bolster youth employment.
While conventions were not feasible during much of the past two years, the San Diego Convention Center did not sit empty. In fact, the Convention Center was instrumental in our strategy to assist San Diegans experiencing homelessness when the capacity of our shelters was diminished by distancing restrictions. The center was also used to house migrant children seeking asylum, and helped reunite nearly 2,400 children with their families.
These functions were not only the right thing to do with the Convention Center space during the COVID-19 crisis, they also helped keep the center viable while waiting for conventions to resume.
What specific successes have you seen so far with the resumption of conventions here?
Our San Diego Convention Center has carefully hosted more than a dozen events since reopening in August, including major medical meetings such as Anesthesiology 2021 and the American Academy of Orthopaedic Surgeons' Annual Meeting. When I spoke at Greenbuild recently, I witnessed the enthusiasm of attendees who were seeing one another in-person for the first time in so long. We're proud to host groups for these important meetings and we're grateful for the economic benefit these events bring to San Diego as visitors dine, shop, visit attractions and explore our amazing city.
San Diego has been a top-performing market both in the western competitive set of cities and in the nation. What are some factors that you believe helped make this happen?
San Diego's natural beauty, pleasant year-round climate and wealth of attractions have clearly made an impact in our competitiveness. Match that with the quality of our convention center, our culture of hospitality and strategic marketing by the San Diego Tourism Authority, and you've got a winning formula to bring visitors to San Diego and keep them coming back. 
What makes San Diego a standout city to hold meetings, events and conventions?
The San Diego Convention Center has all the ingredients for successful meetings, events and conventions. Our staff is legendary for their hospitality. When your convention site is located on the beautiful blue water of San Diego Bay, adjacent to the exciting new cultural phenomenon that is The Rady Shell at Jacobs Park and across the street from the vibrant nightlife of the historic Gaslamp Quarter, the visitor experience is certain to be memorable.
What excites you as San Diego continues on the path to recovery?
San Diego's tourism economy is interconnected with other major facets of the local economy, and all of them continue to grow stronger. San Diego's path to recovery is robust due to our thriving economic diversity. We are among the world's leading regions for life sciences, and a growing technology hub. San Diego is emerging as an exciting center for blue tech, and we continue to be a strong military town. Combine that with our location on the border and our strategic positioning on the Pacific Rim, and it is easy to see why San Diego is so resilient. The strength of these economic sectors gives depth to the visitor experience and helps draw more people to San Diego. 
What is one thing people should do when visiting San Diego?
With so many world-class features in San Diego, it's hard to recommend just one. However, you can't go wrong by visiting Balboa Park, which includes many individual attractions. Whether you choose to enjoy the wonderful museums and cultural institutions (which can be enjoyed with a single pass from explorer.balboapark.org), or visit the world-famous San Diego Zoo, browse through the local art market in Spanish Village, savor locally brewed craft beer at Panama 66 or simply marvel at the public plazas and renowned Spanish Colonial architecture of the Park's Central Mesa, Balboa Park is uniquely San Diego and well worth the visit.