The Shout! House gives Gaslamp something to sound out about
Dueling pianos drive the entertainment at downtown's The Shout! House, and the energy of the place is as exuberant as the exclamation point in its name. Now open again for indoor revelry, the Gaslamp Quarter institution continues to wow guests with its live shows and musicianship. We caught up with Shout! House marketing director Josefine Jandinger for a chat about the venue's path to success and how it has rebounded from the pandemic.
What inspired the launch of The Shout! House, and how long has it been around now?
The Shout! House has been a staple in the Gaslamp Quarter for close to 18 years. Our CEO, Bob Walin, has extensive experience in the entertainment industry, managing professional theater as well as artists. He opened five Sing Sing dueling piano bars for Rock Bottom Restaurants around the country, including the Sing Sing where The Shout! House is located now. Walin and his partners Roger Hunt and Kevin Clover, who were also partners and performers at Sing Sing, remodeled the space back to its original charm and added a kitchen. The Shout! House opened March 24, 2004 – two weeks before Petco Park opened.
Roger and Kevin no longer play at The Shout! House but they are both celebrated legends in the dueling-piano community, and they have trained some of our current players.
Bob is still a managing partner. He has impeccable attention for detail and a love for music. Bob is passionate about his work, and his creativity extends to the woodwork craftsmanship you can see at our sister venue, Garage, where he has handcrafted the bar, tables and some of the decor. Bob has created a culture that celebrates authenticity and a family atmosphere. It's a culture that makes working for The Shout! House more than a job – it's a lifestyle.
What is your own role and background?
I'm the marketing director for The Shout! House and have been with the venue since 2007. I have my BA in media and communications with an emphasis in music and marketing from Sweden, where I grew up. I worked for Live Nation in Sweden before moving to San Diego in 2006. I am fortunate to have worked in the music/entertainment industry my entire career.
What were some of the biggest challenges The Shout! House and its team faced during the pandemic?
When we had to shut down, the biggest challenge was not knowing how long we would have to be closed. We were guessing it would be a few months, and that turned into over a year.
We have a team of piano players that all are part of our staff. Our piano players are all hand-picked from different parts of the country for their unique talent. When we had to furlough our entire staff, a lot of our staff members had to move "home," out of state. When we reopened, we had some obstacles getting some of our talent back. And without them, we didn't have a show. Most of our talent did come back to work once we reopened, and our entertainment director, Eric Blumenfeld did a great job of finding new talent. One of our new performers, Courtney, just moved here from Denver. She is an amazing vocalist and saxophone player and brings a great dynamic to the show.
Being a dueling piano player is not a solo act ­– you must be a team player, and it takes so much more than just knowing how to play the piano and sing. You have to be an entertainer, a musician and a comedian, and be able to play multiple instruments.
Other challenges we faced, just as other restaurants and bars did, were finding and keeping staff. But due to our fun and lively workplace, we have a committed staff that is happy to be back at work.
What has kept you all hopeful during this challenging period?
Our reputation. Also, our loyal patrons, our staff and the authenticity of our show.
We have managed to build a great reputation over the years. We have even been called The Happiest Place in San Diego. The Shout! House has become a destination venue. Our guests travel from out of town, or from out of state, just to come here for a fun night out. A reputation is something you don't build overnight, and to maintain a great reputation you must have a consistent product and care about your guests.
Our talented piano staff brings a magical show and our guests leave with unforgettable memories. Our piano players are all genuinely talented and all know countless songs. At other piano bars, the talent uses iPads and phones onstage to remember lyrics. That is not allowed here. Our guests think it's magic that the pianists know all these lyrics. The truth is it takes a lot of hard work and dedication behind the magic that is our show.
We are the only piano bar in the country that still uses REAL grand pianos, while other piano bars use electric pianos. Using real grand pianos requires a lot more upkeep, but we take pride in the quality and authenticity of our show. Our piano tuner, Jim Boydston (who is also a chorister at the San Diego Opera), tunes our pianos every week, sometimes twice a week.
I think what has kept me most hopeful that we would reopen is that all the staff and managers passionately care. We all love this place! It's more than a job; we all feel part of The Shout! House family and we would do whatever it takes to get us back open.
What have the reactions been like now that the Shout House has finally been able to reopen?
We were closed for one year and four months. We have received overwhelming support from our loyal patrons and the community since we reopened on July 29. As soon as we announced our reopening and started accepting reservations, we have been fully booked for reservations every weekend. There is no place like The Shout! House; we received so many messages from guests saying that they missed us and that they are happy we are back. The Shout! House is a place where unforgettable memories are made.
What would you say your customers love the most about the Shout House, and what would you tell a newcomer about the place?
A night at The Shout! House is an experience where you can expect lots of laughing and singing along.
We are definitely not your grandma's cheesy piano bar! No two nights are ever the same. The spontaneity and edginess that make the audience go, "OMG, I can't believe they just did that" are a big part of what makes our show memorable. We push boundaries, we can be inappropriate and hilarious. Our talent plays everything from the latest radio hits like Cardi B's "WAP" to classics like "Baby Got Back" and "Piano Man." You'll see guests and staff dancing onstage. Our show is not for the faint of heart, it is not a PG show, but the content and the songs are always current, unexpected and high-energy, and it goes on nonstop all night long.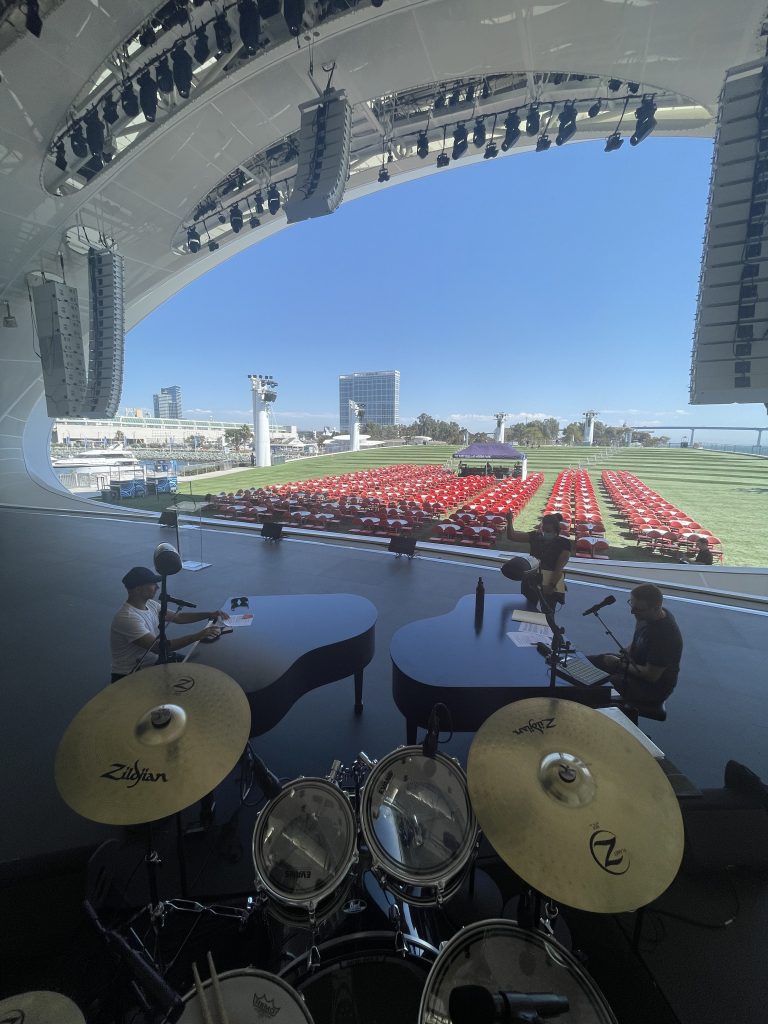 And as we continue this road to recovery, what is one thing that you personally are most excited to do?
The pandemic happened and we had to get creative. Our piano players, Jon Coyle and Eric Blumenfeld, took our concept virtual and created a dueling-piano power hour via Zoom.
While live music was not allowed indoors, we partnered up with open-air venues like Quartyard in East Village. We did a total of eight shows there, and tickets sold out within minutes of going on sale. People were starving for live music, and we had to find ways to safely let the show go on.
I'm excited to continue creative partnerships. We partnered with Sycuan Casino for three dueling-piano pool parties, with one last fall show on October 17.
Earlier this month we were part of the Downtown San Diego Partnership's inaugural Todd Talk with Mayor Todd Gloria, at the new downtown venue The Rady Shell at Jacobs Park. The Shout! House co-MC'd the event.
I'm passionate about music and about making a difference in the community. As an executive board member of the Gaslamp Quarter Association, I want to bring more attention to entertainment in the Gaslamp, and specifically to Fourth Avenue. We have some fantastic venues on Fourth, providing world-class music and entertainment. I'm not only talking about The Shout! House, but the Horton Grand Theatre, Juan Tequila with live Latin music, Fluxx with international artists, Werewolf with its karaoke, The Garage piano bar, Tin Roof with live music, and the Balboa Theatre.
The future for entertainment in the Gaslamp is bright. Live music is back and here to stay!