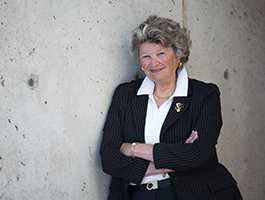 By James Hebert
This fall brings the grand opening of UC San Diego @ Park & Market, a state-of-the-art, multipurpose facility in the East Village that aims to be the premier meeting and event center in San Diego's urban core.
The 66,750-square-foot building will boast hi-tech executive conference rooms, two theater/event spaces, an expansive outdoor terrace and more. Not only will it be poised to host a wide variety of meetings, but it will serve as a key home for university programs, providing broad access to those in the community.
The center's opening is a crowning achievement in the career of Mary Walshok, UC San Diego's associate vice chancellor for public programs, who has been a driving force behind the project's development.
We talked with Walshok — who stepped down in June as the university's longtime dean of Extension — about her vision for the center and what it will bring to San Diego's business and cultural landscapes.
Q: What makes you so passionate about the downtown project?
A: What makes me so passionate about the downtown Park & Market opportunity is that what I most value is making connections between people who have knowledge, expertise and experience, and people and institutions who can benefit from those qualities. Connections can be inhibited or enabled by social and class boundaries, geographic barriers, transportation barriers and ever increasingly technological barriers — in terms of who has access to essential information and opportunities.
UC San Diego at Park & Market overcomes all those barriers. First, it is physically located in the heart of the city in the East Village, where it can be a hub for multiple communities and neighborhoods. Second, it is on the trolley line that connects the Tijuana border to the UC San Diego campus, which means literally every 20 minutes people can come from the campus to Park & Market or get to the campus from the border and/or Park & Market. As such, it is an amazing gateway that will connect opportunities and communities in ways not imagined before.
Third, the building at Park & Market that we have developed is extraordinarily flexible in terms of how it can be used and configured, but most importantly because of its 21st-century media and telecommunications infrastructure.
We will be bringing to the city the most advanced Internet and broadband communications technology available so that simultaneously, events happening on the campus, downtown, at the border and in community venues like The Rady Shell at Jacobs Park, can be captured and shared in real time.
We will not only program at the site, but we will be able to broadcast from the site and to the site, which means an incredible panoply of programs of educational and cultural value will be available daily to diverse communities across the region. This, combined with the multidisciplinary, intergenerational cross-cultural programming that will be the heartbeat of the Park & Market building, is why I believe it will be catalytic in transforming not only the economic trajectory of the region but the social and cultural connections we need to have a vital, inclusive and vibrant community.
Connecting diverse communities and catalyzing communities of learning and shared experiences is what I feel has been my role and will continue to be, even as my relationship with UC San Diego changes. The new downtown center at Park & Market represents so much of what I am passionate about, and I have great enthusiasm in leading this initiative for UC San Diego.
Q: What are the most important things the downtown center has to offer for those who are considering hosting meetings there?
A: First, the connection to a world-class research university. The downtown center, in addition to helping the diverse community and professional associations draw on the vast array of scientific, cultural and academic expertise at one of the nation's foremost universities, UC San Diego, will be able to have events and experiences unlike anywhere else in the city. That is because the location, the design and the advanced technology in the building combine to allow for multiple activities to happen simultaneously on-site and, if desired, web-streamed simultaneously to multiple off-site locations. The curatorial vision as well as the "bones" of Park and Market are exceptional.
Second, the building itself. It is infinitely flexible in terms of how events can be configured and executed, with movable furnishings in the block-long foyer, the 240-person concert and lecture hall, the 100-person executive conferencing space with a rooftop terrace and outdoor amphitheater.
Third, its advanced technology capabilities. High-speed internet, advanced video, sound and lighting systems are core to the building, from which onsite, partner and community programming can be live-streamed into the building and out to the surrounding neighborhoods. The dark fiber (unused fiber optic cable) in the trolley line and the special antennas mounted on the rooftops at the site, the Myers sound system and superb lighting amenities all support high-quality multimedia experiences.
And fourth, its location in a reinvigorated downtown. Located on the trolley line connecting Mexico to UC San Diego, on the most traveled bus lines on Market Street, and a mere 10 minutes from the airport and three blocks from the Convention Center, the building is a highly accessible asset for a wide array of conferences, meetings, cultural and social events. This ease of access also serves our deep commitment to assuring events and programming which are truly inclusive.
Q: Is there one thing about UC San Diego Park & Market that has you particularly excited?
A: Providing access to education is a lifelong passion of mine for two reasons. First, I am a child of immigrant parents who came to this country in the 1920s and 1930s, surviving both the Depression and World War II. I was born in 1942 and my parents, who were well-read and greatly interested in theater and music, nonetheless did not have the university credential, as well as many of the social and cultural skills of "typical" Americans. We were always a little bit on the "outside."
I benefited enormously from teachers, counselors and mentors, scholarships and fellowships that enabled me as a first-generation American to understand the opportunities available to me and successfully take advantage of them.
A second reason I am so passionate about access is because I am part of the generation of girls who in the 1940s and 1950s, although often highly gifted and academically talented as well as motivated for achievement, were discouraged and channeled into roles and opportunities which in no way reflected their abilities but rather stereotypes about what girls should do and become as women.
Even though I achieved the highest levels in my youth, it was a struggle to get a Ph.D., to get my first job, to be taken seriously as an intellectual and an academic and civic leader. I believe these experiences have given me a great deal of empathy for other first-generation and stereotyped groups. I know from experience that ability and motivation surpass everything else — and we need as a society to identify, harness and nurture ability wherever we find it
Q: What would you say is something people typically don't know about San Diego that perhaps they should? What is one thing you think visitors to San Diego should try to do?
A: I believe what is most compelling about this place is its amazing diversity, optimism and unending sense of possibilities. Number one, it is one of the more beautiful environments and diverse ecologies in America and thus a wonderful place in our which to live, work and play; it's nurturing, healing and renewing for both body and soul.
Second, and as important, is its spirit. It is ever young and ambitious, which means this city is always changing, always striving to be better, to embrace the new and the novel in ways that most communities are reluctant to.
Third, I also love the diversity of this region, the social diversity in particular. Living on the border; being a welcoming place for refugees and immigrants from Africa, from Asia, from the Middle East and from across the globe; being a place where talented people, no matter where they come from, are welcome, which gives us a kind of cultural and social diversity very few cities have.
Next, I love and celebrate the imaginative and growing arts and culture community in San Diego. Theater is amazing, our symphony shell, our ensemble groups such as Bach Collegium, Mainly Mozart and CAMARADA. Our museums in the park, the collections of art buildings here, the Chicano murals. More and more, this is a city rich in the visual musical and theatrical arts, and a magnet for talent that has grown in a way that makes it difficult on any given evening and almost any day of the week to decide what event to go to, what musical performance to enjoy, what theatrical event to take part in, what community event to engage with.
This richness of social and cultural experiences, combined with our social diversity, ambition and entrepreneurial spirit — all located in a physically stunning environment — make San Diego the perfect place for a person like me and frankly for anyone who is open and eager to learn new things and have new experiences.