San Diego is not just California's Beach City — it happens to be wine country, too. Here's a look at a few of the city's vibrant (and often surprising) range of destinations and services for both longtime wine-lovers and those who are eager for an introduction to local vintners.
DOWNTOWN AND URBAN NEIGHBORHOODS
Carruth Cellars Wine Garden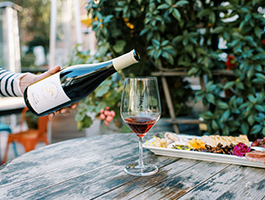 2215 Kettner Blvd., Little Italy. (858) 847-9463, carruthcellars.com
True to its motto, "Bringing wine to the people," Carruth sources grapes from all over the West Coast to make its wines right here in San Diego. Get a taste of Carruth's creations (and sample some charcuterie, too) at the company's charming Little Italy wine garden, an ideal place to raise a glass as you savor the sunset. The location is open daily.
Pali Wine Co.
2130 India St., Little Italy. (619) 569-1300, paliwineco.com
Continue your Little Italy sipping sojourn with a visit to Pali, whose San Diego tasting room is one of the five winemaker hosts around Southern California. Check out what Pali has to offer among its three distinct brands: Original label (premium Pinot Noir and Chardonnay, sourced mostly from the company's own Santa Rita Hills and Sonoma vineyards), Tower 15 (very small bottlings of single-varietal wines made with grapes from family-owned Central Coast vineyards), and Neighborhood Winery ("interesting blends" that flout conventional boundaries of flavor).
Quigley Fine Wines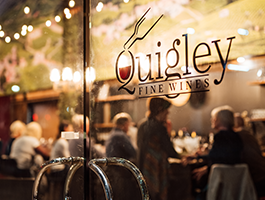 1551 Fourth Ave., Suite 101, downtown. (619) 795-7043, quigleyfinewines.com
Quigley, now celebrating its 11th year, has built its reputation on sourcing a global array of small-production, hand-crafted wines. The company places a particular focus on the environment, working with vineyards and wineries that practice sustainable farming, and emphasizing biodynamic and organic production methods. Led by Brendan and Christina Quigley and Jeff and Mary Shapiro, Quigley Fine Wines provides a bounty of bottles from around the world.
San Diego Wine & Culinary Center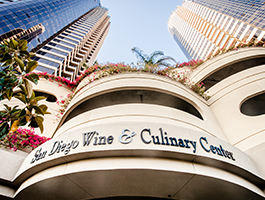 200 Harbor Drive, Suite 120, downtown. (619) 660-5338, sandiegowineandculinary.com
Founded by friends and food/wine aficionados Mary Robinson and Denise Jermyn, San Diego Wine & Culinary Center is your one-stop destination for hosting a beautiful event. Set in the heart of the Gaslamp Quarter, the center offers multiple venues, including the Bordeaux and Fallbrook cellars and the Sunset Patio. And its wine offerings include the $100 Bottle Challenge, an unmarked tasting flight that lets guests test their palates and learn from the center's wine specialist.
Men In Black Transportation
5644 Kearny Mesa Rd, Suite T, Kearny Mesa. (858) 764-4467, mibtransportation.com
Men in Black's wide range of premium transportation offerings include its fully chauffeured wine tours. Step into one of the company's private limos with friends and family and be treated to a guided tour of wineries around San Diego County or the Temecula Valley. Create a custom itinerary and get ready for a relaxing day of sampling the region's finest sips.
COASTAL NEIGHBORHOODS
Gianni Buonomo Vintners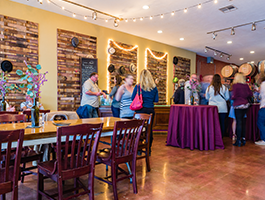 4836 Newport Ave., Ocean Beach. (619) 991-9911, GBVintners.com
Named for the ideal of a consummate Italian gentleman, this beachside winery produces small lots of super-premium wines right on its premises two blocks from the landmark OB Pier. Winemaker Keith Rolle's operation, housed in what was once an antiques store, sources grapes from top vineyards in Washington state and California's Sierra foothills. It's a unique destination where the wine meets the waves.
San Diego Beer, Wine & Spirits Tours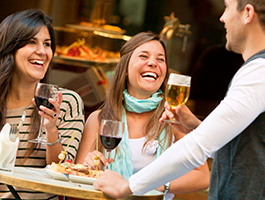 7514 Girard Ave., Suite 110, La Jolla. (858) 551-5115, sandiegobeerwinespiritstours.com
Trying to decide which winery (or brewery, or distiller) to try? How about trying them all? Or at least a sizable portion of them, with a guided excursion from San Diego Beer, Wine & Spirits Tours. Each of the company's tours — which run daily throughout the year — is customizable and headed by an expert guide. And the adventure comes with a choice of food options, too. It's a tempting option for trying local wines (and more) the VIP way.