Name: Juliana Ortiz, Cali Cream Co-Owner.
Company Name: Cali Cream Homemade Ice Cream
Type of Business: Homemade ice cream
Founded: June 2016
How did Cali Cream start?
Cali Cream started because we wanted to do something that added value to our community and brought joy to those around us. We have always been foodies ourselves and love to go out and explore San Diego, and we know there are many people like us in the city. We focused on ice cream because it is something that makes people happy and creates new memories for families every day, and we are proud of that. Think about it: No one walks into an ice cream shop angry, and if they do, then those feelings go away as soon as they are handed their cone.
Plus, we also feel a need to provide something that can be available to everyone even if you have an allergy or specialty preference. We also have flavors that are gluten-free and vegan. Think of our shop as a combination of old-school homemade ice cream with a modern twist. Seriously, how many shops can say that they offer 70 homemade flavors at one time?
How did you and Cali Cream respond to COVID-19? We adapted and we did it quickly. While we didn't know how long Covid was going to last, we knew that we needed to make changes for our team and our guests to ensure a safe space for everyone. We quickly built an online platform and delivery service, created new products for on the go (Sundae Box), and ensured our product quality was better than everyone else. We partnered up with our community and produced drive-thru ice cream socials as well as "ice cream hot chocolate float" parties. We made sure all forms of communication were available for our guests, so if they ever needed questions answered, we could do it quickly and accurately. Lastly, we attempted to bring as much normalcy as we could to everyone who visited the store. So many parents came to us and thanked us for being able to provide their children and their families a space where they could still create memories, and that made us happy.
We never closed our shop, we never laid off a single employee. When supplies were hard to find, we searched until we found what we needed. Our team worked extremely hard to make it happen every day.
What kept you hopeful? The community is what kept us hopeful. Every day we heard how much people were thankful for us staying open and how much they appreciated what we were doing. The road has not been easy, and we have worked many months without a break, but it has been worth it. Cali Cream has always created memories for people, and we were going to continue to do that even through these difficult times. I also have to say that other businesses are what kept us hopeful, too. We spend a lot of time visiting and supporting other businesses and sharing stories about what has worked and what hasn't. We encouraged each other to keep going, and when someone hit a speed bump, we were there to help each other. It wasn't just about us; it was all about the community.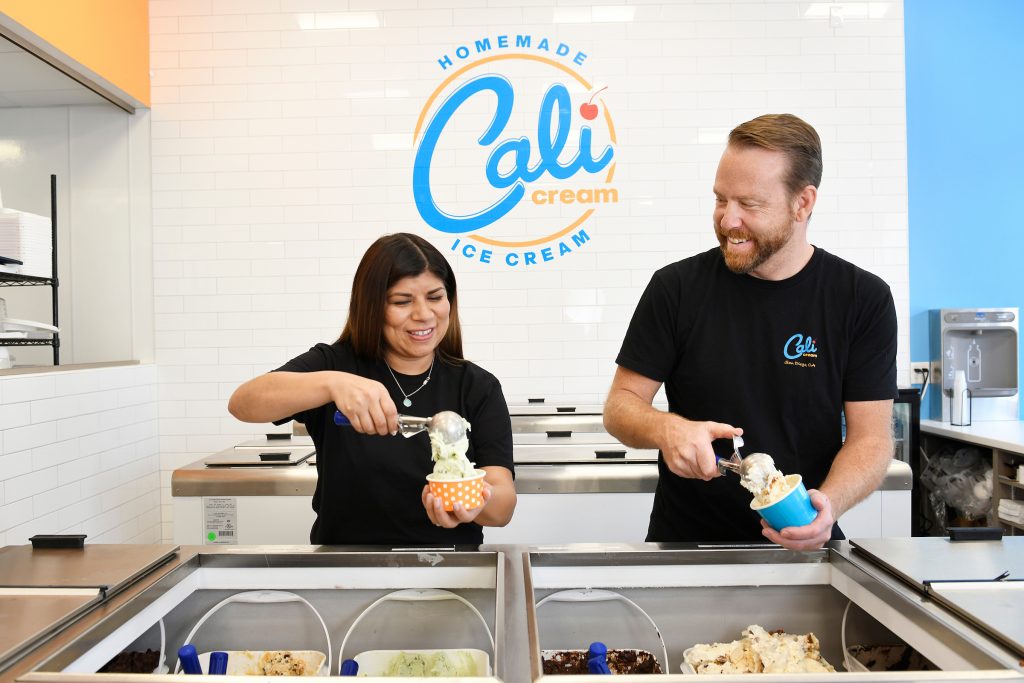 What do you see as your biggest opportunities in a post-pandemic world? As we adapted during the pandemic, we found that people were changing their purchasing behaviors to fit their new needs. That translated into a sudden boom in ice cream cake sales. We went from making 25 custom cakes a month to making hundreds of cakes a month. It really surprised us. We knew people loved specialty, but we are making something that no one else had. We offer ice cream cakes in over 70 different flavors, and that is fresh and unique. These are not your typical frozen cakes that have to be thawed out before serving. We produce treats that are fresh, delicious and homemade in San Diego. On average it is seven days from cow to cone for our ice cream.
We also look forward to creating more flavors that are inclusive to those with special dietary needs. We develop new flavors all the time, and we want to make sure that they are a good fit for our community. Therefore, we listen all the time for suggestions and encourage guests to share their ideas. The possibilities are endless, and we look forward to being able to create more memorable flavors.
As we embark on the road to recovery, what is the one thing you are looking forward to doing (or have already done)? We are looking forward to serving the most amazing ice cream experience and to seeing everyone out again visiting all the local businesses in our communities. We want visitors to say that Cali Cream is the best ice cream in the world, and this is one of the reasons why they love coming back.
We are looking forward to continuing to redefine ice cream. As we say: It's more than ice cream, it's Cali Cream.
What are some upcoming projects we should expect coming our way? We are continuing to make new adaptations to our shop, grow our product lines, and find new opportunities to show off how San Diego is a foodie town. We also have something in the works that should be ready in the next couple of months. We won't share it just yet, but let's just say it will be a great addition to our shops. Stay tuned.