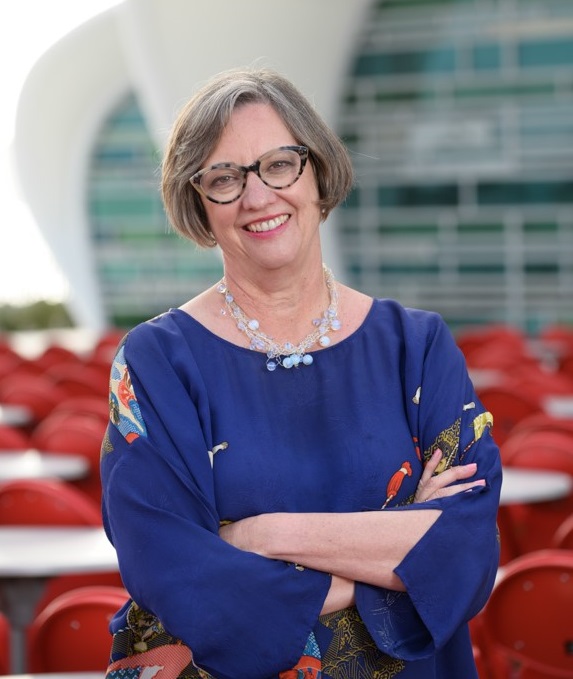 As the CEO for the San Diego Symphony Orchestra, Martha A. Gilmer works to change lives through music across community outreach, ever-expanding programming and the addition of its new outdoor venue The Rady Shell in Jacobs Park. Gilmer recently shared insights into the future of the Symphony as well as why San Diego has such vibrant and diverse art and culture scene.
For visitors to San Diego, how would you describe the region's arts and culture scene?
The arts and culture scene is a vibrant part of San Diego life. We have two top-tier theaters that are committed to new work as well as new productions of existing work—The Old Globe and La Jolla Playhouse. Also as regional theaters, both contribute significant productions to Broadway and to touring performances every year. There is also a plethora of smaller theater companies that together comprise a rich theater culture in San Diego. The San Diego Opera presents three main stage productions a year with world-class and emerging singers as well as a vibrant "Detour" series that presents opera in a unique and intimate setting. Balboa Park, built for the 1915-1916 Panama-California Exposition, has a unique combination of museums ranging from the San Diego Museum of Art and the Timken Museum to the Fleet Science Center and the Mingei Museum, which features folk art, craft and design from all eras and cultures of the world. The Museum of Us is a cultural anthropology museum that explores the human experience.
What role do you think the San Diego Symphony plays in shaping the arts and culture scene? How do you see that role evolving?
The San Diego Symphony is a major American orchestra with a rich 110+ year history. The orchestra is in a growth period with the recent appointment of the highly acclaimed Rafael Payare, one of today's most sought-after conductors, as music director. In addition, the orchestra has created The Rady Shell at Jacobs Park—an outdoor facility that will rival all others in its iconic beauty, its location on the San Diego Bay, and its incredible acoustics. It is perhaps the finest outdoor venue acoustic anywhere. The San Diego Symphony will also continue to perform in its indoor home, Copley Symphony Hall at Jacobs Music Center, a 91-year-old venue that began its life as the Fox Theater and is one of the most well-preserved music palaces in the country.
Tell us a little bit about The Rady Shell at Jacobs Park and how that will benefit not only the San Diego Symphony but the region.
For many years, the San Diego Symphony has performed outdoor concerts every summer. Given the incredible climate of San Diego, the desire was to build a permanent outdoor structure that would allow the orchestra to perform and present other concerts throughout the entire year. Beginning in 2014, the orchestra undertook the planning for such a venue on land owned by The Port of San Diego, thus beginning a unique partnership between a public entity and a cultural institution. The result is the construction of The Rady Shell at Jacobs Park, a venue in a beautiful location along the San Diego Bay with the city skyline and marina on one side and the bay on the other. A tensile structure that is inspired by the shape of a shell, the venue has a capacity of nearly 10,000 people, and will present over 40 concerts in its long-awaited inaugural season, Aug. 6, 2021.  The groundbreaking took place in September 2019 with a hoped-for opening in 2020 and now, with the opportunity to gather again with full audience capacity, the premiere season was announced and tickets are on sale. The venue will have state-of-the-art food and beverage service that reflects San Diego cuisine and features local restaurateur. In addition to performances the venue will serve as a public park 85% of the time, and the San Diego Symphony plans to offer park activities in this location.
What is your approach to programming to encourage more people from all different backgrounds to engage with San Diego Symphony and its mission?
The orchestra sees its mission as "Changing Lives through Music," and its role in the community is as a cultural leader, daring to take risks to create incredible and memorable performances of a wide range of music. In addition, the orchestra regularly presents music of many genres in both of its Downtown locations. As an anchor to cultural life in Downtown, we are very much part of the continued development of the urban center of San Diego. At the same time, we are also focused on taking the orchestra to the region's many distinctive areas including neighboring Tijuana. The orchestra has extensive learning and engagement programs that include providing free concerts to audiences of all ages. It also reaches out to populations that do not have access to the concert experience such as the women at Las Colinas Detention and Re-entry Facility, assuring that access to the power of music as an expression of our humanity is available to all.
Through our annual programming, we engage artists from many genres: jazz, blues, pop, rock, folk, mariachi, film and our chamber and full orchestra performances. The musical expression across all these genres is representative of the region, and reflects different styles, cultures, languages and rhythms, fulfilling our mission to bring people together through music that transcends borders.
Why is San Diego such a great place for meetings and conventions?
San Diego is an incredible destination, for tourism and meetings/conventions. It is one of the most unique and beautiful destinations situated between the mountains, high desert and ocean. Its beautiful natural environment with succulent plants and unique fauna provides bursts of color and variety for the eye. The vivid dining scene is easily accessible to Downtown hotels, and its unique neighborhoods each boast a distinctive vibe. To add to this vibrant cultural life, and our highly regarded San Diego Zoo and Safari Park, it is a great destination in which to extend your business visit for a relaxing vacation and time away.
What is something people typically don't know about San Diego that they should?
San Diego has wonderful outdoor destinations with abundant opportunities for hiking and biking and ocean kayaking. It also has wonderful indoor dining as well as alfresco outdoor dining. The temperature is an average of 73 degrees, which can mean evenings are cool and refreshing so bring a coat. But prepare to remove layers of clothing because it will be lovely and warm by noon. May and June can be cool and cloudy with a moist marine layer blanketing the coast. A trip to the Torrey Pines Gliderport boasts incredible views of the Pacific while watching gliders take off and land over the sandstone bluffs. You can also then tour the Salk Institute, which famed architect Louis Kahn designed. It is a great example of international architecture and one of the most iconic of his buildings. San Diego also has a wonderful intellectual life connected with its many colleges and universities. Lectures, film series, and thoughtful reflection on life sciences, marine biology, contemporary music, theater design, the list goes on. There are very interesting people who live and work here making it a vibrant major city with a wonderful natural palette.
What is the one thing visitors to San Diego should do?
Take a drive south from Solana Beach to Mission Beach and enjoy the coastal highway and incredible view. Then come to The Rady Shell at Jacobs Park for an evening concert to watch the sunset and hear great music! You will not forget it.