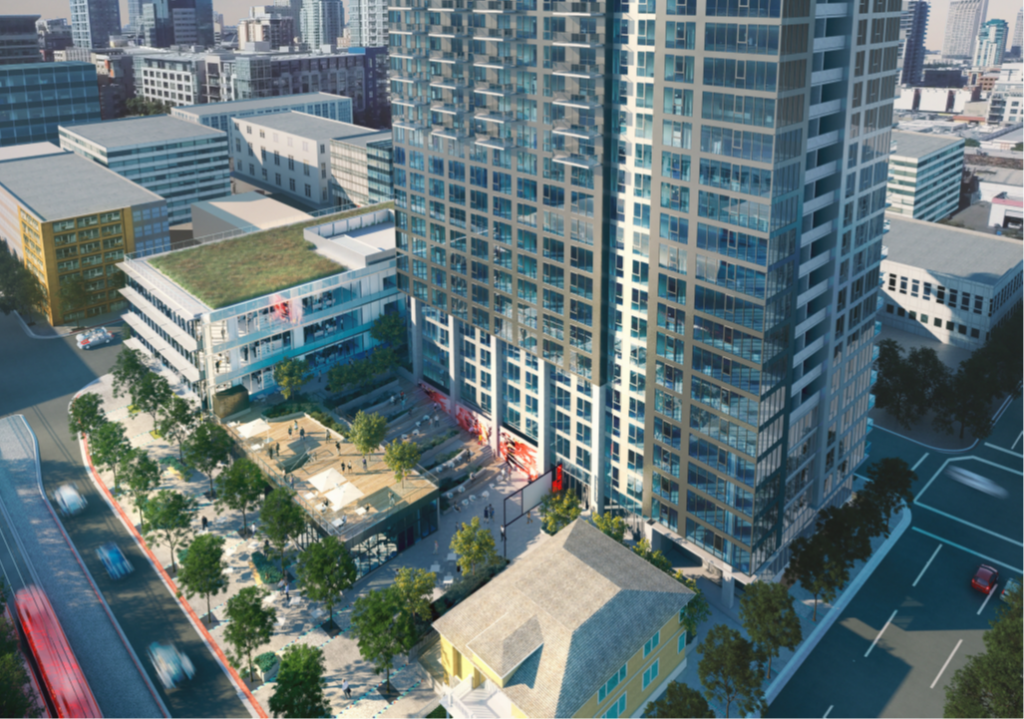 UC San Diego @ Park & Market, the university's new center located in the heart of Downtown, plans to welcome an innovative collective of civic, business, innovation, education, and arts entities for diverse programs that touch upon the breadth and wealth of the city's most creative endeavors. Additionally, the new building provides a new Downtown location for special events including large conferences, meetings, awards, presentations and weddings.
Located at the corner of Park Boulevard and Market Street in the thriving East Village area of downtown San Diego, the new four-story 66,750-square-foot mixed-use office building strategically sits at a San Diego Trolley stop—physically linking the new UC San Diego building to campus thanks to two new trolley stops located on the La Jolla main campus.
The first floor is an open lobby with 26-foot-high ceilings and features a soaring, custom designed circular staircase with a "balcony stage" that is perfect for a performer, a speaker or to say, "I do."
The first floor also features a 225-seat black box theater that will have theater-style lighting, a state-of-art sound system and AV equipment that can host anything from a Ted Talk-type event to jazz show. The third floor also features a green room for VIP talent.
The grand staircase opens into the second-floor gallery and a 66-seat movie theater, and four large executive conference rooms outfitted with the latest AV and distinguished furnishings. Want to set up a sophisticated reception? There is an overlook terrace, just outside the 30-foot-wide door on the second floor.
UC San Diego Extension will tap multiple community and campus departments and partners to offer a wide variety of programs at the facility. They include academic and outreach programs for middle and high school students from surrounding communities; business incubation and entrepreneurship resources for entrepreneurs throughout the city's core; other arts events and exhibits to showcase the university's and the larger community's cultural offerings; a hub for civic engagement, including applied research and volunteer opportunities; and other courses, workshops and seminars relevant to Downtown's growing workforce.
UC San Diego @ Park & Market is a strategic $60 million investment to provide the public with a new access point for the knowledge, connections and resources of UC San Diego and join Downtown and the East Village as an eager and steadfast neighbor.
UC San Diego @ Park & Market is expected to open October 1, 2021. UC San Diego has a designated special events manager that looks forward to showing you the newest addition to the Downtown event and conference space market.