As the chief resilience officer for the San Diego County Office of Emergency Services, Gary Johnston has been on the frontlines of the local COVID-19 crisis. While the last year has been challenging, Johnston explains how San Diego is leading the way on vaccination efforts to ensure a safe and productive visit for everyone.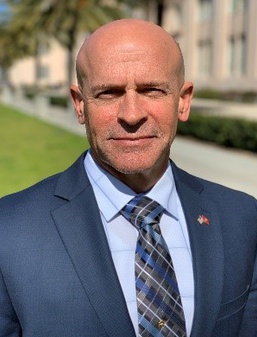 California's economy is re-opening on June 15. What does that mean and what can visitors expect?
The first thing people often ask me is whether we are going to be stricter than the state. My response is that we have consistently aligned with state guidance. On 15 June, the County of San Diego will align with the California Department of Public Health (CDPH) Beyond the Blueprint guidance for a "fully opened economy" with business and activities returning to "usual operations."
So what does that mean in terms of face coverings?
The County will follow the current CDPH public face covering guidance—masks are not required for fully vaccinated individuals, except in settings where masks are required for everyone such as public transportation, healthcare facilities, and indoors at our K-12 schools. For unvaccinated persons, masks will be required in indoor public settings and businesses.
What about physical distancing?
Per the CDPH Beyond the Blueprint guidance, there will be no physical distancing restrictions for attendees, customers and guests after 15 June.
So everything is back to the way it was before the pandemic as of today?
Again, beginning June 15, all sectors listed in the current Blueprint Activities and Business Tiers Chart will be permitted to return to usual operations with the limited exceptions of what the state refers to as "Mega Events." Mega Events are characterized by large crowds greater than 5,000 (indoors) and 10,000 (outdoors) attendees. Mega Events may have either assigned or unassigned seating, and may be either general admission or gated, ticketed and permitted events. The CDPH guidance governing Mega Events is scheduled to sunset on Oct. 1, 2021.
How does San Diego compare in terms of vaccination rates?
We lead the state in most goals associated with COVID-19 vaccination goals. The "Goal Population" is 75% of San Diego County residents ages 12 years and older, or 2,101,936 individuals. As of June 12, 100% of that goal population has received a first dose of the vaccine with 83% of that goal population being fully vaccinated. On top of our extremely effective and successful vaccine operations, the County continues to provide a robust testing capacity region-wide.
What do you attribute to San Diego's success in effectively addressing COVID-19 and with its vaccination efforts?
The County of San Diego invested significant resources in establishing arguably the most robust vaccination and testing infrastructure in the state in terms of money, manpower and materials. The County also fostered tremendous working relationships with our local healthcare system partners—hospitals, universities, the Department of Defense, the Veterans Administration and others. This network teamed together to deliver a deliberate testing and vaccination strategy that undoubtedly saved lives and reduced the burden on our healthcare system even at the height of the virus' spread. It is also important to note that the County was the location where the United States first began to respond to the pandemic state-side. Marine Corps Air Station Miramar was selected as the emergency quarantine and isolation location for Chinese Nationals and later passengers from the Princess Cruise Ship. The County and our healthcare partners were able to learn a great deal about this virus during the support of both COVID-19 federal response missions.
Why should a meeting planner or attendee feel comfortable having or attending an event in San Diego?
Simple, this County's response to and recovery from COVID-19 is unmatched. Our business sectors are well-versed in providing a safe environment for all activities in San Diego—business or pleasure. The significant majority of our residents are also vaccinated and we continue to offer walk-in and mobile vaccination opportunities region-wide. COVID-19 testing also continues to be available across the County. On the tourism front, outdoor events and activities are plentiful—from the coast to the mountains, and everything in between. The safest place to be is outdoors, and there is no better place to be outdoors than San Diego.
Why is San Diego a great place for meetings and conventions?
Aside from that San Diego is just a great place to visit, it has a great tourism industry that is collaborative and run by real leaders. I saw that collaboration firsthand with the San Diego Tourism Authority working with the hotel community and others in the industry during the pandemic. It was a team effort and they supported one another by sharing information and developing procedures and processes so that businesses could survive and then have to ability to ramp up quickly when we reopened. Then, of course, there is our outstanding natural climate and all outdoor activities that go with it.
What is one thing people should know about San Diego that they don't?
I don't think people realize the capacity of the county's Health and Human Service Department and our healthcare system. Also, as a former Marine, I should point out that we have the largest concentration of military personnel in the country.
What is the one thing a visitor to San Diego should do?
That's a hard one because there is so much to do here. You can surf in the morning and two hours later you can be snow skiing. You can be sipping Mai Tais by the ocean and then head northeast to the wineries in Ramona. Also, I don't think you'll find a better and more friendly hotel and restaurant industry either. Most of all, we have the best climate and geography anywhere. We have the ocean and beach, the mountains, and everything in between. You can do it all in San Diego…and do it outdoors!