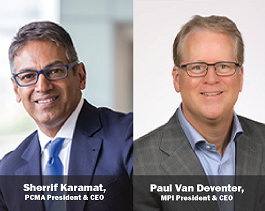 Name: Sherrif Karamat, CAE
Title: President and CEO
Organization: PCMA
Name: Paul Van Deventer
Title: President and CEO
Organization: Meeting Planners International (MPI)
As leaders in global business events and meetings, Sherrif Karamat and Paul Van Deventer have a unique window into what it will take for the industry to rebuild and rebound. The two took time to share their thoughts on the timeline for recovery, how the pandemic has changed meetings and conventions and why San Diego will continue to be a premier destination for people to meet.
How do you see the meetings and conventions business performing this year and into the future?
Paul: We are seeing a number of positive trends. Overall there is an economic resurgence fueling a global recovery, which is benefitting the entire hospitality industry. Specific to the live business events industry, we are seeing notable benefits from the overall resurgence, with planners shifting from cancelling and postponing events, to now scheduling events in the third and fourth quarter of 2021 and aggressively booking into 2022 and 2023.
Sherrif: There is strong pent-up demand but that demand is to some extent limited by different state and local restrictions. Also, we are not just going through a pandemic but an economic crisis as well. So while there is demand, the size of events might not be what they would have been in the past. Next year demand will increase but we probably won't see the size of events recover until 2023.
How will meetings and conventions be different going forward? What are the lessons from the pandemic that we can keep and what are the other ones that are not relevant to the industry as it begins its recovery?
Paul: There were a lot of good things that we learned during the last year, especially around the use of digital. There are pros and cons, but a big pro is that we've incubated the use of digital. We've also seen how digital is not a replacement for face-to-face meetings. Going forward, those experiences we have in-person will be enhanced by digital as well as extending it to people who aren't able to attend. What we see in the research is all the different ways to use digital that will change the way meetings and events will be produced. It will be more a TV-type product than a concert-type product.
Sherrif: Obviously, the pandemic has been disruptive, but there are lessons in how we have adapted to that disruption. Business events are not going away, but we will have to meet the audience where they are. There is going to continue to be a lot of change in our industry, and we will realize how we have fundamentally changed as we move forward. There are still many open questions on how our behavior has changed as a resulted of the pandemic and we will not uncover them and the impact on events until we start meeting face to face.
What differentiates San Diego as a destination for meetings and conventions?
Paul: The brand of San Diego resonates globally, with an enviable, and well deserved, reputation as a "must visit" destination, offering a unique cultural experience, deriving from its proximity and shared history along the international border with Mexico. It is truly an amalgamation of those two countries and cultures. And in addition to having great facilities and infrastructure, San Diego is also a very accessible city.
Sherrif: We had a PCMA Convening Leaders conference in San Diego, and it was and always is an incredible setting. Of course, there is the 365 days of near-perfect weather, but it also has a countless variety of hotels and a great Convention Center and access to all sorts of resources. When we held our last PCMA conference, attendance was up 10 percent and the rates are not cheaper.
What is the one thing about San Diego that people should know about that they don't?
Paul: I have been blessed to call San Diego home for almost twenty years. What I love most about San Diego is the tremendous breadth and depth of diversity; from people, to topography, climate, culture history, culinary scene, activities, and venues. There is always something new to explore and experience.
Sheriff: There are so many things that it is hard for me to pinpoint one thing, but I think it is that this is a big city on the water. It provides a majestic backdrop for events.
What is the one thing you like to do when you are in San Diego?
Paul: Cycle along the coast. I never get tired of the beauty.
Sherrif: Dining out. I have had the privilege to experience so many different dining experiences in San Diego. At one of our PCMA events, we closed down the Gaslamp for a concert and the restaurants served food outside. It was all open and exposed. Your entire architecture is built about being outside. It is just a different experience.