Vice President, Bartell Hotels
Co-Founder, HotelView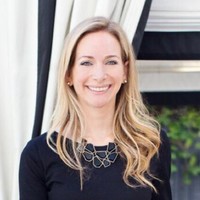 While Lydia is a third-generation hotelier in San Diego (grandfather Lee Bartell started Bartell Hotels in the 1970s), Lydia's education and background are firmly rooted in finance and strategy.

Lydia graduated from Georgetown University with a double major in Finance and International Business. She began her career on Wall Street working in Investment Banking at Merrill Lynch in New York, with a focus on Public Finance origination and Structured Debt Products, where she worked across several disciplines to structure over $2 billion in structured notes and public debt. After three years, Lydia pursued her MBA at The Wharton School at University of Pennsylvania and graduated with a double major in Finance and Management. Upon graduation, she moved to Hong Kong to work for Barclays Bank's Investment Banking Group in Mergers & Acquisitions, where she had the opportunity to represent clients across Asia and travel extensively in the process.

Lydia followed her passion for hospitality in 2012 when she joined the international modern luxury hotel company, Viceroy Hotel Group, in the corporate office in Los Angeles. During five years with Viceroy, Lydia focused on a myriad of topics, including financial analysis, management of hotel openings and hotel repositionings, business development, food & beverage management, strategic operational improvements, creation of an innovation platform, and management of special strategic projects for company leadership.

Lydia returned to her hometown of San Diego in 2018 to join Bartell Hotels in the corporate office, where she dedicates herself to general management oversight. Her various responsibilities include financial modeling, revenue management, leading Human Resources with a focus on wage & hour compliance, partnering with the General Managers to complete strategic projects, long term financial planning, developing partnerships with the Port, supporting special initiatives such as the Convention Center expansion, managing legal issues, spearheading the COVID safety strategy and welcoming new colleagues to the Company in English and in Spanish during new hire training.

In addition, Lydia co-founded hotel software HotelView, an innovative mobile platform that delivers a real-time rooms revenue dashboard, which benefits users by increasing rooms revenue visibility and insights, displaying compset benchmarking and facilitating team revenue strategy.

Lydia currently serves on the Board of Directors for the San Diego Port Tenants Association and is a Co-Chair of the Mission Bay Marketing Sub-Committee.