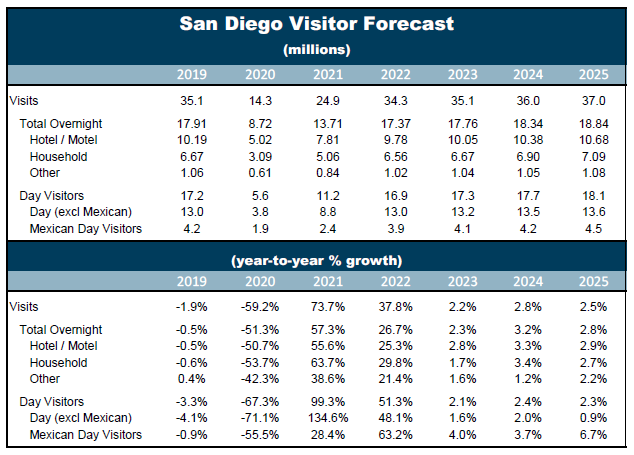 The San Diego County Travel forecast (updated as of April 2021, but prior to the updated guidelines announcement on April 2) assumed positive vaccination rates and lower case numbers leading to a continued improvement in the leisure travel market and a slower but small start to meetings beginning in the second half of 2021. Overall, the travel industry will remain hampered for a few years with tourism spending returning to 2019 levels in 2024.
Forecast highlights:
Visitation to San Diego in 2021 is expected to total 24.9 million, approximately 10 million fewer visitors than 2019 (35.1 million), though a 74% increase from 2020 (14.3 million). Both day and overnight visitation are expected to improve during 2021, but remain 35% and 24% below 2019 levels, respectively.
San Diego visitation is expected to return to 2019 levels in 2023, driven by day visitors. Overnight visitors are expected to grow at a slightly slower rate than day visitors and are not expected to return to 2019 levels until 2024. Overall visitation growth is forecast to remain high in 2022 (38%), but then slow to a more gradual pace in 2023 through 2025.
Visitor expenditures are expected to reach $7.6 billion in 2021, roughly 53% below 2019 spending level ($11.6 billion) but a 47.5% improvement from 2020 ($5.2 billion). Overnight visitors will make up the bulk of the spending in 2021, accounting for nearly 91% of the total spend, or $6.9 billion.
Visitor spending is expected to take a little longer to return to 2019 levels than visitation, by 2024. Overall visitor spending is forecast to grow 38.3% in 2022 before stabilizing between 5.1% and 6.2% from 2023 and 2025.
Hotel demand in San Diego is anticipated to remain below 2019 levels through at least 2022, with a full recovery to 2019 room nights forecasted to occur in 2024. The leisure transient-oriented properties are expected to experience sooner demand recoveries. Improvements in ADR is expected to take more time and lag the demand recovery. A return to 2019 ADR levels is expected in 2025.
The Group segment recovery relies on the public health crisis to be sufficiently resolved, which is assumed to begin with restrictions in 2021 Q3/Q4. Due to the nature of event planning and the uncertainty that surrounds the public health situation and corresponding regulations, a firm recovery in group demand is not expected until the first half of 2022.
Overall, San Diego County room revenue is expected to recover to $1.7 billion in 2021 (41.5% below 2019), and then almost $2.5 billion in 2022, 15.8% below its 2019 level and similar to the overall market in 2015.