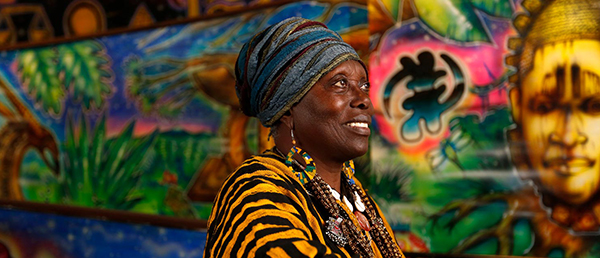 Name: Makeda Cheatom, founder and executive director
Company Name: WorldBeat Center
Founded: 1996
Though Black history is American history and something to celebrate and acknowledge every day, how does the WorldBeat Center celebrate Black History Month? Yes, every day is Black history. The WorldBeat Center celebrates it throughout the year with annual events like our seven days of Kwanzaa Celebration starting with Umoja (meaning Unity) and ending with Imani (meaning Faith). These seven principles of the Nguzo Saba guide us throughout the year. Then we move into our Martin Luther King Day Celebration followed by Bob Marley Day in February. Throughout the month we have keynote speakers on history, science and wellness and entertainment including our film screenings and music performances. We also have other annual celebrations throughout the year honoring the contributions of the African Diaspora including Marcus Garvey Day and Audre Lorde Day. We also celebrate other Black holidays like Juneteenth and Decoration Day (the original Memorial Day). So, we're busy.
How would you define the impact the WorldBeat Center has had on the San Diego community? It has brought unity amongst all races—a place where all can gather and if they're open, learn about the cultures of the African and Indigenous diaspora. We celebrate Black culture by teaching about the Black cultures in North and South America. We provide free annual events where all are welcome like Multi-Cultural Earth Day. We also have a summer camp where children of all colors learn performing arts, dance, gardening and literature. We have the first edible garden in Balboa Park where we teach students and families about the origins of their food and that includes ethnobotany.
We also provide jobs through our outreach department for drummers and artists where they teach in schools or provide performances for private events. We bring tourism to the city through annual events like Tribute to the Reggae Legends/Bob Day where we promote international Reggae artists. The WorldBeat Center also provides internship opportunities for college students in San Diego and visiting from abroad.
How have you changed your business in response to COVID-19? All our annual events and programming have gone virtual. Our drumming, dance and wellness classes have either gone virtual or have postponed until we can reopen safely. We have followed the State and County guidelines for safe reopening for our cafe while also prioritizing our staff's and volunteers' well-being. We've offered our community anxiety and stress relief through meditation programs as well as through our newly added immunity drinks in our cafe. Like many non-profits we are now doing most of our business through Zoom and are just as busy if not more.
What are some hopeful changes you wish to see as we transition into the "new normal?" I hope to continue to live in unity and support small businesses and community-based organizations. I know many Black, Indigenous, People of Color-owned businesses have said they have had overwhelming support that they had not seen before last summer's protests. I hope our businesses continue to live their equity, diversity and inclusion statements and agreements and do the work that it is going to take to live in a more inclusive and equitable society. I hope we can set our political beliefs aside, have healthy debates, and work collectively to address the priorities of our communities. All of course while prioritizing wellness and respecting our safety protocols as we manage this pandemic.
What is your advice to other companies, specifically, Black-owned businesses? To continue to move forward no matter what the obstacles are and to remember that we are standing on the shoulders of giants that paved the way and that now it is their turn to pave the way for seven more generations. We are here to raise consciousness and continue the legacy our ancestors left within us. I would also add to continue to support and uplift other Black-owned businesses and collaborate with other communities of color.