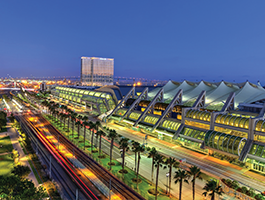 The San Diego Convention Center is serving as an emergency shelter through March 31, with many shelter residents moving to longer-term housing by that time. Through this effort, employees in the Center's kitchen and across the building have gained significant experience in COVID-19 safety protocols; last week, they announced they have provided more than one million meals to people experiencing homelessness! SDCC's team is closely coordinating with the City of San Diego to ensure the building is thoroughly cleaned, sanitized, and ready for events after the shelter closes.
SDCC has also maintained its GBAC STAR™ facility accreditation, the cleaning industry's gold standard for facilities. This accreditation requires stringent practices for cleaning, disinfection and infectious disease prevention.
We anticipate the State of California will issue guidance soon regarding the return of meetings and events. You can trust SDCC will be ready to safely welcome you and your attendees back to its world-class facility. To learn more about reopening plans, see Visitsandiego.com.