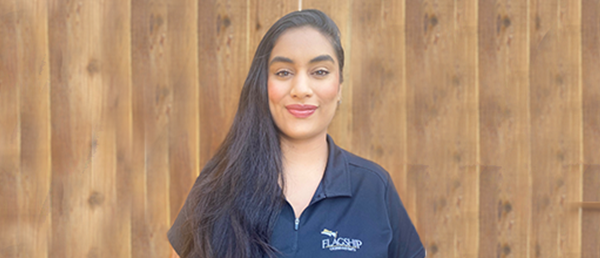 Name: Giselle Guzman
Title: Ticket Booth Manager, Flagship Cruises
What started out as a summer job at Flagship Cruises & Events right after high school has turned into a career for Giselle Guzman.
"I was just 18. It was just supposed to be a seasonal job, but I ended up staying," she said.
After just two years, Guzman was promoted to assistant ticket booth manager. At the ripe old age of 23, Flagship elevated her role again to that of ticket booth manager this past July.
"In the middle of the pandemic, she was the strong leader we needed to guide our front of the house team through the ever-changing COVID conditions and restrictions, which sometimes put her in front of frustrated, confused or non-complying guests," said Heather Boye, director of sales and marketing at Flagship Cruises.
Guzman said she learned on the job how to handle all different types of people.
"I know how to read personalities and can get a sense from someone as they come up to my window," she said. "If someone is upset or cussing, I don't get angry. I try to understand it from their perspective."
Guzman said she enjoys her job because she realizes how important it is both to the customer and the company.
"I love being part of people's experience and sharing San Diego Bay with them and seeing their eyes light up," she said. "Working in the ticket booth, you also realize you are the face of the company."
Boye agreed, saying Guzman can charm even the most difficult of customers.
"Giselle always handles these situations with grace and professionalism," she said. "She has also received many compliments through our online review platforms on her outstanding service."
Boye added that in addition to supporting her immediate staff, Guzman has also been helpful in suggesting and implementing new ways her department can best support those closest to her such as Flagship's retail shop, photo department and operations departments.
"I went to all of the departments and asked: 'How can the ticket booth help you to do your job better?'" Guzman said. "It is all about working together so we can become one."
While she credits Flagship for keeping morale up throughout the pandemic with open communication, Guzman still cannot wait for things to return to normal.
"I miss the long lines and seeing Downtown busy," she said. "I can't wait for people from all around the world to came back and see what San Diego has to offer."