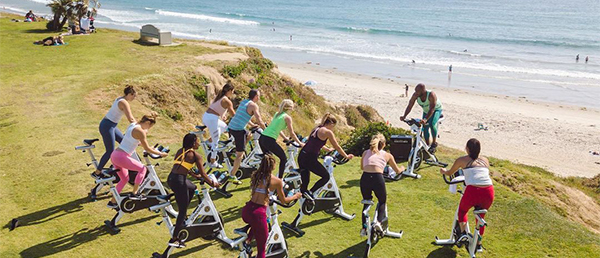 Name: Angela Minardi
Company Name: Fit City Adventures
Type of business: Corporate team building and wellness concierge
Founded: 2018
How have you changed your business in response to COVID-19? We moved our in-person events that were once taking place in the parks and beaches online to highlight the best that San Diego and Southern California have to offer in virtual team building and health and wellness. Our focus was on keeping corporate teams connected and healthy, both locally and nationally. We started off with cooking and cocktails on Zoom, hosting mixology and cooking classes with our partners and delivering or shipping the kits. We also created 25 online virtual services, ranging from meditation to a musical dueling piano happy hour and fully produced our segments for virtual conferences and meetings live or on-demand. Our 10 scheduled events were cancelled in March, but by December, we hosted 200 holiday events across multiple states and conferences. We listened and jumped at every opportunity as quickly as possible—just saying yes and finding a way to get ahead of the curve and get out there. We're now a national event company, so, in reality, COVID forced us to fast-track our expansion plans. 
What keeps you hopeful? My partners and our creativity. We work with the best in town who are tenacious and caring. Partners like the Cohn Restaurant Group and Snake Oil Cocktail worked with us to service clients in tough times when restaurants were closed and shipping was a feat with the holidays. We got it done. I get to see the joy our virtual events bring clients and their teams day in and day out— but my hope is that sometime this year we can go back to live events on those rooftops and on our beautiful beaches. 
What is your advice to other companies? Understand your market and what the market needs to get a step ahead. Don't sit back and wait, find creative ways to get it done. If you don't do it, partner with someone who does, and always, always be open to change and be flexible. Don't be afraid to try something new, but know what you're good at and what you're not before you get started.  
What is the one thing you are looking forward to doing when things return to normal-ish? Giving hugs and high-fives! Playing volleyball on the beach and yoga classes. I miss my friends and my community.
Join in on the Fit City fun with a 20-minute cocktail and cooking class!