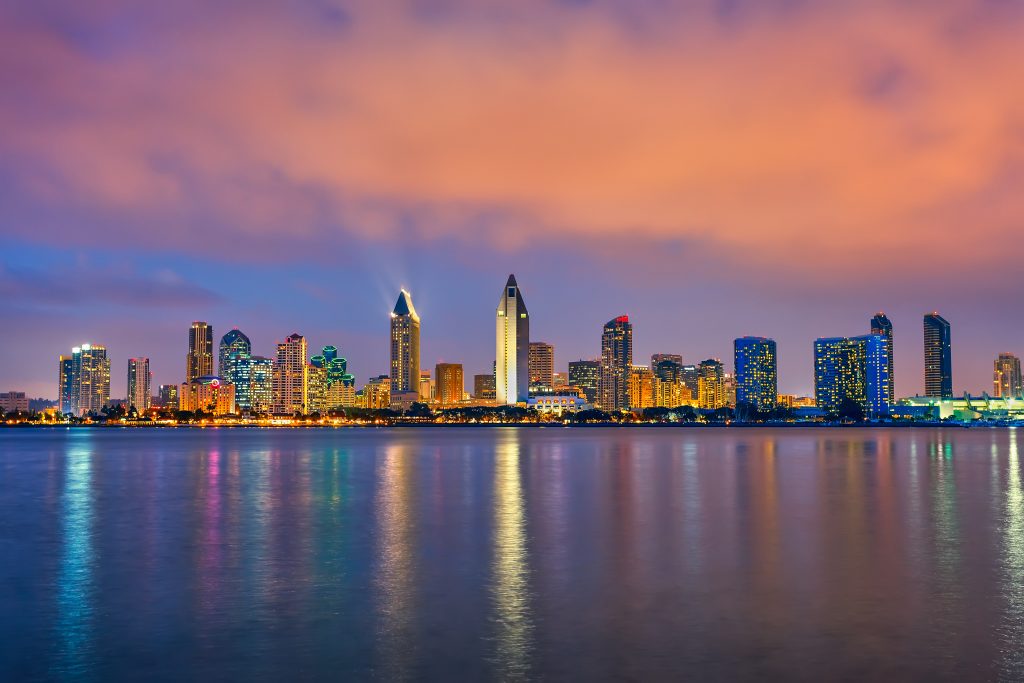 Despite all the challenges of 2020, there are still so many things for which to be thankful. We've asked some SDTA staff and board members to reflect on what they are grateful as we head into a Thanksgiving holiday like no other.
Julie Coker, president and CEO, SDTA
This has been a difficult time for so many of us. It is a reminder that we must live each day on purpose and be grateful for the small moments that make lasting memories. Life may not be exactly the way we want it but we must remember that there are so many things for which to be grateful. Count your blessings. As for me, I'm grateful for my circle of family and friends who offer me support and guidance every day. I'm also grateful for the San Diego community that has welcomed and embraced me as we work together to help our tourism industry recover and get our employees back to work. I'm also thankful that I keep finding things to smile about even during COVID.
Daniel Kuperschmid, SDTA board president and area vice president and general manager at Manchester Grand Hyatt San Diego
There is no question this has been a difficult year for everyone, a year that has presented its fair share of challenges and obstacles, but I have found that for better or worse with every challenge comes opportunity. As a result of the change in lifestyle COVID-19 has imposed on us all, I am thankful to have grown closer to my family, colleagues and friends. I find I now slow down and pay attention to what matters most to me in my life. I know we will come out of this difficult situation stronger and closer than ever before.
Kimberly J. Becker, SDTA board member and president and CEO of the San Diego County Regional Airport Authority
This holiday season, I am reminded of the importance of gratitude as a steadying north star during turbulent times. More than ever, I'm thankful for my adopted hometown of San Diego, and the wonderful people who give this place its beautiful and positive spirit. I'm thankful for my loving and supportive family, and also for my airport family—the thousands of dedicated people who work tirelessly to ensure the traveling public's needs are met. I wish all of you comfort, peace and joy.
Althea Salas, vice president of human resources, SDTA
I'm thankful for a good night's sleep and waking to beautiful blue skies and enjoying a cup of tea while wearing flip flops and shorts mid-November. I'm thankful for technology like Wi-Fi, virtual meetings and remote IT support allowing me to continue to work from home so I can support SDTA associates as we all work for the recovery of our tourism industry. I love taking a "mini-vacation" by walking around Mission Bay while enjoying all the water activity such as sailboats and stand-up paddleboards. I'm thankful for the time I've had to discover new things like sailing and being on the water. Of course, I'm thankful for my family and our health. I'm also getting more time with my college-aged kids who are distance learning at home. I'm thankful for my daily call with my mom even if we have nothing new to share. I'm thankful for my silly and energetic 85-pound Rhodesian Ridgeback puppy who makes our whole household laugh every day. I'm thankful for the amazing, nimble, and passionate SDTA team for having a fantastic spirit and for continuing to do the great work we need to do for San Diego. I am mindful of and thankful for little things and big things, that make me smile every day.
Brian Hilemon, senior director of marketing partnerships, SDTA
This year I'm really thankful for the amazing gift I've been given of more time with my wife and our four kids. I'm also thankful to have a role where I feel like I've been able to make an impact and support our Members. It's inspiring to see everyone work so hard to stay open and operating. I'm thankful for the faith that I have that we will see good days ahead of us, and a 2021 marked by recovery and resurgence. Happy Thanksgiving and God bless!
Gerrica Gray-Johnson, senior convention services manager, SDTA
This has been a tumultuous year, so I am thankful for many things. I am thankful for every person in my family and am especially thankful that we have all managed to stay healthy through this crisis and have grown closer to each other. I am thankful for my family members who are no longer here but are always in my heart. I am thankful for each and every day because it is a chance to do something good for others.
Edna Gutierrez, public relations manager, SDTA
As Thanksgiving approaches and the end-of-year comes closer, I am immensely grateful for the people—friends, family, coworkers, and my community—who have shown incredible resilience. In this challenging year, we've found ways to be there and support each other. Just like our hospitality industry, which has come together to lift each other with restaurants providing meals to essential workers, breweries shifting to make much needed PPE, hotels feeding employees, and everyone jumping in to support small and minority-owned businesses. Their resilience and kindness inspire me, and I am thankful for that.