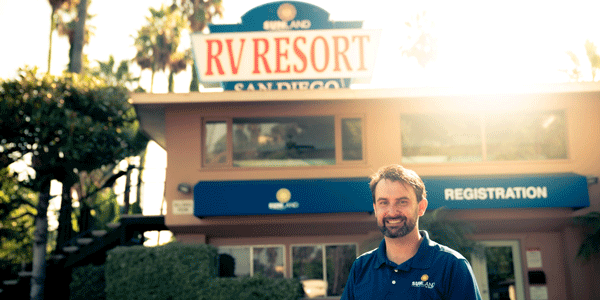 Name: Brendan Cronin
Company Name: San Diego RV Resort
Founded: Sunland RV Resorts 1996
How have you changed your business in response to COVID-19? 
Sunland RV Resorts has introduced The Sunland Promise to ensure a clean and safe environment in which employees and guests can thrive during the Covid-19 pandemic and beyond. All practices and protocols are based on guidelines from the Centers for Disease Control and Prevention (CDC), the Occupational Safety and Health Administrations (OSHA) as well as state and local orders. Dedicated to the well-being and preservation of the communities where we are located, Sunland RV Resorts uses the Environmental Protection Agency (EPA)-approved products. At San Diego RV Resort, the existing space between our RV pads places guests at least six feet apart from one another. In addition, we have created a robust calendar of outdoor activities that people can enjoy while adhering to social distancing guidelines. Art with Heart is a new program that encourages kids to express their creativity through art.  The convivial competition accepts every medium of art. There's lots of chalk art at our resort!  Winners receive kid-friendly prizes as well as cash donations made in their name to the charity of their choice.
What keeps you hopeful?
I remain hopeful because we're seeing the transformative power of travel.  A guest's smile or the enthusiasm in their storytelling of their travels lets me know we're still in the "The Joy Industry." After months of sheltering-in-place, people are relaxing and reveling in America's wide-open destinations, where social distancing is possible. This summer, we've met families from across the U.S. and even the world. It's a pleasure to welcome back returning families and meet first-time RVers, who've selected an RV vacation because it's the safest way to travel. RV vacations are surging in popularity and our goal is to turn the trend into a beloved family tradition.
What is your advice to other companies?
Get to know your customers so you can exceed their expectations with intuitive service and activities that touch their passion points. With the growing popularity of RVing, we're seeing an expansion of our client base—especially families with kids. We're dedicated to creating family fun experiences.  San Diego RV Resort has created Kids RV-IP to celebrate and encourage the future generation of RVers. From now through December 2020, San Diego RV Resort is giving kids age 17 and younger free stays as well as welcome backpacks filled with a beach ball, trolley pass and a pack of colorful chalk. We want to enhance their visits and encourage their exploration of San Diego. San Diego is the perfect location to promote to families because of its world-famous sites for kids and the young-at-heart including the San Diego Zoo, SeaWorld and beaches. 
What is the one thing you are looking forward to doing when things return to normal-ish? 
Continuing to meet new guests, especially the future generation of RVs. I also look forward to hearing about their experiences at concerts, sporting events, famous San Diego attractions, and conventions.
Now through December 31st kids stay free at San Diego RV Resort and receive a welcome pack at check-in, which includes a backpack, beach ball, chalk pack, and trolley pass.