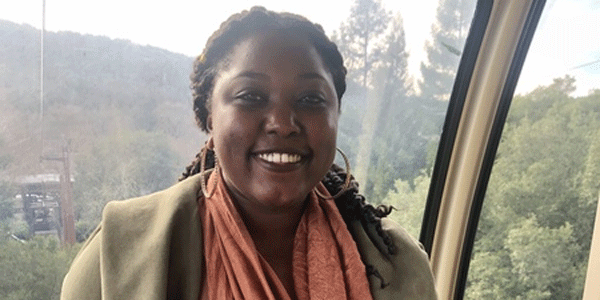 Name: Janessa Mitchell
Title: Guest Services Assistant Manager at The Dana
A commitment to service is, no doubt, the key to success in the hospitality industry. Janessa Mitchell not only understands that truth but personifies it. Inspired by her faith, Mitchell always knew she would pick a service-oriented profession, but she initially thought that it would be in education. That all changed when she landed at job as a front desk agent at The Dana right out of college. She instantly fell in love with the work.
"You get to be the first person someone encounters on their vacation," Mitchell said. "You are there to help them make positive memories."
For management at The Dana, Mitchell also quickly distinguished herself with her can-do attitude and optimism, which helped her earn a promotion to front desk lead within just six months, said Adrienne "Addy" Hur, the director of sales at the hotel.
During that time, Hur explained, Mitchell had to deal with an early morning water main break while there was group buyout at the hotel.
"Rather than panicking and looking for someone else to take care of the issue, Janessa immediately stepped in and gathered all available personnel to retrieve and distribute needed supplies to our guests all while she assisted upset and concerned guests who were lined up outside of our lobby," Hur recalled. "She was faced with an intimidating issue so early on in her tenure at The Dana, but never lost her composure, making it through with the all the grace and expertise of a more seasoned hotelier. She made such an enduring impression on this group that in the following years, those same guests no longer recall the problem, but how well handled it."
Mitchell said it is her goal to really listen to every guest to ensure that she can provide the service that will make their stay memorable—in a good way.
"You have to meet the people where they, so I am constantly working to stay present and engaged," she said. "I don't want to be a robot because I want everyone to walk away satisfied."
During the pandemic, Mitchell, who after five years at The Dana is now its guest service assistant manager said providing people with a positive experience is even more important as everyone needs an escape now.
"Families are looking to get out, relax and have some fun," she said. "It seems like everyone here is local and they are all telling me that they can't wait to come back."
Hur said Mitchell has an uncanny memory for small personal details about their hotel guests, remembering their favorite color, drink, last trip to The Dana, names, name of spouses and children and so on.
Still, Mitchell like everyone can't wait for things to get back to normal.
"I'm looking forward to not having to be so cautious," she said. That is especially true as Mitchell and her husband are expecting their first child—a daughter—in January. During the pandemic, she's had to forgo a baby shower as well as visits with mother and sisters.
"I just can't wait to breath a little easier, but my faith keeps me hopeful," she said.