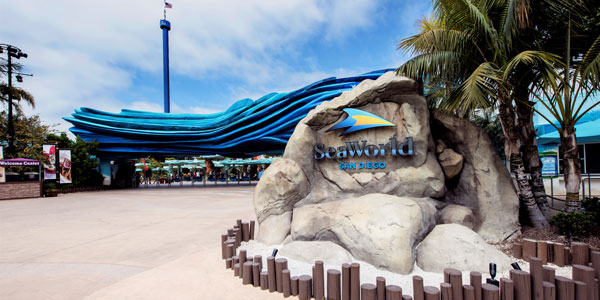 Name: Marilyn Hannes
Company Name: Park President, SeaWorld San Diego
Founded: 1964
How have you changed your business in response to COVID-19?
We have enhanced our already strict health and safety protocols to provide a safe environment for our team members and guests. We spent several months preparing the park with enhanced cleaning and sanitizing measures, physical distancing, temperature screening and new capacity limits. In August, we opened as a licensed and accredited zoo so our guests could once again come to the park to visit and learn about the amazing animals in our care and watch live animal presentations. There are many new operating procedures that take place daily to comply with state safety guidelines, including:
Limited capacity
The installation of red and green indicators in our stadiums to help guests know where to sit while maintaining 6 feet of separation between their party and others
Traffic flow updates to minimize cross traffic and create unidirectional patterns
Reconfigured seating to accommodate physical distancing guidelines
The installation of acrylic barriers at all appropriate locations and availability of hand sanitizer everywhere around the park
We are taking reservations that are date-specific, which is completely new for SeaWorld (that sure brought me back to my hotel days!)
For our fan favorite annual Halloween event, Spooktacular, running now until November 2, we've re-invented this year's event programming to be safe and even more fun, such as physically-distanced candy chutes that deliver candy straight into a signature candy bag in a touch-free way.
We've also set aside face covering relaxation areas throughout the park so guests can take a break from wearing their face covering while physically distancing. It's time for a fresh and creative approach to everything.
What keeps you hopeful?
What keeps us hopeful is our core mission, our team and our fans. During our temporary park closure, our zoological team was in the park every day, providing world-class care to all of the animals in our care. Our rescue team continued their lifesaving work, coming to the aid of stranded animals in need along San Diego's coastline, helping more than 300 animals during the time the park was temporarily closed. When we reopened our doors in August, our fans showed us how much they missed us by coming back with their family members and friends to reconnect with each other and with marine life. What also keeps me very hopeful is that SeaWorld is still very, very fun and educational. A visit to our park is an opportunity to spend a great day outside where you connect with the sea and sea life. People are so happy to visit and we're receiving amazing feedback from guests. It really keeps us motivated.
What is your advice to other companies?
Be flexible, get creative and be kind. We're all in this together, and the more we can support each other, the easier it will be to get through this incredibly challenging time. And connect with animals if you can! Our furry, feathered and flippered friends are great de-stressors! I feel so fortunate to be able to take a 10-minute walk to reconnect with the amazing animals here that we're able to learn so much about.
What is the one thing you are looking forward to doing when things return to normal-ish?
Our guests are anxiously awaiting the return of the entire SeaWorld experience. We are looking forward to reopening our rides, including the all-new Emperor (which, when it debuts next year, will be the tallest, fastest and longest floorless dive coaster in California) once we are given clearance from state officials. That also means we can provide more jobs. We're a close-knit team at SeaWorld and we are so passionate about what we do, I look forward to continuing to work with our amazing team and welcoming back our wonderful guests.