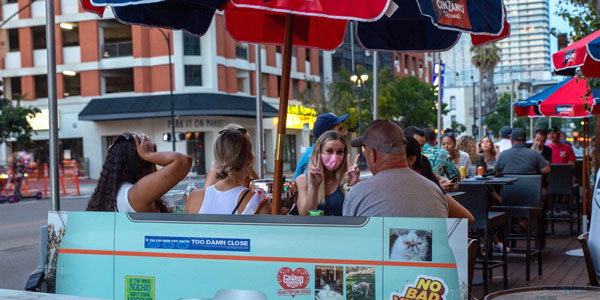 Name: Michael Trimble, Executive Director
Company Name: Gaslamp Quarter Association
How have you changed your business in response to COVID-19?
The Gaslamp Quarter Association (GQA) main goal is to serve the membership and promote the neighborhood to the public. While our mission has not changed because of the pandemic, our strategy and approach has had to shift. Promoting a dining and entertainment district when the entire industry is shut down is extremely challenging, from takeout and pick-up service to minimal hours of operations the GQA had to get creative on how to properly message this change in a positive manner. Once we launched the 22-week Curbside Gaslamp dining on Fifth Avenue program, things began to turn around for the positive. The launch of the parklet/sidewalk dining emergency ordinance gave all of Gaslamp the opportunity to participate in the program. This has brought our neighborhood closer, and we have all worked together to continue to make the Gaslamp Quarter the place to dine, shop and stay.
What keeps you hopeful?
I am hopeful that the introduction of the Curbside dining program will result in the escalation of the Gaslamp Promenade project. My goal is to keep Fifth Avenue closed starting in 2021 to continue street dining until funds are raised to redevelop Fifth Avenue. Curbside Gaslamp showed that the Gaslamp Promenade is a viable project with little to no impact on the servicing of the neighborhood.
What is your advice to other companies?
Changing your approach to serving the customer is how restaurants and retailers will stay relevant in a post COVID-19 era. Customer service will still be a No. 1 priority but how to execute that service will depend on how each individual business adapts to the new rules. Flexibility is key to success in this new normal.
What is the one thing you are looking forward to doing when things return to normal-ish?
The re-introduction of special events back to the Gaslamp Quarter is something I am hopeful we can bring back soon rather than later. Special events in the Gaslamp are a pivotal element to our district's success. Street events, corporate block parties, dining events and concerts are what make our district special. I am also hopeful we will have our Convention Center back in business so we can host companies looking to do business in San Diego. Convention business is critical to the success of the Gaslamp Quarter.