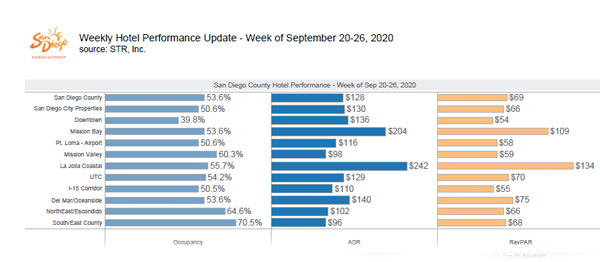 Hotel Performance – Week of Sept 20-26, 2020
Room supply rose to 63,476 this week, returning the hotel room supply to pre-COVID levels.
Room demand for the week was 237,954, keeping with the pattern we've seen for several weeks now with demand staying consistent at 230-250K room nights per week.
County occupancy averaged 53.6%, again ranking San Diego 2nd among top markets (behind Norfolk/Virginia Beach 56%), and 1st in the western competitive set.
Average daily rates were $128, ranking San Diego 4th in top markets (behind Oahu Island $156, New York $134, and Los Angeles $132), and 2nd in the west comp set.
RevPAR was $69, 2nd in top markets and 2nd in west comp set (both behind Los Angeles $70)
Downtown hotel performance remained at levels seen last week with occupancy averaging 39.8% this week. Monday-Wednesdays remain a struggle while weekends are doing reliably well.
Regular patterns remain, with properties located in South/East County maintaining the highest weekly occupancy (70.5% this week), and coastal properties in Mission Bay and La Jolla maintaining the highest ADRs ($204 and $242 this week, respectively).
Among City of San Diego properties, Saturday's occupancy highs were 88.4% in La Jolla, 84.7% in Mission Bay, and 80.1% in UTC. Outside City of San Diego, Saturday occupancy highs were 84.4% in North County/Escondido and 81.2% in South/East County.