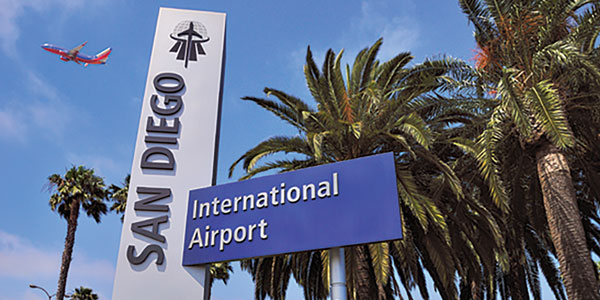 During these unprecedented times, San Diego International Airport (SAN) has continued to adjust to the impacts of COVID-19. The airport has remained open as a critical piece of the nation's transportation infrastructure, helping to move much-needed supplies and cargo, and assisting those with essential travel needs.
We want you to know that when you are ready to return to the airport, we are ready with a series of modifications and protocols to help ensure the health and safety of our passengers and employees.
Here's what we are doing to keep you safe:
At SAN, we are constantly adjusting our operations to better ensure health and safety in light of COVID-19. We've implemented a number of health and safety measures including:
Plexiglas sneeze guards in certain public spaces.
Floor decals and seat signage to queue the six-foot social distancing consideration.
Increased signage throughout the terminals that serves as a reminder to practice preventive health measures.
Facial coverings are required for all passengers, visitors, tenants, contractors and employees while on airport property, excluding those with a medical or mental health condition, or developmental disability that prevents wearing a face covering.
Continued increased cleaning of high touch points.
PA announcements throughout the terminals that remind everyone of the facial covering and social distancing requirements.
Hand sanitizer stations throughout the terminals.
Touchless faucets in restrooms.
Here's what you can do to travel safely:
If you have a travel need, it is important to stay in close contact with your airline as the date of your flight approaches. Airline schedules fluctuate unpredictably, airlines require facial coverings to board, and some airlines are conducting temperature checks on passengers. Make sure you have a clear understanding of your airline's expectations are before arriving at the airport.
Thank you for wearing a facial covering as it is a California health order and required on airport property. Visit our COVID-19 FAQs section for more information on what constitutes a facial covering. If you do not have a facial covering, some of our concession partners have them available for purchase and we have self-service vending machines in the terminals.
Please leave ample time to get to the airport and pass through security. For information on what TSA is doing to reduce the potential of exposure to the coronavirus, please visit their COVID-19 webpage.
Concession offerings are limited so please plan accordingly. Dining facilities are open, and all employees and patrons must comply with social distancing requirements.
If picking up a friend or loved one, please note that the cell phone lot is temporarily closed, however, you can wait for 10 minutes at no charge in the terminal parking lots.
We're here to support you on your journey through SAN
We are confident San Diego will always be a desirable place to live, visit and do business. When you're ready to fly again, we'll be ready to serve you. Let's go safely.