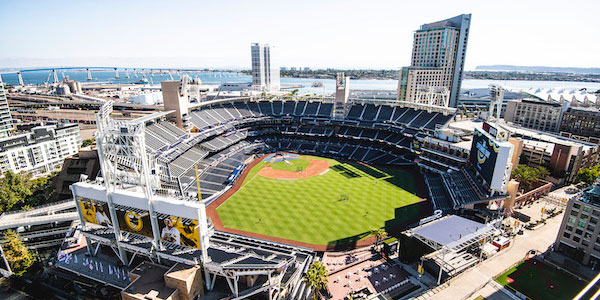 It is show time for San Diego.
Major League Baseball announced this week that Petco Park will be hosting two rounds of the American League playoffs, including an American League Divisional Series and the American League Championship Series.
This means that Petco Park and San Diego will be on national television for much of the playoffs.
Julie Coker, president and CEO of the San Diego Tourism Authority, said this is the kind of positive promotion that money simply can't buy.
"As the country tunes into these baseball playoff games, they will see all that San Diego has to offer— from our vibrant Downtown to our beautiful beaches, bays and outdoor escapes to our world-class ballpark," Coker said. "I have no doubt TV viewers will like what they see, and it will help encourage future travel to our destination."
Erik Greupner, president of business operations for the San Diego Padres, agreed that it will be a boost to San Diego and the Padres.
"We are excited to have been selected by Major League Baseball to host the American League Division and Championship Series at Petco Park this fall," Greupner said. "While we hope to cheer on our Padres deep into October, having a chance to showcase our beautiful city and ballpark to the rest of the country is an honor, and we look forward to putting San Diego on display."
The other ballparks that the MLB selected for the playoffs and the World Series are Dodger Stadium in Los Angeles, the Houston Astros' Minute Maid Park and the Texas Rangers' Globe Life Park in Arlington, Texas.
Petco Park will host the American League Division Series that features the matchup with the winners of the 1/8 and 4/5 Wild Card Series. The American League Championship Series will run from Sunday, Oct. 11 through as late as Saturday, Oct. 17 and will be exclusively telecast by TBS.
Depending on their seeding, the Padres also could play their first round series at Petco Park. The winner of the American League Championship Series at Petco will advance to the World Series in Arlington.