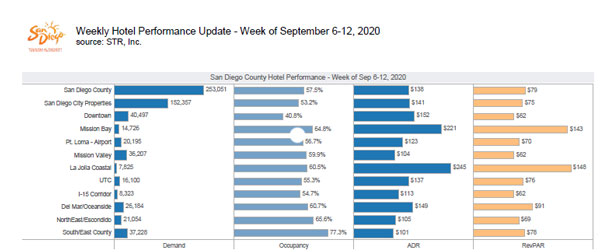 Hotel Performance – Week of Sept 6-12, 2020
Room supply remained steady at 62,849, roughly 1,000 rooms shy of pre-COVID levels (63,897).
With Labor Day weekend data now complete, Sunday night demand reached 53,780 rooms sold in the County, which was about as high as Saturday night with occupancy percentages in the high 80s to low 90s throughout the region. The exception was Downtown, which was at 74% on Sunday night. These two nights delivered the highest room night demand of the summer.
Hotel room night demand for the week increased from the previous week by 13,000, totaling 253,051 room nights sold throughout the County, making it the best week since the recovery began.
This week is a good sign for fall as demand for the days following Sunday remained at August levels. Saturday, Sept. 12 percentages averaged in the mid-70s to low 80s in most of the region
County occupancy averaged 58%, ranking San Diego second among top 25 markets (behind Norfolk/Virginia Beach at 59%), and first among the western competitive set.
Average daily rates reached $138 for the week, ranking second in the top 25 (behind Oahu Island at $159 with very little demand) and again first in the western comp set.
The highest occupancy remains in the South/East, which average 77% for the week. La Jolla and Mission Bay again had the highest ADRs, at $245 and $221 respectively, and averaged double the RevPAR of other regions.