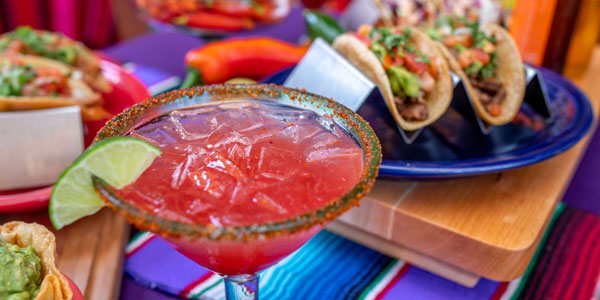 The birthplace of California is located right here in San Diego—but Old Town San Diego isn't just a hotbed for history. It's one of the most happening spots to grab a bite to eat or inventive cocktail. Several Old Town eateries are taking to the streets, offering additional outdoor spaces for diners.
If you're looking for a fun day trip, be sure to stop by the Old Town Summer Nights outdoor experience. Every Thursday through Sunday night the Old Town streets provide a unique outdoor dining and shopping experience with social distancing in mind.

Tahona Bar
Tahona is offering an expanded menu and exciting new offerings, all available on its beautiful outdoor patio. Enjoy San Diego's best mezcal under the shade of umbrellas as you make your way down the expansive cocktail list. Come hungry and dine on inventive tacos and small plates. For an even more immersive opportunity, stop by during Summer Nights to partake in Tahona's San Diego Avenue takeover where the restaurant offers an expanded al fresco dining experience.

Café Coyote
For more than three decades, Old Town San Diego's Café Coyote has served up traditional Mexican fare and, of course, fresh tortillas made in-house. This Old Town mainstay is open seven days a week for patio dining, complete with a new street-side pavilion. For those who are still hesitant to dine out, Café Coyote is offering family meals to go.

Old Town Tequila Factory Restaurant & Cantina
Tequila lovers rejoice—the Old Town Tequila Factory Restaurant & Cantina is open for outdoor dining. Whether you're stopping by for Taco Tuesday or strolling the streets as part of the Summer Nights promotion, this popular spot serves up delicious Mexican dishes seven days a week. Brunch lovers can flock to the hilltop eatery for the restaurant's take on weekend eats with "The Best of Sunday Brunch," which includes favorites such as omelets, chile verde and more.  

San Diego Tequila Tour
Looking for a day or night out on the town? Take a tour and hit all of San Diego's spirited hotspots with a San Diego Tequila Tour. The company is open and safely taking tequila lovers around the town to experience the history of tequila in our region while enjoying tacos and tastings. San Diego Tequila Tours is currently offering 10% off bookings, so book your spot on an upcoming excursion today.