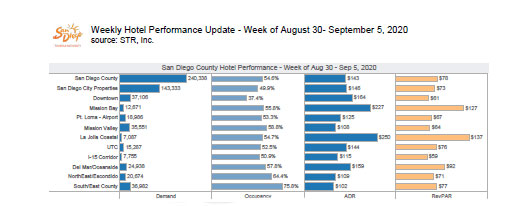 Hotel Performance – week of August 30-September 5, 2020
Source: STR, Inc.
Labor Day weekend capped off a "Covid successful" summer with the highest occupancies and rates of the summer.
The hotel supply was 62,935, about 1,000 fewer rooms of pre-COVID levels (63,897).
Hotel room night demand in the County peaked last week at 240,338 room nights sold, almost 9,000 more than the previous week.
County occupancy averaged 55%, 3rd highest in the top 25 markets along with LA and topping the western region competitive set again along with LA.
The County ADR was up $10 over the previous week to $143, 2nd highest among the top 25 markets behind Oahu at $153 (with no demand) and ahead of New York at $136.
The weekday patterns by region remained the same, but with a jump in occupancy on Friday and Saturday nights.
Occupancies in all regions with exception of Downtown averaged between the high-80s to mid-90s on Saturday night, and mid-70s and higher on Friday night.
The highest ADRs were again in the coastal areas of La Jolla at $250 and Mission Bay at $227 for the week.
Saturday, September 3rd marked the highest demand for the summer at 54,516 room nights sold, pushing occupancy to 86.5% and the daily rate to $186.88.